printer friendly version
Snap-in electrolysis withstands 125ºC and loads up to 400 V
26 Jan 2000
Passive Components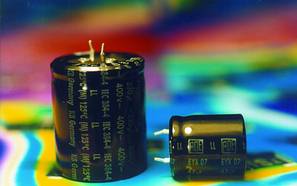 Vishay Intertechnology is offering a new range of aluminium-electrolytic capacitors. The EYX snap-in aluminium-electrolytic capacitors are designed for use at high ambient temperatures and with high alternating currents.
The EYX aluminium-electrolytic capacitors are intended mainly for use in automotive and consumer electronics, as well as in telecommunications, where they will withstand temperatures of up to 125°C and loads of up to 400 V. At a temperature of 40°C, the life of the new power-capacitors are claimed to exceed 500 000 h (approximately 60 years). At a continuous temperature of 125°C and a (nominal) voltage of up to 100 V, the company claims they will last for at least 3000 h.
The capacitors are available in capacitance values from 47 to 33 000 µF with (nominal) voltage ratings of 10 to 400 V. They come in industry standard sizes between 22 x 25 and 35 x 50 mm. The EYX range, with its practical snap-in technology, complements the Vishay series of aluminium capacitors.
Further reading:
Chip capacitors for high capacitance and voltage
RS Components (SA) Passive Components
Multi-anode solid tantalum chip capacitors offer a high capacitance/voltage rating in a single package for power supply and power distribution applications.
Read more...
---
Lowering the cost of solar PV inverters
EBV Electrolink Passive Components
Vishay has turned its attention to lowering the cost of solar PV inverters and by reducing the number of electrolytic capacitors required.
Read more...
---
TDK announces robust varistors with 14 mm disk diameter
Electrocomp Passive Components
The new AdvanceD series of varistors have a wide operating voltage range up to 625 V and offer a surge current capability of 3000 A.
Read more...
---
Angle sensor for safety-critical applications
Altron Arrow Passive Components
TDK's TAS4240 TMR-based angle-sensor enables precise angle measurements in applications where high performance is needed and space is limited.
Read more...
---
New high current through-hole inductors
EBV Electrolink Passive Components
Vishay has released a high current, through-hole inductor for use in high current and high temperature applications, DC/DC converters, high current differential chokes and inverters.
Read more...
---
High performance power inductor in a tiny package
RF Design Passive Components
The LPS4010 series inductors from Coilcraft are low-profile power inductors in a shielded package that offer high energy storage and low DC resistance.
Read more...
---
Surface-mount resettable fuses
Electrocomp Passive Components
The new series of fuses, suitable for overcurrent and thermal protection, expand the hold current up to 6 A and the maximum voltage to 33 V DC.
Read more...
---
New compact SMT chokes for low-voltage applications
Future Electronics Passive Components
TDK has released three new B8272 series of compact EPCOS SMT common-mode chokes specially developed for DC/DC converters and low-voltage applications.
Read more...
---
Electrocomp stocks PhaseCap Energy Plus capacitor
Electrocomp Passive Components
TDK Electronics' new PhaseCap Energy Plus series capacitor is the latest generation of capacitor for power factor correction.
Read more...
---
Multilayer ferrite beads
Electrocomp Passive Components
As direct replacements for the discontinued BMB series, TE Connectivity's BMC multilayer ferrite beads cover a wide range of impedance characteristics.
Read more...
---