printer friendly version
Replacing tantalum with high capacitance MLCC
13 February 2002
Passive Components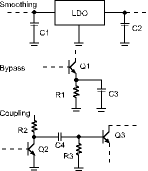 For several years there have been periodic variations in availability and price of tantalum capacitors. In the past this behaviour was due to political and economic strategies. Today, it is the poor supply of the tantalum raw material that is driving the Ta-capacitor crisis. At present we are seeing price growths up to 500% and the forecast is for further hikes. To help solve these difficulties Murata offers many ceramic capacitors that can directly replace electrolytic and tantalum types.
Figure 1 shows some basic circuits that need high capacitance values:
* Smoothing: The functions of C1 and C2 are to smooth the ripple and voltage fluctuations at the input and output of the LDO (low drop out regulator). C2's ESR and ESL are most important because they are responsible for the purity of the output voltage. In the past, high value Ta capacitors were used; now it is possible to use ceramic capacitors at a half to a tenth of the Ta values used previously.
* By-passing: C3 creates a 'virtual' ground for the transistor which 'believes' it is working at ideal conditions. The static and dynamic parameters are satisfied and the active device is properly used. The ESL of the cap is also most important in this case, and a low value avoids self-oscillation problems.
* Coupling: In order to link two stages (for example pre-amp to power amplifier) C4 is basic. This capacitor transfers only the signal and does not modify the DC parameters. For the example mentioned, it is most important that the capacitor is not polarised in order to avoid signal distortion.
What better solution than a ceramic capacitor? For more information on the technical characteristics of MLCCs and products available from Murata, contact your local distributor.
For further information contact Avnet Kopp, (011) 444 2333, sales@avnet.co.za or www.avnet.co.za
Credit(s)
Further reading:
Smallest automotive maXTouch controllers
29 July 2020, Altron Arrow, Avnet South Africa , DSP, Micros & Memory
To help enhance and ease today's driving experience, automotive manufacturers are implementing additional touch displays beyond the centre infotainment display (CID). Supporting the application of these 
...
Read more...
---
CeraCharge now available in a small packing unit
30 June 2020, Electrocomp , Passive Components
TDK is presenting a new packing unit for CeraCharge, the world's first SMD technology solid-state rechargeable battery, in the compact size EIA 1812 (4,4 x 3,0 x 1,1 mm). The packing unit (B73180A0101M199) 
...
Read more...
---
3 kW TVS diode arrays
30 June 2020, Avnet South Africa , Circuit & System Protection
To ensure critical operations, aviation and space systems rely on digital and logic functionality and circuitry in engine control units, environmental controls, instruments and actuators. Data centres, 
...
Read more...
---
Surface mount resistors and terminations
30 June 2020, RF Design , Passive Components
Smiths Interconnect announced the release of its extended CXH series of surface mount chip resistors and terminations. The CXH series uses a patented layout to provide improved power handling over conventional 
...
Read more...
---
PCIe Gen 4 switches
30 June 2020, Avnet South Africa , Computer/Embedded Technology
To support cloud, data centre and hyperscale computing that facilitates advancements in artificial intelligence (AI) and machine learning (ML), Microchip Technology released to production its Switchtec 
...
Read more...
---
DIN-rail mounting DC-DC converters
30 June 2020, Avnet South Africa , Power Electronics / Power Management
Shortly after unveiling the brand-new DIN-rail mounting DC-DC converter family, the DDR-15/30/60/120/240 series, Mean Well has announced the DDR-480 series (480 W) to enable integration into higher-power 
...
Read more...
---
Broadband capacitors and their significance
30 June 2020, TRX Electronics , Passive Components
There are a number of circuits that require coupling RF signals or bypassing them to ground while blocking DC over extraordinarily large RF bandwidths. The applications for which they are intended typically 
...
Read more...
---
Thick-film chip resistors
29 April 2020, Electrocomp , Passive Components
Bourns announced the introduction of its new Model CR01005 series thick-film chip resistor. This extra small – 01005 inch (0402 metric) – CR01005 series broadens the general purpose thick-film chip resistor 
...
Read more...
---
Automotive-grade MLCCs
29 April 2020, TRX Electronics , Passive Components
Yageo's automotive grade MLCC (multilayer chip capacitor) AC/AS series is AEC-Q200 qualified as well as MIL-STD-020D tested to ensure its reliability under various temperatures (from -55°C to +150°C) 
...
Read more...
---
Chip resistors in automotive grade
29 May 2020, Altron Arrow , Passive Components
Vishay has enhanced its MC AT precision series of automotive grade thin film chip resistors with a wider range of resistance values from 47 Ω to 10 MΩ in the 1206 case size. The MCA 1206 AT is the industry's 
...
Read more...
---