printer friendly version
High-speed digital isolators
27 February 2002
Circuit & System Protection
IsoLoop is the trademark name for NVE's family of isolation products. IsoLoop devices are created with giant magnetoresistive materials or GMR. When magnetic thin film layers separated by nonmagnetic thin film layers are subject to a magnetic field generated by a directional current, a change in resistance takes place in the magnetic thin films.
Construction
In high-speed data transmission systems, data integrity can only be maintained where there is low pulsewidth distortion. The advantages of these isolators are that the 2 ns pulsewidth distortion specification gives very high-speed capabilities and the sub 10 ns propagation delays and 2 ns propagation delay skews gives them a DC performance no other isolator is capable of.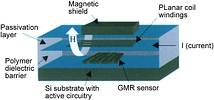 Figure 1
Figure 1 illustrates that a change in input current through the on-chip coil creates a magnetic field that changes the state of the resistor between low and high to create a logic 1 or logic 0. The structure is fabricated adjacent to standard silicon integrated circuits to create the isolated logic functions as shown in Figure 2. This building block isolator is then used to build a wide range of standard isolated logic functions. The first IsoLoop logic product released by NVE was the IL710, a 100 Mbaud data rate part. In this SOIC-8 version, since the isolator is die-sized, the package choice for products is essentially pad limited. Higher levels of integration are now available than was previously possible.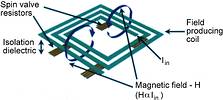 Figure 2
True isolated logic functions are achieved in almost the same sized packages as the original nonisolated logic function, without the need for extra surrounding components required to complete the desire function. Only two additional power supply pins, needed on the isolated side, add to the total pin count. According to NVE, small size, high performance and low cost make the IsoLoop technology highly versatile and adaptable for isolation applications.
Applications
Due to the high performance of the IsoLoop products, the range of possible applications is large. The IL485 meets the requirements of Profibus, and using IL710s or the IL712 with a CAN-approved device meets that standard's propagation delay requirements. The IL422 provides the same performance as the IL485; low distortion and propagation delay, but functions as a full-duplex transceiver. The IL422 and IL485 devices are capable of data transmission rates of 25 and 35 MB at 10% PWD respectively. The multichannel feature of the IL715/716/717 devices offers a true bidirectional capability, providing the isolation designer the capability to isolate ADC interfaces, PGA gain, control loops and multi-phase control systems.
All the IsoLoop products have a 20 kV/ms minimum transient immunity specification making them ideal for motor control applications. All are also approved to UL1577.
Further reading:
New transient voltage suppressors for automotive applications
EBV Electrolink Circuit & System Protection
The devices offer high surge capability of 3000 W and a high temperature operation up to 175°C for signal line protection.
Read more...
---
Clearing the Static: Safe storage and transportation of ESD-sensitive components
Actum Group Circuit & System Protection
During storage and transportation outside of an ESD-protected area (EPA), it is recommended that ESD-sensitive items are enclosed in packaging that provides ESD shielding. In addition to effective static 
...
Read more...
---
Clearing the Static: Three steps to a dry ESD packaging system
Actum Group Circuit & System Protection
To protect PCBs from both ESD and moisture, they should be stored in a vacuum-sealed moisture barrier bag. To complete a dry-packaging system, desiccant packs and humidity indicator cards should be 
...
Read more...
---
Clearing the Static: Complete ESD solutions for EPAs
Actum Group Circuit & System Protection
An electrostatic protected area (EPA) is a designated area where static is controlled under strict regulations. At Actum Group, we advise that EPAs should be viewed and completed as a whole project and 
...
Read more...
---
Variety of EMI shielding products
TRX Electronics Circuit & System Protection
Laird Performance Materials offers customised, robust protection from harmful performance-draining EMI (electromagnetic interference). Its broad range of shielding products can be tailored to any application, 
...
Read more...
---
Port protection IC for MCUs tailored to USB-C dual-role power
Future Electronics Circuit & System Protection
The STMicroelectronics TCPP03-M20 USB Type-C port protection IC is tailored for Dual-Role Power (DRP) applications, simplifying the design of products that can act as a power source for connected devices 
...
Read more...
---
EMC solutions for demanding applications
TRX Electronics Circuit & System Protection
Available from local TTI distributor, TRX Electronics, is Schurter's wide range of standard products ensuring electromagnetic compatibility (EMC). Products include single- and three-phase line filters 
...
Read more...
---
EMI filter for space-sensitive designs
Altron Arrow Circuit & System Protection
Engineered as a dual-channel filter array, the VEMI256A-SD2 two-channel EMI filter from Vishay Intertechnology helps suppress electromagnetic interference (EMI) and radio frequency interference (RFI) 
...
Read more...
---
Clearing the Static: ESD training and compliance in the workplace
Actum Group Circuit & System Protection
ESD (electrostatic discharge) can change the electrical characteristics of a semiconductor device by degrading or destroying it entirely. ESD can potentially damage electronic systems, causing equipment 
...
Read more...
---
Lightning current protection for four-conductor systems
Phoenix Contact Circuit & System Protection
The Termitrab complete product family from Phoenix Contact provides narrow surge protective devices for measurement and control technology. With immediate effect, the TTC-6P-4… protective devices for 
...
Read more...
---