printer friendly version
Automotive shock sensors have extended temperature range
10 April 2002
Passive Components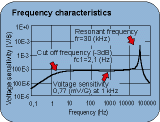 Murata's automotive customers have been asking for the operating temperature range of its standard shock sensors to be extended to the full -40 to 125°C for triggering various safety systems.
Forthcoming changes in motor car safety will include distributed systems interface architecture. This provides a dedicated two-wire serial bus that links safety-critical actuators and sensors including variable front air bags.
These 'smart' airbags will be linked to a series of sensors, and the degree of airbag inflation will vary, from full for a full-sized adult occupant, to nothing at all if the front seat passenger is a tiny child.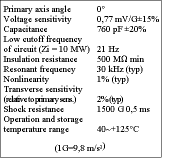 Specifications for the PKGS-00RA
As well as protecting occupants in a crash, preventing serious injury from accidental operation is also vital. It is easy to concentrate on the effectiveness of a system in an emergency, only to find that people get hurt by that system at other times, during servicing for example. These devices were developed especially to avoid accidental triggering of conventional airbags and as front sensors in smart airbag systems. The new PKGS-00RA-R operates over the full temperature range as required. It is 6,4 mm by 2,8 mm and 1,5 mm high. Key features are shown in the table.
Avnet Kopp
011 444 2333
Credit(s)
Further reading:
Thick-film chip resistors
29 April 2020, Electrocomp , Passive Components
Bourns announced the introduction of its new Model CR01005 series thick-film chip resistor. This extra small – 01005 inch (0402 metric) – CR01005 series broadens the general purpose thick-film chip resistor 
...
Read more...
---
Automotive-grade MLCCs
29 April 2020, TRX Electronics , Passive Components
Yageo's automotive grade MLCC (multilayer chip capacitor) AC/AS series is AEC-Q200 qualified as well as MIL-STD-020D tested to ensure its reliability under various temperatures (from -55°C to +150°C) 
...
Read more...
---
Chip resistors in automotive grade
29 May 2020, Altron Arrow , Passive Components
Vishay has enhanced its MC AT precision series of automotive grade thin film chip resistors with a wider range of resistance values from 47 Ω to 10 MΩ in the 1206 case size. The MCA 1206 AT is the industry's 
...
Read more...
---
Wi-Fi and BLE combo module
29 May 2020, Avnet South Africa , Telecoms, Datacoms, Wireless, IoT
Dialog Semiconductor announced the DA16600, a module that combines its advanced Wi-Fi and BLE (Bluetooth Low Energy) capabilities into a single solution. This two-in-one module is comprised of two 
...
Read more...
---
Why 'new space' satellites demand a new approach to components
29 May 2020, Avnet South Africa , News
New space is opening up exciting opportunities for businesses, which can create completely new products, services and capabilities that were, until recently, impossible or impractical.
Read more...
---
The top benefits of MEMS timing
29 May 2020, Avnet South Africa , Analogue, Mixed Signal, LSI
MEMS (micro electromechanical systems), designed to resonate and generate clocks signals, may not dominate the world of timing applications right now, but the technology's popularity is growing. Competing 
...
Read more...
---
Microcontrollers for functional safety
29 May 2020, Avnet South Africa , DSP, Micros & Memory
As the Internet of Things (IoT) delivers greater connectivity for industrial and home applications and as connected vehicles enhance cabin and operational features, higher-performance microcontrollers 
...
Read more...
---
Storage choke against harmonic distortion
29 April 2020, Würth Elektronik eiSos , Passive Components
The WE-LHMD is an SMT-mountable storage choke from Würth Elektronik optimised for filter topologies in Class-D amplifiers. Thanks to their iron powder cores, the high-current inductors for audio applications 
...
Read more...
---
Enabling cloud connectivity to all Microchip MCUs and MPUs
25 March 2020, Avnet South Africa , DSP, Micros & Memory
Due to the fragmented nature of the Internet of Things (IoT) marketplace, increasing project complexity and costs, today's developers face more challenges in design decisions than ever before. These challenges 
...
Read more...
---
Stackable DC-DC buck converter
29 April 2020, Avnet South Africa , Power Electronics / Power Management
Texas Instruments introduced a new 40 A SWIFT DC-DC buck converter, offering first-of-its-kind stackability of up to four ICs. The TPS546D24A PMBus buck converter can deliver up to 160 A of output current 
...
Read more...
---