Murata's automotive customers have been asking for the operating temperature range of its standard shock sensors to be extended to the full -40 to 125°C for triggering various safety systems.
Forthcoming changes in motor car safety will include distributed systems interface architecture. This provides a dedicated two-wire serial bus that links safety-critical actuators and sensors including variable front air bags.
These 'smart' airbags will be linked to a series of sensors, and the degree of airbag inflation will vary, from full for a full-sized adult occupant, to nothing at all if the front seat passenger is a tiny child.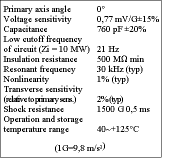 Specifications for the PKGS-00RA
As well as protecting occupants in a crash, preventing serious injury from accidental operation is also vital. It is easy to concentrate on the effectiveness of a system in an emergency, only to find that people get hurt by that system at other times, during servicing for example. These devices were developed especially to avoid accidental triggering of conventional airbags and as front sensors in smart airbag systems. The new PKGS-00RA-R operates over the full temperature range as required. It is 6,4 mm by 2,8 mm and 1,5 mm high. Key features are shown in the table.
Avnet Kopp
011 444 2333