Infineon Technologies' high-speed IGBT was specifically designed for high-frequency switching applications in the 600 V range. Its rugged design results in long short-circuit withstand times, good paralleling capabilities, and extremely short switching delays. According to the manufacturer the functionality and pricing of this product family make it ideal for a wide range of consumer and industrial applications.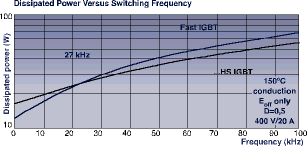 Figure 1. The dissipated power of the high-speed IGBT and the fast IGBT. The optimum frequency for fast IGBT is <27 kHz, for high-speed IGBT >27 kHz
The high-speed IGBTs are available in TO 220 and TO 247 packages as single IGBT and DuoPack versions (including an antiparallel diode). DuoPack combines the 600 V non-punch-through technology IGBT with the EmCon diode technology.
Applications are for: welding machines; inductive heating (cookers); power factor correction; lamp ballasts; switch mode power supplies.