Infineon Technologies' CoolSET devices use the company's evolutionary CoolMOS technology. This Infineon MOSFET silicon technology reduces the area-specific Rds(on) for a 600 V MOSFET by a factor of 5 over any other previously existing technologies, says the company. This makes it possible to implement surface-mount technology in some applications that use present state-of-the-art through-hole-technology.
Avalanche energy capability for CoolMOS transistors allows energy ratings to be increased to the maximum possible range with active zener clamping.
CoolSET includes the control logic IC which has been optimised to the requirements. In order to lower EMI it provides a unique modulated gate drive. It offers several protection functions and has a very low start-up current in order to achieve high efficiency.
CoolSET is a multichip technology that comprises a highly flexible package concept.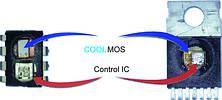 Figure 1. CoolSET (on left) chip-by-chip in DIP and DSO package; and (on right) chip-on-chip in TO 220-7 package
SMPS designs
Engineers have always kept an eye on the driving factors for designing a new switching mode power supply. These are EMC; heat generation; efficiency; system size and weight; system reliability; system costs and time-to-market.
These factors decide whether the new design will be able to gain an advantage over existing products and meet the demands of performance and system costs. Advantages:
* Reduces surrounding components by factor 2 and power dissipation by factor 2,5.
* Eliminate or minimise the size of heatsinks.
* Minimise PCB size.
* Reduce storage costs, time-to-market and system costs.
* Higher system reliability.
* Reduce EMI.