printer friendly version
Composite chips for efficient EMI/RFI filtering
16 Feb 2000
Circuit & System Protection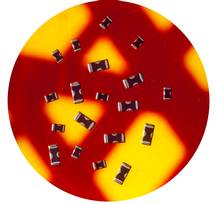 A range of inductor/capacitor EMI/RFI chip filters which incorporates ceramic and ferrite composite construction technology for superior perform- ance, has been introduced by BI Technologies. Designed to filter out unwanted frequencies effectively and efficiently in a broad range of applications, the LC series chips are manufactured in both 0805 and 1206 standard sizes. They are suited for use in digital communications and AV equipment, LAN, WAN, serial bus and graphics cards, on-board controllers, computers and peripherals.
Each LC chip incorporates four inductors and three capacitors, which are connected in a ladder network configuration to provide accurate and reliable EMI/RFI filtering performance on a single monolithic chip. The cut-off frequencies available in both chip sizes are 10 MHz, 22 MHz, 47 MHz and 100 MHz, with an additional 220 MHz device available in the 0805 size.
The chip's integrated passive ladder construction is superior to discrete solutions at high frequencies due to very short internal connections. It also offers greater attenuation beyond the cut-off point compared to 'T' styles. In addition, insertion loss characteristics are steeper and noise attenuation greater than with other types of filter.
The LC series chips complement BI's existing range of ferrite beads, wound surface mount inductors, RC chips and RC networks and the company is committed to the continued development of integrated passive products which can provide effective solutions for filtering requirements and minimise component counts on PCBs.
Credit(s)
Further reading:
3 kW TVS diode arrays
30 June 2020, Avnet South Africa , Circuit & System Protection
To ensure critical operations, aviation and space systems rely on digital and logic functionality and circuitry in engine control units, environmental controls, instruments and actuators. Data centres, 
...
Read more...
---
PCIe Gen 4 switches
30 June 2020, Avnet South Africa , Computer/Embedded Technology
To support cloud, data centre and hyperscale computing that facilitates advancements in artificial intelligence (AI) and machine learning (ML), Microchip Technology released to production its Switchtec 
...
Read more...
---
DIN-rail mounting DC-DC converters
30 June 2020, Avnet South Africa , Power Electronics / Power Management
Shortly after unveiling the brand-new DIN-rail mounting DC-DC converter family, the DDR-15/30/60/120/240 series, Mean Well has announced the DDR-480 series (480 W) to enable integration into higher-power 
...
Read more...
---
Integrated EMC line filters and design kit
29 May 2020 , Circuit & System Protection
Würth Elektronik provides solutions to help prevent EMI problems with non-compliant equipment. It offers complete WE-CLFS EMC line filters that have most components one needs for an EMC filter inside 
...
Read more...
---
Advanced EMI shielding solutions
29 May 2020, Actum Group , Circuit & System Protection
All electronic devices generate electromagnetic radiation that can be transmitted through the air from one electronic device to another. This is known as electromagnetic interference (EMI). In certain 
...
Read more...
---
Wi-Fi and BLE combo module
29 May 2020, Avnet South Africa , Telecoms, Datacoms, Wireless, IoT
Dialog Semiconductor announced the DA16600, a module that combines its advanced Wi-Fi and BLE (Bluetooth Low Energy) capabilities into a single solution. This two-in-one module is comprised of two 
...
Read more...
---
HV MOSFET for ruggedness, smart PWM controller for flexibility
30 June 2020, Avnet South Africa , Power Electronics / Power Management
As the world recently celebrated Earth Day, STMicroelectronics' blog recently featured one of its many components that help better manage the electricity people consume every day and therefore, decided 
...
Read more...
---
Why 'new space' satellites demand a new approach to components
29 May 2020, Avnet South Africa , News
New space is opening up exciting opportunities for businesses, which can create completely new products, services and capabilities that were, until recently, impossible or impractical.
Read more...
---
The top benefits of MEMS timing
29 May 2020, Avnet South Africa , Analogue, Mixed Signal, LSI
MEMS (micro electromechanical systems), designed to resonate and generate clocks signals, may not dominate the world of timing applications right now, but the technology's popularity is growing. Competing 
...
Read more...
---
Microcontrollers for functional safety
29 May 2020, Avnet South Africa , DSP, Micros & Memory
As the Internet of Things (IoT) delivers greater connectivity for industrial and home applications and as connected vehicles enhance cabin and operational features, higher-performance microcontrollers 
...
Read more...
---