printer friendly version
A System solution for cost-effective SMPS design
16 Feb 2000
Power Electronics / Power Management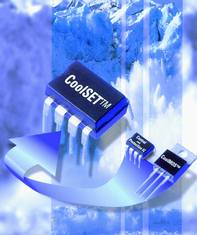 Up until now engineers have always kept an eye on the driving factors for designing a new switching mode power supply. These are: EMC; heat generation; efficiency; system size and weight; system reliability; system costs; and time-to-market.
Designed for switching mode power supplies, the EPCOS CoolSet range combines the control IC and the avalanche rugged CoolMOS in one.
According to the company, key advantages are:
*Reduce surrounding components by factor 2.
*Reduce power dissipation by factor 2,5.
*Eliminate or minimise the size of heatsinks.
*Minimise PCB size.
*Reduce storage costs.
*Reduce time-to-market.
*Reduce system costs.
*Higher system reliability.
*Reduce EMI.
CoolSet includes the company's evolutionary CoolMOS technology. This MOSFET technology actually reduces the area-specific RDS(on) for a 600 V MOSFET by a factor of 5 over any other previously existing technologies. In addition, the improvement this technology delivers is even greater at higher blocking voltages, according to the company.
Avalanche energy capability for CoolMOS transistors allows energy ratings to be increased to the maximum possible range with active zener clamping.
All of these benefits of CoolMOS are offered to within the CoolSet control IC.
The ICs' features are: modulated gate drive; low start up current; input undervoltage lockout; maximum duty cycle limitation; thermal shutdown; and soft start.
CoolSet enables the implementation of power supplies with 1–200 W output powers with only a few standard packages: eg DIP 8, DIP 14, DIP 20, DSO 14, TO 220-7.
Credit(s)
Further reading:
USB charger solution with high power density
Altron Arrow Power Electronics / Power Management
Diodes Incorporated has launched a three-chip solution for enhancing the performance of ultra-high-power-density USB Type-C power delivery (PD) systems. These products can be used in a wide variety of 
...
Read more...
---
Digital flow sensor for respiratory devices
Electrocomp Analogue, Mixed Signal, LSI
The compact SFM3119 digital flow meter is the successor to Sensirion's SFM3100 mass flow meter. Compared to its predecessor, the SFM3119 comes with a digital I
2
C output as well as improved specifications.  
...
Read more...
---
Liquid flow sensor in small planar package
Electrocomp Analogue, Mixed Signal, LSI
With a tiny footprint of only
10 x 10 mm
, Sensirion's LPG10-1000 liquid flow sensor provides optimal performance and speed in measuring liquid flow in a planar microfluidic glass substrate, with down-mount 
...
Read more...
---
Totem pole PFC controller
EBV Electrolink Power Electronics / Power Management
A new addition was made to ON Semiconductor's solution set for ultra-high density offline power supplies in the form of the NCP1680, a dedicated critical conduction mode totem pole PFC controller. It 
...
Read more...
---
Compact offline switcher ICs
EBV Electrolink Power Electronics / Power Management
Power Integrations introduced LinkSwitch-TNZ, a new switching power supply IC that combines offline power conversion, lossless zero-crossing detection and optionally, X-capacitor discharge functions in 
...
Read more...
---
Evaluation kit for formaldehyde sensor
Electrocomp Design Automation
The SEK-SFA30 evaluation kit has been designed for easy evaluation of Sensirion's SFA30 formaldehyde sensor. The SFA30 is designed for easy integration into air purifiers, demand-controlled ventilation 
...
Read more...
---
100 W and 300 W eighth-brick converters
Brabek Power Electronics / Power Management
Recom has introduced two new cost-effective DC/DC products with outputs of 100 W and 300 W in a DOSA-compatible, low-profile, through-hole eighth-brick format (58,4 x 23 mm). The RPA100E-W 100 W part 
...
Read more...
---
High-side current sense amplifier with adjustable gain
NuVision Electronics Power Electronics / Power Management
The MPQ8112A is a low-cost, unipolar, high-side current sense amplifier that operates from a 2,7 V to 60 V supply and typically consumes a 300 μA current. The Monolithic Power Systems part is ideal for 
...
Read more...
---
Super-junction 800 V MOSFETs
Altron Arrow Power Electronics / Power Management
The new super-junction STPOWER MDmesh K6 series from STMicroelectronics enhances several key parameters to minimise system-power losses. It is especially suited to lighting applications based on flyback 
...
Read more...
---
DC/DC converter for forklift trucks
Vepac Electronics Power Electronics / Power Management
The DC/DC converters of the series PCMDS550-FT from MTM Power are tailor-made to meet the requirements in forklift truck technology. Highest quality and safety are of particular importance when using 
...
Read more...
---