printer friendly version
Cylindrical thin-film inductors
16 Feb 2000
Passive Components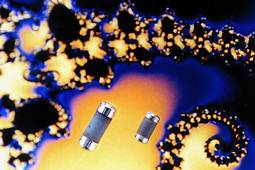 BC Components has launched its first range of inductors. The cylindrical thin-film inductors have a high self-resonant frequency (SRF), capable of working up to 2 GHz, claims the manufacturer. They also have high current capability, making them ideal general-purpose inductors for most high frequency (HF) applications. They are particularly suitable for use in high volume HF applications, such as TV tuners, cable and satellite TV systems, cellular telephone infrastructure and remote control devices.
Cylindrical thin-film inductors are particularly well suited for use in the pick-and-place machines required for high volume manufacture. They have standard dimensions and, unlike flat chip inductors whose characteristics depend on the placement positioning, their behaviour is independent of orientation, says the company. Cylindrical thin-film inductors are also tolerant of far greater current surges.
The new components are available both in MINI-MELF (type number IMA 0204) and MICRO-MELF (type number IMU 0102) formats. Inductance values are from 10-100 nH, with tolerances of ±10% and self-resonant frequencies (SRF) from 1500 MHz to greater than 4000 MHz.
Further reading:
TDK announces robust varistors with 14 mm disk diameter
Electrocomp Passive Components
The new AdvanceD series of varistors have a wide operating voltage range up to 625 V and offer a surge current capability of 3000 A.
Read more...
---
Angle sensor for safety-critical applications
Altron Arrow Passive Components
TDK's TAS4240 TMR-based angle-sensor enables precise angle measurements in applications where high performance is needed and space is limited.
Read more...
---
New high current through-hole inductors
EBV Electrolink Passive Components
Vishay has released a high current, through-hole inductor for use in high current and high temperature applications, DC/DC converters, high current differential chokes and inverters.
Read more...
---
High performance power inductor in a tiny package
RF Design Passive Components
The LPS4010 series inductors from Coilcraft are low-profile power inductors in a shielded package that offer high energy storage and low DC resistance.
Read more...
---
Surface-mount resettable fuses
Electrocomp Passive Components
The new series of fuses, suitable for overcurrent and thermal protection, expand the hold current up to 6 A and the maximum voltage to 33 V DC.
Read more...
---
New compact SMT chokes for low-voltage applications
Future Electronics Passive Components
TDK has released three new B8272 series of compact EPCOS SMT common-mode chokes specially developed for DC/DC converters and low-voltage applications.
Read more...
---
Electrocomp stocks PhaseCap Energy Plus capacitor
Electrocomp Passive Components
TDK Electronics' new PhaseCap Energy Plus series capacitor is the latest generation of capacitor for power factor correction.
Read more...
---
Multilayer ferrite beads
Electrocomp Passive Components
As direct replacements for the discontinued BMB series, TE Connectivity's BMC multilayer ferrite beads cover a wide range of impedance characteristics.
Read more...
---
High-voltage power inductors
RF Design Passive Components
Coilcraft's RFC0807BV Series power inductors are a high-voltage version of the RFC0807B Series. Their operating voltage is rated at 800 V, which is higher than comparable products in the market. They 
...
Read more...
---
Power inductors with very low DC and AC losses
RF Design Passive Components
Coilcraft's new XGL6020 low-profile moulded power inductors offer the company's lowest DC losses and extremely low AC losses for a wide range of DC-DC converters.  Additional performance benefits include 
...
Read more...
---