printer friendly version
2-channel programmable touch sensor chip
14 August 2002
Electronics Technology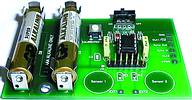 Quantum Research Group has released the QT320, claimed to be the world's first programmable touch sensor IC. The 8-pin part is based on Quantum's proprietary 'QProx' charge-transfer ('QT') technology.
It is a self-contained digital IC with a RISC core having two sensing channels. It can be used to create 'virtual buttons' through glass, plastic, stone, ceramic, and even wood. It can also turn small objects into touch controls.
The QT320 is designed specifically for human interfaces, for example in appliances, lighting controls, computer peripherals or anywhere a mechanical switch or button may be found; it can also be used for some material sensing applications. According to the company, the QT320 represents a new price point for its QProx touch sensor chips; the price per channel represents a 33% reduction per sensing channel over Quantum's QT110 family.
The QT320's RISC core uses signal-processing techniques pioneered by Quantum, designed to make the device survive real-world challenges such as 'stuck sensor' conditions and drift. The chip's EEPROM and communications port lets the user program the device from a PC using Quantum-supplied software. All operating parameters can be user-loaded into the part's internal EEPROM to configure sensitivity, drift compensation rate, response time, and output polarity. The part also features user-configurable automatic recalibration and output toggle mode.
The QT320 requires only an inexpensive capacitor per channel to function. Power consumption and speed can be traded off depending on the application; drain can be as low as 60 µA, allowing battery operation. Both 8-pin DIP and SOIC packages are available; and it is temperature rated for -40 to +85°C.
Further reading:
IoT communication without batteries
28 October 2020 , Electronics Technology
When we talk about IoT, we often gloss over the fact that all these interconnected things need batteries and electronics to carry out the job of collecting and processing data while they're communicating 
...
Read more...
---
Stable perovskite LEDs one step closer
25 March 2020 , Electronics Technology
Researchers at Sweden's Linköping University, working with colleagues in Great Britain, China and the Czech Republic, have developed a perovskite light-emitting diode (LED) with both high efficiency and 
...
Read more...
---
Infineon works with Qualcomm for 3D authentication
25 March 2020 , Electronics Technology
Infineon Technologies has collaborated with Qualcomm Technologies to develop a reference design for 3D authentication based on the Qualcomm Snapdragon 865 mobile platform. Infineon is thus extending its 
...
Read more...
---
Online training: Battery Safety and Protection Overview
23 October 2019 , Electronics Technology, Multimedia, Videos
So many of the portable devices, electronic equipment, and tools we use every day are powered with lithium-ion battery systems. But one challenge for engineers who design these lithium-ion-powered products 
...
Read more...
---
Using Wi-Fi to detect dangerous concealed objects
15 August 2018 , Electronics Technology
American university researchers have come up with a way of using Wi-Fi signals to detect weapons, bombs and explosive chemicals concealed in bags, backpacks or other luggage. The collaborative, peer-reviewed 
...
Read more...
---
Wits researchers make carbon nanotube discovery
13 June 2018 , Editor's Choice, Electronics Technology
Researchers at the University of the Witwatersrand (Wits) have found ways to control the spin transport in networks of the smallest electrical conductor known to man.
Read more...
---
Evolution of home technology from connected to proactive
16 May 2018 , Electronics Technology
The idea of 'home' has evolved greatly over the millennia. Over the last decades, technology has transformed homes into hubs of functionality – centres of entertainment, environmental management, work, 
...
Read more...
---
Products of the Year 2017
15 November 2017 , Electronics Technology
Tiny Bluetooth low energy module
Xilinx all programmable RFSoCs
PSoC 6 microcontrollers for IoT
PolarFire FPGAs from Microsemi
LTE Cat M1/NB1 multi mode module
Low-profile 2,4 GHz antenna
Multi-pixel 
...
Read more...
---
Wits researchers demonstrate quantum teleportation of light
15 November 2017 , News, Electronics Technology
Quantum communication over long distances is seen as the future of information security and has been demonstrated in free space and fibre with two-dimensional states, recently over distances exceeding 
...
Read more...
---
Tiny Bluetooth low energy module
15 November 2017, NuVision Electronics , Electronics Technology
Silicon Labs introduced what was the industry's smallest Bluetooth low energy system-in-package (SiP) module with a built-in chip antenna. Available in a tiny 6,5 x 6,5 mm package, the BGM12x Blue Gecko 
...
Read more...
---