printer friendly version
Custom-built relays
14 August 2002
Switches, Relays & Keypads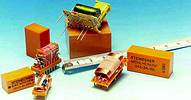 Ever-increasing requests for relays required to meet customer specific requirements are being met by Steinecker Elektronik.
Types included are:
* A range of thermovoltage-efficient relays - extensively used in measurement applications.
* Relays having low coil current consumption - widely used in battery-operated electronic equipment.
* Relays in specially-engineered housings, eg for C-rail mounting.
Also of interest is Steinecker's use of selected materials to - for example - conform to the American UL specification.
All termination methods (plug-in, solder, screw and cable connection/s) are available. Very important is the facility to integrate other components - including by-pass Zeners and decoupling diodes. Also bi-stable (latching) relays, and time delay (to suit customer specs) are offered, plus a range of monitoring and 220 V a.c. relays.
Credit(s)
Further reading:
Clearing the Static
31 August 2020, Actum Electronics , News
Ionisation and static control
Electronic products normally consist of conductors and insulators. Within the ESD-protected workstation, insulators can be found on products such as PCBs, onthe tools being 
...
Read more...
---
Compact, easy-to-integrate contactors
31 August 2020, RS Components (SA) , Switches, Relays & Keypads
RS Components is now stocking Eaton's complete Moeller series of compact DILMT contactors. Easy to integrate in a variety of industrial machines and systems, the contactors enable space savings of up 
...
Read more...
---
Clearing the Static: ESD wrist straps
29 July 2020, Actum Electronics , News
The human body is the primary source of electrostatic charge generation. In order to control and reduce static charge build-up and prevent electrostatic discharges (ESD), we use grounding systems to ensure 
...
Read more...
---
Versatile micro switches
30 June 2020, TRX Electronics , Switches, Relays & Keypads
The V19, Honeywell's unsealed micro switch family, provides a cost-conscious switch solution to assist in hitting overall system-level cost and design goals in high-volume applications. Suitable applications 
...
Read more...
---
Clearing the Static: Curb the spread of COVID-19 with stringent floor hygiene
30 June 2020, Actum Electronics , News
According to the World Health Organisation (WHO), COVID-19 is primarily transmitted from person to person through respiratory droplets that emerge from the nose and mouth when an infected person speaks, 
...
Read more...
---
EMI/RFI shielding cable ties
29 May 2020, Actum Electronics , Interconnection
BAND-IT EMI cable ties have been designed and manufactured to excel in mission-critical applications, such as Mil/Aero EMI/RFI (electromagnetic interference/RF interference), for the past 30 years.  
...
Read more...
---
Tactile switches for demanding applications
29 April 2020, Brabek , Interconnection, Switches, Relays & Keypads
The Multimec switch from APEM has been designed with the intention to manufacture the best possible switch. The company's automatic production lines have 100% in-line testing, but before the parts get 
...
Read more...
---
Waveguide electromechanical relay switches
26 February 2020, RF Design , Switches, Relays & Keypads
Pasternack has just launched a new series of double ridge waveguide electromechanical relay switches which perform over broader frequency bands, making them ideal for applications involved with electronic 
...
Read more...
---
Actum Group merges its brands under one roof
29 January 2020, Actum Electronics , News
Over the years, Actum Group has been built through partnerships, collaborations and acquisitions of leading companies with a long history and rich legacy in the industry. These companies include Actum 
...
Read more...
---
Illuminated pushbutton switches
25 November 2019, TRX Electronics , Switches, Relays & Keypads
The KLS series expands C&K Switches' product offering in the LED pushbutton family. It meets the market requirements for haptics and sound with clear 'click' feedback. With various cap options and bright 
...
Read more...
---