printer friendly version
Plastic film capacitors reliable and stable
28 August 2002
Passive Components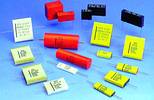 Eurofarad designs and manufactures film capacitors for professional applications. A wide range of technologies is used depending on environmental considerations. In general, Eurofarad impregnates the capacitors with solid thermoset resin such as epoxy, polyester or composites. These technologies result in extremely stable mechanical and electrical properties at temperatures ranging from -55 to +125°C/+155°C and even up to +200°C if required.
The company's high voltage capacitors are especially recommended because their performance offers optimum results for energy storage, delay lines or low impedance circuits. For these applications, life expectancy depends on several different factors: form and mode of discharge, frequency of recurrence, mode of operation, climatic condition, etc.
The use of plastic film as a dielectric has the following advantages: high electrical and climatic performance; homogenous; consistant repeatability; and very thin film which allows smaller size components to be used.
The metallised dielectric technique replaces the metal foil of the armatures of traditional capacitors with a very thin coating of metal on the dielectric film. This is deposited at high vacuum. It allows further reduction in size.
Breakdown due to ageing or dielectric overstrain is permanent in traditional foil armature capacitors. In metallised dielectric capacitors this is a short term phenomenon - as the current of the short circuit evaporates the metallisation at the defective spot and the capacitor is again insulated - hence 'self-healing' effect.
Several metals can be used for metallisation of the film. Eurofarad only uses aluminium as, firstly, it is a very good conductive material which favours a low loss angle; and secondly, the residue of self-healing is alumina, which is a very good insulating substance and consequently nonpolluting within the capacitor.
* Foil armature capacitors: For particular cases where these are necessary (very small capacitors, high current, etc) the company makes traditional foil armature capacitors.
* Composite dielectric capacitors: The use of two different dielectrics in the same capacitor sometimes proves interesting and allows the advantages of two dielectrics. For example in the case of metallised composite capacitors this technique makes impregnation easier, avoids ionisation and gives excellent long term stability in all environmental conditions.
* Other capacitors: Eurofarad also offers capacitors with made to order characteristics such as: partial discharge-free capacitors; specific test voltage capacitors; and capacitors to individual technical specifications.
Credit(s)
Further reading:
Upcoming modifications to Bourns' isolation power transformers
26 February 2021, Electrocomp , Passive Components
In the spirit of continuous improvement, effective 14 June 2021, Bourns is changing the silicone material, Hi-pot specification and marking content for its HCT Series high clearance/creepage distance 
...
Read more...
---
Compact transformers for DC/DC converters
26 February 2021, Electrocomp , Passive Components
New from TDK is the EPCOS E10 EM series, a range of insulated SMT transformers that are suitable for various DC/DC converter topologies and gate driver circuits in e-mobility and industrial electronics. 
...
Read more...
---
High voltage and safety certified MLCCs
25 November 2020, TRX Electronics , Passive Components
Knowles Precision Devices offers a wide range of components, including high-voltage MLC (multi-layer chip) capacitors and safety certified capacitors designed to meet the needs of industrial equipment 
...
Read more...
---
Power shunts for high-current applications
25 November 2020, TRX Electronics , Passive Components
Ideal for high-current applications, the PSx series of shunts has been expanded by KOA. Built using a solid metal alloy resistance element with copper terminations, the device also has a low temperature 
...
Read more...
---
Power inductors with high current ratings and low DCR
25 November 2020, RF Design , Passive Components
Coilcraft's new MSS1812T series of shielded surface-mount power inductors feature low DC resistance and excellent current handling in a wide range of industry-standard footprints and inductance values, 
...
Read more...
---
Capacitors for fast-switching semiconductors
30 September 2020, TRX Electronics , Passive Components
KEMET's KC-LINK surface mount capacitors are designed to meet the growing demand for fast switching wide bandgap (WBG) semiconductors that operate at higher voltages, temperatures, and frequencies. These 
...
Read more...
---
High-reliability screening for PPI's capacitors
30 September 2020, RFiber Solutions , Passive Components
As typical electrical tests may not detect internal flaws such as voids, cracks, delaminations and electrode discontinuities, which can lead to latent and/or catastrophic failures in high-power applications, 
...
Read more...
---
Rugged three-phase AC filter capacitors
30 September 2020, Electrocomp , Passive Components
TDK introduced two new series of EPCOS power capacitors for AC filtering in three-phase delta connection applications. The B32375* series is designed for the low to medium power range and covers a capacitance 
...
Read more...
---
Clearing the Static
31 August 2020, Actum Electronics , News
Ionisation and static control
Electronic products normally consist of conductors and insulators. Within the ESD-protected workstation, insulators can be found on products such as PCBs, onthe tools being 
...
Read more...
---
Metallised polypropylene film capacitors
30 September 2020, Avnet Abacus , Passive Components
Vishay Intertechnology has introduced a new series of Automotive Grade DC-Link metallised polypropylene film capacitors optimised for high humidity environments. The Vishay Roederstein MKP1848H DC-Link 
...
Read more...
---