printer friendly version
RKE resonators
10 September 2002
Passive Components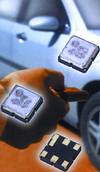 Murata has introduced ultra-compact, lightweight SAW resonators for remote keyless entry systems, claimed to reduce the footprint by about 45%, the volume by 30% and the weight by 50%. Murata's SARCC_M_BX_O family measures 3,0 x 3,0 x 1,15 mm (max).
Six different frequencies range from 304,30 to 434,15 MHz and four initial tolerances are available: ±50, ±75, ±80 and ±100 kHz. This range makes it easy to choose the optimal product for a particular application. When lead-free solder (such as Sn-Ag-Cu) is used, reflow soldering can be at a peak temperature of 260°C.
As remote keyless entry systems have become more widely adopted, they have become smaller and more functional. SAW resonators reduce the number of components required in an oscillation circuit and eliminate the need to adjust the frequency. Consequently, they effectively reduce the size of remote keyless entry systems and the time, labour and cost of producing them.
The market also demands smaller and lower-priced components for these systems. By using thin-film processing and high-density mounting technologies, Murata has introduced SAW resonators using the tiny package from its SAW filters, optimising the cost-effectiveness of both products.
For more information contact Avnet Kopp, 011 809 6100, sales@avnet.co.za, www.avnet.co.za
Credit(s)
Further reading:
Smallest automotive maXTouch controllers
29 July 2020, Altron Arrow, Avnet South Africa , DSP, Micros & Memory
To help enhance and ease today's driving experience, automotive manufacturers are implementing additional touch displays beyond the centre infotainment display (CID). Supporting the application of these 
...
Read more...
---
CeraCharge now available in a small packing unit
30 June 2020, Electrocomp , Passive Components
TDK is presenting a new packing unit for CeraCharge, the world's first SMD technology solid-state rechargeable battery, in the compact size EIA 1812 (4,4 x 3,0 x 1,1 mm). The packing unit (B73180A0101M199) 
...
Read more...
---
3 kW TVS diode arrays
30 June 2020, Avnet South Africa , Circuit & System Protection
To ensure critical operations, aviation and space systems rely on digital and logic functionality and circuitry in engine control units, environmental controls, instruments and actuators. Data centres, 
...
Read more...
---
Surface mount resistors and terminations
30 June 2020, RF Design , Passive Components
Smiths Interconnect announced the release of its extended CXH series of surface mount chip resistors and terminations. The CXH series uses a patented layout to provide improved power handling over conventional 
...
Read more...
---
PCIe Gen 4 switches
30 June 2020, Avnet South Africa , Computer/Embedded Technology
To support cloud, data centre and hyperscale computing that facilitates advancements in artificial intelligence (AI) and machine learning (ML), Microchip Technology released to production its Switchtec 
...
Read more...
---
DIN-rail mounting DC-DC converters
30 June 2020, Avnet South Africa , Power Electronics / Power Management
Shortly after unveiling the brand-new DIN-rail mounting DC-DC converter family, the DDR-15/30/60/120/240 series, Mean Well has announced the DDR-480 series (480 W) to enable integration into higher-power 
...
Read more...
---
Broadband capacitors and their significance
30 June 2020, TRX Electronics , Passive Components
There are a number of circuits that require coupling RF signals or bypassing them to ground while blocking DC over extraordinarily large RF bandwidths. The applications for which they are intended typically 
...
Read more...
---
Thick-film chip resistors
29 April 2020, Electrocomp , Passive Components
Bourns announced the introduction of its new Model CR01005 series thick-film chip resistor. This extra small – 01005 inch (0402 metric) – CR01005 series broadens the general purpose thick-film chip resistor 
...
Read more...
---
Automotive-grade MLCCs
29 April 2020, TRX Electronics , Passive Components
Yageo's automotive grade MLCC (multilayer chip capacitor) AC/AS series is AEC-Q200 qualified as well as MIL-STD-020D tested to ensure its reliability under various temperatures (from -55°C to +150°C) 
...
Read more...
---
Chip resistors in automotive grade
29 May 2020, Altron Arrow , Passive Components
Vishay has enhanced its MC AT precision series of automotive grade thin film chip resistors with a wider range of resistance values from 47 Ω to 10 MΩ in the 1206 case size. The MCA 1206 AT is the industry's 
...
Read more...
---