printer friendly version
New LabVIEW version instantly enables web-based measurements
20 November 2002
Electronics Technology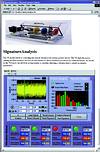 National Instruments' LabVIEW 6.1 graphical development environment for test, monitoring, and control applications, builds on the web capabilities of LabVIEW 6i by simplifying the creation of remote applications and integrating the latest technologies for XML and wireless communications.
This software makes it easier for engineers to control their applications from any commonly used web browser - anywhere in the world. In two mouse clicks, engineers can instantly embed their application's front panel in a web browser, reducing the time and costs typically associated with developing remote applications. This feature makes it possible for colleagues across the office or across the globe to connect to the same system and view an application in realtime. Engineers can also control hardware from a separate office or from home, increasing efficiency and reducing development costs.
In addition to the new tools that maximises the advantages of the web, LabVIEW 6.1 uses the latest commercial technologies to expand networking capabilities. The newest version works seamlessly with Windows XP that has increased networking features and enhanced stability. LabVIEW 6.1 also introduces wireless infrared data communications protocols, empowering engineers to create applications that communicate with wireless devices, such as PDAs. Import and export of XML-formatted data is also possible to integrate VIs with other web or database applications in the enterprise.
LabVIEW 6.1 expands on the measurement capabilities of LabVIEW 6i in terms of an increase the accuracy, efficiency, and speed of measurement and analysis. The point-by-point analysis libraries increase application performance and enhance realtime response acquisition and processing data a single point at a time at relatively high speeds, such as in closed-loop control applications. It also includes functions that increase fast Fourier transform (FFT) analysis speed by as much as 10 times over LabVIEW 6i. Event-driven programming also simplifies the development of sophisticated user interfaces.
NI is releasing the latest versions of the realtime module and the datalogging and supervisory control module. With this tightly integrated family of LabVIEW products, engineers can easily build targeted applications for measurement, monitoring, and control. The LabVIEW realtime module extends LabVIEW graphical development to enable creation of deterministic, realtime applications. The datalogging and supervisory control module is an ideal tool for distributed monitoring applications and now offers enhanced historical data management tools in addition to built-in features for monitoring applications.
Further reading:
Online training: Battery Safety and Protection Overview
23 October 2019 , Electronics Technology, Multimedia, Videos
So many of the portable devices, electronic equipment, and tools we use every day are powered with lithium-ion battery systems. But one challenge for engineers who design these lithium-ion-powered products 
...
Read more...
---
Using Wi-Fi to detect dangerous concealed objects
15 August 2018 , Electronics Technology
American university researchers have come up with a way of using Wi-Fi signals to detect weapons, bombs and explosive chemicals concealed in bags, backpacks or other luggage. The collaborative, peer-reviewed 
...
Read more...
---
Wits researchers make carbon nanotube discovery
13 June 2018 , Editor's Choice, Electronics Technology
Researchers at the University of the Witwatersrand (Wits) have found ways to control the spin transport in networks of the smallest electrical conductor known to man.
Read more...
---
Evolution of home technology from connected to proactive
16 May 2018, Molex-Connector & Interconnect Div. , Electronics Technology
The idea of 'home' has evolved greatly over the millennia. Over the last decades, technology has transformed homes into hubs of functionality – centres of entertainment, environmental management, work, 
...
Read more...
---
Products of the Year 2017
15 November 2017 , Electronics Technology
Tiny Bluetooth low energy module
Xilinx all programmable RFSoCs
PSoC 6 microcontrollers for IoT
PolarFire FPGAs from Microsemi
LTE Cat M1/NB1 multi mode module
Low-profile 2,4 GHz antenna
Multi-pixel 
...
Read more...
---
Wits researchers demonstrate quantum teleportation of light
15 November 2017 , News, Electronics Technology
Quantum communication over long distances is seen as the future of information security and has been demonstrated in free space and fibre with two-dimensional states, recently over distances exceeding 
...
Read more...
---
Tiny Bluetooth low energy module
15 November 2017, NuVision Electronics , Electronics Technology
Silicon Labs introduced what was the industry's smallest Bluetooth low energy system-in-package (SiP) module with a built-in chip antenna. Available in a tiny 6,5 x 6,5 mm package, the BGM12x Blue Gecko 
...
Read more...
---
Xilinx all programmable RFSoCs
15 November 2017, Avnet South Africa , Electronics Technology
Xilinx announced delivery of its Zynq UltraScale+ RFSoC family, an architecture integrating the RF signal chain into a system-on-chip (SoC) for 5G wireless, cable Remote-PHY and radar. Based on 16 nm 
...
Read more...
---
PSoC 6 microcontrollers for IoT
15 November 2017, Future Electronics , Electronics Technology
Cypress Semiconductor unveiled PSoC 6, its newest microcontroller (MCU) architecture that is purpose-built for the Internet of Things (IoT). The architecture is built on ultra-low-power 40 nm process 
...
Read more...
---
PolarFire FPGAs from Microsemi
15 November 2017, ASIC Design Services , Electronics Technology
Microsemi unveiled the cost-optimised PolarFire field programmable gate array (FPGA) product family, delivering what the firm claimed as the industry's lowest power at mid-range densities with 12,7 
...
Read more...
---