printer friendly version
Measuring plus recording with multimeter system
20 November 2002
Electronics Technology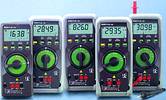 Rishabh Instruments, now locally represented by Tycom, has introduced the RISHmulti series of digital multimeters for precision measurements. The series includes six different models viz RISHmulti 12S-16S which differ in the number of measuring functions, the method of measuring functions (RMS/average), basic accuracy, and the availability of special measurement functions.
All the models have an interface to transfer the measured data to an electronic data-processing system. The multimeters are suitable for the universal measurement in the fields of electrical/electronic engineering, radio and TV engineering, digital technology as well as for electrification, maintenance and other engineering applications.
Safety features
The automatic terminal blocking system (ABS) blocks the terminals not necessary for the particular measurement being performed. This prevents the incorrect connection of the test leads and incorrect setting of the function selector switch. Protection class II, large clearances and creepage distances as well as a contact-safe connection technique offer a very high degree of electrical safety. High precision fuses, protective diodes and overvoltage arresters protect the user from danger and the meter from being damaged in the case of overload.
The meters have complete magnetic and electrical shielding for electro-magnetic compatibility (EMC), while a safety cover of soft rubber protects the meter from damage against accidental shocks.
Measuring functions
In addition to the usual functions (voltage, current, resistance, diode test and continuity test) it is also possible to measure frequency, capacitance, duty cycle and temperature. With AC and composite quantities, a root-mean-square value measurement (TRMS) is easily achieved, regardless of the waveform.
A function selector switch and four pushbuttons permit quick, easy, and safe operation. The multimeter is auto-ranging although the range can also be manually selected and fixed. There is a choice between manual or automatic meter turn-off.
The measured values are shown on an LCD in digital and analog form. For the observation of variations of the measured value around the 'zero' point, the analog scale is also negative ranging.
The meters are fitted with a RS232 C interface with infrared transmission. When connected to a PC, that has the relevant software installed, the recording facilities are enhanced. With the use of Memory adapter SI 232, the user has the advantage of being able to record the measured data without needing an on-site PC - it can be downloaded afterwards. Together with an attachable interface adapter, the RISHcom 100 software, and any commercial PC, the RISHmulti can be configured to make a multimeasurement system.
Each measuring range is precisely calibrated and the meter comes with a test certificate. It is warranted against defects in material, workmanship and calibration for one year.
For more information contact Tycom, 011 787 8508, info@tycom-sa.com
Credit(s)
Further reading:
Online training: Battery Safety and Protection Overview
23 October 2019 , Electronics Technology, Multimedia, Videos
So many of the portable devices, electronic equipment, and tools we use every day are powered with lithium-ion battery systems. But one challenge for engineers who design these lithium-ion-powered products 
...
Read more...
---
Using Wi-Fi to detect dangerous concealed objects
15 August 2018 , Electronics Technology
American university researchers have come up with a way of using Wi-Fi signals to detect weapons, bombs and explosive chemicals concealed in bags, backpacks or other luggage. The collaborative, peer-reviewed 
...
Read more...
---
Wits researchers make carbon nanotube discovery
13 June 2018 , Editor's Choice, Electronics Technology
Researchers at the University of the Witwatersrand (Wits) have found ways to control the spin transport in networks of the smallest electrical conductor known to man.
Read more...
---
Evolution of home technology from connected to proactive
16 May 2018, Molex-Connector & Interconnect Div. , Electronics Technology
The idea of 'home' has evolved greatly over the millennia. Over the last decades, technology has transformed homes into hubs of functionality – centres of entertainment, environmental management, work, 
...
Read more...
---
Products of the Year 2017
15 November 2017 , Electronics Technology
Tiny Bluetooth low energy module
Xilinx all programmable RFSoCs
PSoC 6 microcontrollers for IoT
PolarFire FPGAs from Microsemi
LTE Cat M1/NB1 multi mode module
Low-profile 2,4 GHz antenna
Multi-pixel 
...
Read more...
---
Wits researchers demonstrate quantum teleportation of light
15 November 2017 , News, Electronics Technology
Quantum communication over long distances is seen as the future of information security and has been demonstrated in free space and fibre with two-dimensional states, recently over distances exceeding 
...
Read more...
---
Tiny Bluetooth low energy module
15 November 2017, NuVision Electronics , Electronics Technology
Silicon Labs introduced what was the industry's smallest Bluetooth low energy system-in-package (SiP) module with a built-in chip antenna. Available in a tiny 6,5 x 6,5 mm package, the BGM12x Blue Gecko 
...
Read more...
---
Xilinx all programmable RFSoCs
15 November 2017, Avnet South Africa , Electronics Technology
Xilinx announced delivery of its Zynq UltraScale+ RFSoC family, an architecture integrating the RF signal chain into a system-on-chip (SoC) for 5G wireless, cable Remote-PHY and radar. Based on 16 nm 
...
Read more...
---
PSoC 6 microcontrollers for IoT
15 November 2017, Future Electronics , Electronics Technology
Cypress Semiconductor unveiled PSoC 6, its newest microcontroller (MCU) architecture that is purpose-built for the Internet of Things (IoT). The architecture is built on ultra-low-power 40 nm process 
...
Read more...
---
PolarFire FPGAs from Microsemi
15 November 2017, ASIC Design Services , Electronics Technology
Microsemi unveiled the cost-optimised PolarFire field programmable gate array (FPGA) product family, delivering what the firm claimed as the industry's lowest power at mid-range densities with 12,7 
...
Read more...
---