printer friendly version
Electronics News Digest
2 April 2008 News Electronic News Digest
Southern Africa
Tellumat Telecoms has been named a preferred supplier of business communications equipment to Orion Telecom, a wholly owned subsidiary of JSE-listed Vox Telecom. Tellumat joins the ranks of a number of leading companies who have been accorded preferred supplier status by Orion. Jacques du Toit, MD of Orion, says, "This agreement recognises Tellumat's track record and access to best-in-class global technology solutions that will add value to Orion's growing mid- and top-range customer base." Tellumat will also provide support and training as part of the agreement.
South Africa's mobile users will benefit from the continuous development of content services as reductions in broadband costs offer cheaper Internet access. Global growth consulting company Frost & Sullivan anticipates the demand for mobile content services in South Africa to increase because of rising customer awareness about the availability of multiple services and applications. The researcher has predicted that the South African mobile content services market will grow by an average of 15% up until 2013.
Altech has acquired a controlling interest in three subsidiaries of Kenya's Sameer ICT group for approximately R650 million. The transaction sees Altech acquire a 51% controlling interest in Kenya Data Networks, Swift Global (Kenya) and Infocom. "These acquisitions support our strategy of moving up the telecoms value chain, expanding our geographic presence in Africa and operating at technology's cutting edge," commented Altech's CEO Craig Venter. "We are now the leading broadband network operator in East and Central Africa."
Vodacom and its shareholders, together with Rand Merchant Bank, are in the process of structuring a unique and complex black economic empowerment transaction ('BEE transaction'), which will be implemented as part of Vodacom's efforts to achieve the objectives set out in the Department of Trade and Industry's Broad-Based Black Economic Empowerment Codes of Good Practice and the draft Information and Communications Technology Charter. The transaction, which will include a significant offer to previously disadvantaged individuals and groups, is expected to be valued at R7,5 billion.
Comtest recently returned from the Fluke Industrial Tools and the Fluke FPM and Hart Scientific conferences held in Rome, coming away with the award for Best Overall Distributor in both categories.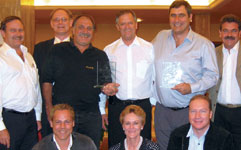 The Comtest team proudly displays its trophies
Overseas
Business
NXP Semiconductors announced sales of 1,162 million Euros for the fourth quarter of its 2007 financial year, a comparable growth of 1,9% over the third quarter of 2007 and 9,3% more than the fourth quarter of 2006. Adjusted EBITDA in the fourth quarter was 243 million Euros, reflecting a 7,5% nominal growth over the third quarter of 2007. Full year sales amounted to 4629 million Euros, a comparable increase of 1,4%, reflecting soft market conditions as well as a much stronger exchange rate of the Euro versus the US dollar in 2007. On a nominal basis, full year sales fell 6,7%.
Silicon Storage Technology has announced results for the fourth quarter and year ended 31 December 2007. Net revenues for the fourth quarter of 2007 were $107,4 million, compared with $107,5 million in the third quarter of 2007 and with $118,2 million in the fourth quarter of 2006. Net loss for the fourth quarter of 2007 was $24,3 million, or $0,23 per share, compared to a net loss of $16,6 million, or $0,16 per share in the third quarter of 2007, and a net loss of $39,5 million, or $0,38 per share in the fourth quarter of 2006. Net revenues for the fiscal year were $411,7 million, compared with $452,5 million for the previous year. Net loss for 2007 was $49,7 million, or $0,48 per share, compared to a net loss of $20,8 million, $0,20 per share in 2006.
Actel announced net revenues of $51,1 million for the fourth quarter of 2007, up 6% from the fourth quarter of 2006 and up 7% from the third quarter of 2007. Including stock-based compensation, option investigation expenses and other adjustments in accordance with generally accepted accounting principles (GAAP), Actel reported a net loss of $1,6 million, or $0,06 per basic share, for the fourth quarter of 2007 compared with a net loss of $75 million, or $0,28 per basic share, for the fourth quarter of 2006 and net income of $1,8 million, or $0,07 per diluted share, for the third quarter of 2007.
Tyco Electronics reported net sales of $3,7 billion for the fiscal first quarter ended 28 December 2007, an increase of 19% over the prior-year period. GAAP diluted earnings per share (EPS) from continuing operations were $1,75 for the quarter, compared to $0,48 in the prior-year period. Included in EPS from continuing operations was $1,15 of income related to the company's tax-sharing agreement from adoption of a new accounting standard, as well as $0,03 per share of charges related to restructuring. This compares to $0,02 per share of charges in the prior-year quarter. Adjusted diluted EPS from continuing operations was $0,63 in the quarter, an increase of 26% over last year's adjusted EPS of $0,50.
Companies
Seoul Semiconductor announced that Acriche, the world's first AC-driven semiconductor lighting source, has received CE Marking and German TUV certification, confirming that Acriche conforms to stringent global standards for product safety. Acriche is said to be the world's first LED package to receive the CE Marking.
Agilent Technologies and Beceem Communications announced that they will extend their WiMAX collaboration to include Mobile WiMAX Wave 2 Protocol Test. The companies will ensure that customers can confidently use Agilent protocol test systems with Beceem's Mobile WiMAX reference designs. Both companies will verify that their designs are accurate implementations of Mobile WiMAX standards, thereby enabling their customers to bring reliable solutions to the market fast. The availability of rigorous and efficient protocol test solutions is a must for ensuring that the latest WiMAX technologies are delivered with a high degree of device interoperability. This level of assurance helps to create customer confidence and drive market growth.
RF Micro Devices (RFMD) announced the completion of its acquisition of Filtronic Compound Semiconductors (Filtronic), a wholly owned subsidiary of Filtronic PLC. Under the terms of the transaction, RFMD paid an acquisition price of approximately £12,5 million pounds in cash; this price included the purchase of Filtronic's six-inch GaAs wafer fabrication facility at Newton Aycliffe, United Kingdom, and the purchase of its millimetre-wave RF semiconductor business.
XP Power announced that it has bought out its partner's 50% shareholding of their manufacturing joint venture, Forton XP Power. The $2,5 million deal gives XP Power complete control and ownership of the 2400 square metre power supply manufacturing operation that was established with Forton in 2006. Expansion plans, already commenced, will provide an additional 5600 square metres of manufacturing and administration space. As part of the increased manufacturing facilities, a short-run production line will be set up. This will allow pre-production units to be delivered to customers within four to six weeks of receiving an order.
Micron has launched Aptina Imaging, creating a separate division and new identity for its CMOS imaging business. Operating as an independent division within Micron is expected to allow Aptina to better focus on delivering high-quality imaging solutions to its global customer base. Aptina will continue to take advantage of the research and development investments Micron has made in manufacturing CMOS image sensors, leveraging the synergistic technological benefits that Micron has come to realise between manufacturing memory and CMOS image sensors.
Infineon Technologies entered into a definitive agreement, under which LSI will acquire Infineon's hard disk drive (HDD) business. Under the terms of the agreement, LSI will purchase the Infineon HDD business, which designs, manufactures and markets semiconductors for HDD devices. Infineon will transfer its complete HDD activities, including customer relations as well as know-how and will grant an IP license. Also included in the transaction is a design service agreement. The transaction does not comprise significant assets and transfer of employees. Financial details were not disclosed.
H3C Technologies has selected IDT network search solutions for its current and future networking, wireless, and storage products. The IDT network search engines and search accelerators will provide H3C with the higher bandwidth and network intelligence needed to deliver converged voice, data, and video services across multiple H3C products.
IBM and Hitachi announced that they have signed a unique, two-year joint semiconductor metrology research agreement in order to speed the pace of semiconductor innovation. The agreement marks the first time the companies have collaborated on semiconductor technology, although they do currently work together on enterprise servers and other products. The new collaboration will focus on 32-nm and beyond semiconductor research and will use new methods that include the latest technologies to analyse semiconductor devices and structures in order to improve the characterisation and measurement of transistor variation, as well as to develop a better understanding of device physics.
Industry
The world wireless communications test and measurement market continues to witness strong growth, aided by the introduction of new technologies such as W-CDMA/HSDPA, HSUPA, TD-SCDMA and CDMA2000 1xEV-DO. While 3G technology has been playing a vital role in the progress of this market, HSDPA and HSUPA will likely enhance market value and growth in the future. To facilitate this market of such dynamic technology, Frost & Sullivan predicts that the world wireless test and measurement equipment market, which earned revenues of $2,6 billion in 2006, will more than double to reach $5,5 billion in 2013.
The total number of 4G subscribers worldwide, including both LTE and WiMAX, is expected to exceed 90 million in 2013, but a number of milestones must be passed en route, according to a new forecast from ABI Research. At the end of 4Q 2007, says the firm, there were nearly 3,4 billion mobile subscribers worldwide, with 2,7 billion on GSM/EDGE/GPRS networks. Worldwide WCDMA subscriber numbers hit 180 million in 4Q 2007, and (including HSPA) are forecast to approach 720 million in 2013.
A powerful, EU-funded consortium, led by STMicroelectronics, is setting out to develop advanced silicon-based bipolar transistors capable of operating at frequencies up to 0,5 THz (500 GHz). The three-year DotFive project, worth 14,75 million Euros, seeks to develop the technology which will underlie next-generation millimetre wave and terahertz communication, radar, imaging and sensing applications. The project involves 15 partners from industry and academia in five European countries.
Ever willing and eager to adopt new technologies, the Japanese are running a pilot project using hydrogen fuel cells to provide electricity to 2200 homes. Each home has a suitcase-sized fuel cell which also generates enough heat as a by-product to heat the home's water. The Japanese government has earmarked 32,4 billion yen per year for fuel cell development and plans for 10 million homes to be powered by fuel cells by 2020.
Technology
Researchers at the University of Michigan have developed what they believe is the world's most intense laser beam. The record-setting beam, which can emit 30 femtosecond bursts every 10 seconds, contains 300 Terawatts of power, which equates to 300 times the capacity of the entire energy grid of the USA. The beam's power is concentrated to a 1,3 micron speck, which is roughly 100th the diameter of a human hair. To put this magnitude of energy in perspective, it is roughly equivalent to holding a giant magnifying glass in space and focusing all the sunlight shining toward Earth onto one grain of sand.
Frost & Sullivan has taken interest in a new class of material discovered by a team of scientists at the National University of Singapore (NUS), which has exceptionally high hydrogen content and can release hydrogen at temperatures near the operation temperature of proton exchange membrane (PEM) fuel cells. The researchers have already patented their findings and expect the technology to find potential applications in portable fuel cell devices and vehicles.
A team of researchers, led by Jeremy Levy of the University of Pittsburgh, has developed a method of drawing, erasing and redrawing electrically conductive paths on a special material. Using an atomic force microscope, the tracks are as thin as 3 nanometres, narrower than what can be achieved with electron beam lithography, which is one of the most precise techniques for etching devices out of silicon. The discovery is expected to enable the creation of rewritable logic circuits and highly dense computer memory.
Researchers at the National Institute of Standards and Technology in the US, have developed what they say is a simplified method of making electronic devices from organic semiconductor material. The method enables organic semiconductor molecules to form field-effect transistors by self-assembling around chemically pretreated electrodes. This results in an array of transistors with good electrical properties, that are also insulated from one another. This development is expected to lead to a low-cost way of manufacturing large, flexible, organic electronic circuits.
Further reading:
Locked down but not knocked out
25 March 2020, ExecuKit , News
As a business, we are facing extremely hard times with the current worldwide pandemic and isolation. We are all maintaining social distancing and must learn how to do business with an enforced lockdown 
...
Read more...
---
From the editor's desk: A new era – after mourning comes rebuilding
29 April 2020, Technews Publishing , News
When I sit down to write these columns once a month, even if the topic I decide to write about is not all sunshine and roses, I always try and look for a silver lining. I'm simply not able to do that 
...
Read more...
---
Personality profile: Chris Viveiros
29 April 2020, Otto Wireless , News
The operations director of Otto Wireless Solutions shares his background, experience, advice and thoughts on the future.
Read more...
---
Locked down but not knocked out
29 April 2020, ExecuKit , News
We as a company salute the component suppliers who have supported us and are there to assist during this time even if the requests we pose are not always realistic.
Read more...
---
Electronics industry tackling the coronavirus
29 April 2020 , News
2020 has been a crazy year already. From Australian bushfires to climate emergencies to US trade tariffs, the start of the decade hasn't been very positive. Not only this, within the last few months there 
...
Read more...
---
SqwidNet becomes first Sigfox-accredited lab in southern hemisphere
29 April 2020, iSERT , News
iSERT (Safety, EMC, RF, Testing), a leader in the provision of turnkey testing solutions for EMC, RF and safety testing, has collaborated with SqwidNet, the only licenced Sigfox operator in South Africa, 
...
Read more...
---
Clearing the Static: ESD cleaning and hygiene products
29 April 2020, Altico Static Control Solutions , News
In light of the current COVID-19 pandemic, Actum Group would like to remind electronics manufacturers of our range of antistatic cleaning agents, cleanroom materials and PPE.      
Cleanroom garments and 
...
Read more...
---
Jemstech continuing its growth path
29 April 2020, Jemstech , News
Since its inception in 2005 and especially during the past five years, Jemstech has grown from a medium-sized electronic manufacturing services (EMS) provider into one of the major players for electronics 
...
Read more...
---
Company profile: Phoenix Contact
29 April 2020, Phoenix Contact , News
Phoenix Contact was founded in 1923 in Essen, Germany, by Hugo Knümann. It entered the South African market in 1969 through a local distributor, and was later established as a wholly owned subsidiary 
...
Read more...
---
In memoriam: Vivienne Caroline Dorrington - 19 June 1958 – 21 April 2020
29 April 2020, Technews Publishing , News
It is with great sadness that we announce the death of our CEO, Vivienne Dorrington, after a long and brave battle with cancer. Like her father, Ray Beaumont, who founded Technews Publishing in 1985, 
...
Read more...
---