Lenslet Labs, an Israeli company, has unveiled the world's first commercial optics-based digital signal processing technology, following a successful technology demonstration.

Lenslet's optical digital signal processing engine converts electrical signals to optical signals (forward conversion)and the reverse (back conversion). Forward conversion (the sources array) can operate at a speed of 1 giga vectors per second while the 'Back conversion (using photo detector array) can operate at even higher speeds
This technology boosts the performance of digital signal processing in a single component, setting new performance levels of Tera operations per second. The technology is based on a proprietary optical core that takes multiple electronic digital inputs, converts them into optical signals (photons), performs the desired computation at light speed in the optical core, and then converts the optical output signals back into digital electronic form. The company has taken advantage of new optical components that have appeared on the market in recent years, as well as breakthrough proprietary signal conditioning algorithms.
Lenslet's Optical Digital Signal Processing Engine (ODSPE) reaches Tera (1012) Operations Per Second (TOPS) and, according to the company, has the potential of reaching hundreds of TOPS in the foreseeable future, surpassing current DSP speeds that are measured in hundreds and thousands of Mega (106) Operations Per Second (MOPS).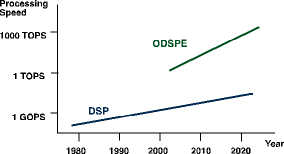 The proprietory optical core achieves a performance equivalent to 8 Tera MAC operations per second, with a performance of hundreds of TOPs expected in the forseeable future
Unlike traditional DSPs, the ODSPE uses mathematical transforms rather than instructions as its basic atomic operations. This greatly accelerates software development time by mapping computation-intensive algorithms onto the ODSPE at a conceptually higher level of abstraction. Lenslet's ODSPE is re-configurable and can be dynamically tailored to the required transform type. Lenslet says it provides on-the-fly programmability, flexibility and upgradeability.
"Lenslet has been successful in leveraging optical technologies originally developed for optical transmission and switching, and applying them to optical computing using a unique algorithmic approach," said Aviram Sariel, Founder and CEO of Lenslet Labs.
"It is a very rare occasion when I can say that a company has a breakthrough technology, but Lenslet appears to have just that," said Will Strauss, President of Forward Concepts, a market research firm that specialises in DSP technology.
Lenslet Labs is headquartered in Ramat Gan, Israel, and employs over 40 professionals, most of them scientists and engineers with advanced degrees.
For further information contact Ron Levy, Lenslet Labs, (0972) 3 753 8410, ron.levy@lenslet.com