printer friendly version
Advanced electronics help explore the sun
25 March 2020
Programmable Logic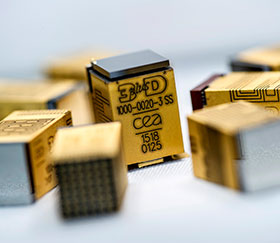 3D Plus has developed, in collaboration with CEA (France), gamma ray detectors for STIX instrument on board the Solar Orbiter. The mission was launched on 10 February 2020 from Cape Canaveral in Florida (USA).
The Solar Orbiter space mission is the result of an international collaboration between ESA and NASA, with the spacecraft being developed by Airbus (France). Solar Orbiter is one of the complementary spacecraft studying the sun at close proximity, as it will join NASA's Parker Solar Probe launched in 2018 and already engaged in its exploration. Solar Orbiter will operate for years in one of the most hostile regions of the solar system and study the sun up close. For the first time, the mission will provide high-resolution images of the uncharted sun's polar regions.
Among the ten instruments composing Solar Orbiter, the Spectrometer/Telescope for Imaging X-rays (STIX) performs hard X-ray imaging spectroscopy of solar flares. It consists of 32 collimators with grids and 32 spectrometer units, called Caliste-SO. The set of these two subsystems will allow the spectro-imaging of solar flares in the field of hard X-rays with a very high level of precision.
The result of a collaboration between 3D Plus and CEA (France), Caliste-SO units are CdTe hybrid detectors. They integrate a 1 cm2 CdTe multi-pixel sensor with a low-noise, low-power analog front-end ASIC and circuits for power supply regulation and filtering.
Based on 3D Plus' unique technology, the design of Caliste-SO vertically stacked four PCBs, which allowed placing ASICs at close distance to the CdTe crystal, therefore increasing the SNR (signal-to-noise ratio). The instrument reaches a high resolution thanks to the miniaturisation of this sensor, which allowed implementing a matrix of 32 units close together. This design suits STIX spectroscopic requirements allowing both high spectral resolution and high-count rate measurements while perfectly suiting system constraints in terms of volume, mass and power. The STIX instrument also embeds many 3D Plus volatile and non-volatile memory parts (512 Mbit SRAM, 64 Gbit NAND Flash and 8 Mbit EEPROM).
3D Plus has also supplied multiple highly reliable memory modules for several instruments. The Polarimetric and Helioseismic Imager (PHI) includes 3D Plus SRAM, SDRAM and NOR Flash and the Energetic Particle Detector (EPD) embeds the company's SDRAM and NAND Flash. 3D Plus memories offer the smallest footprint thanks to the high level of miniaturisation, while providing very high densities for electronic designs.
The Extreme Ultraviolet Imager (EUI) instrument integrates 3D Plus high integration and space qualified all-in-one latch-up current limiters (LCL). This is an optimised solution for power line protection for advanced high-performance electronics and memory banks in space applications.
3D Plus is proud to contribute to such challenging mission with ambitious scientific objectives since Solar Orbiter, together with the Parker Solar Probe mission, will allow unprecedented insight into how our parent star works. The mission aims to reveal how the sun creates and controls the heliosphere that surrounds the whole solar system and influences the planets.
Credit(s)
Further reading:
Embedded vision development tool for RISC-V FPGA
EBV Electrolink Programmable Logic
Microchip Technology announced the second development tool offering in its Smart Embedded Vision initiative for designers using its PolarFire RISC-V system-on-chip (SoC) FPGA. The industry's lowest-power 
...
Read more...
---
HLS tool suite for PolarFire FPGAs
EBV Electrolink Programmable Logic
The need to combine performance with low power consumption in edge compute applications has driven demand for field programmable gate arrays (FPGAs) to be used as power-efficient accelerators while also 
...
Read more...
---
Mid-range FPGAs for edge compute systems
Avnet Silica Programmable Logic
Edge compute systems need compact programmable devices with low power consumption and a small enough thermal footprint to eliminate fans and other heat mitigation while providing robust compute horsepower. 
...
Read more...
---
Microchip achieves JEDEC qualification for rad-tolerant FPGA
Future Electronics Programmable Logic
Developers of small-satellite constellations and other systems used in 'New Space' missions must deliver both high reliability and radiation protection while meeting stringent cost and scheduling requirements. 
...
Read more...
---
Intel Agilex FPGAs deliver flexibility and agility for the data-centric world
Altron Arrow Editor's Choice Programmable Logic
The Agilex FPGA fabric and innovative chiplet architecture delivers an extensible FPGA platform that scales across a wide range of device densities and brings key features and benefits to the table.
Read more...
---
Security tool for mission-critical FPGAs
Future Electronics Programmable Logic
Mission-critical and other high-assurance systems deployed worldwide are under rapidly evolving threats from cybercriminals who attempt to extract Critical Program Information (CPI) via the FPGAs that 
...
Read more...
---
Lattice releases new version of sensAI
Future Electronics Programmable Logic Design Automation
New enhancements have been made to Lattice Semiconductor's award-winning sensAI solution stack for accelerating AI/ML (artificial intelligence/machine learning) application development on low-power Lattice 
...
Read more...
---
FPGAs for embedded vision and edge AI
Future Electronics Programmable Logic
Lattice Semiconductor announced the first FPGA developed on its new Lattice Nexus FPGA platform, the CrossLink-NX. This new FPGA provides the low power, small form factor, reliability, and performance 
...
Read more...
---
Smart manufacturing for electronics
ASIC Design Services Manufacturing / Production Technology, Hardware & Services
This article describes a product development strategy designed for manufacturers of electronics for consumer and industrial products, home appliances, manufacturing services, automotive and transportation, 
...
Read more...
---
FPGA development suite for Pentek recorders
Rugged Interconnect Technologies Programmable Logic
Pentek's ArchiTek FPGA Development Suite is a new product for adding custom IP to select Pentek Talon recording systems. ArchiTek is a comprehensive development environment that enables engineers to add 
...
Read more...
---