printer friendly version
Advanced electronics help explore the sun
25 March 2020
Programmable Logic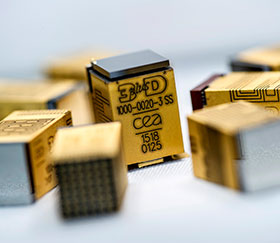 3D Plus has developed, in collaboration with CEA (France), gamma ray detectors for STIX instrument on board the Solar Orbiter. The mission was launched on 10 February 2020 from Cape Canaveral in Florida (USA).
The Solar Orbiter space mission is the result of an international collaboration between ESA and NASA, with the spacecraft being developed by Airbus (France). Solar Orbiter is one of the complementary spacecraft studying the sun at close proximity, as it will join NASA's Parker Solar Probe launched in 2018 and already engaged in its exploration. Solar Orbiter will operate for years in one of the most hostile regions of the solar system and study the sun up close. For the first time, the mission will provide high-resolution images of the uncharted sun's polar regions.
Among the ten instruments composing Solar Orbiter, the Spectrometer/Telescope for Imaging X-rays (STIX) performs hard X-ray imaging spectroscopy of solar flares. It consists of 32 collimators with grids and 32 spectrometer units, called Caliste-SO. The set of these two subsystems will allow the spectro-imaging of solar flares in the field of hard X-rays with a very high level of precision.
The result of a collaboration between 3D Plus and CEA (France), Caliste-SO units are CdTe hybrid detectors. They integrate a 1 cm2 CdTe multi-pixel sensor with a low-noise, low-power analog front-end ASIC and circuits for power supply regulation and filtering.
Based on 3D Plus' unique technology, the design of Caliste-SO vertically stacked four PCBs, which allowed placing ASICs at close distance to the CdTe crystal, therefore increasing the SNR (signal-to-noise ratio). The instrument reaches a high resolution thanks to the miniaturisation of this sensor, which allowed implementing a matrix of 32 units close together. This design suits STIX spectroscopic requirements allowing both high spectral resolution and high-count rate measurements while perfectly suiting system constraints in terms of volume, mass and power. The STIX instrument also embeds many 3D Plus volatile and non-volatile memory parts (512 Mbit SRAM, 64 Gbit NAND Flash and 8 Mbit EEPROM).
3D Plus has also supplied multiple highly reliable memory modules for several instruments. The Polarimetric and Helioseismic Imager (PHI) includes 3D Plus SRAM, SDRAM and NOR Flash and the Energetic Particle Detector (EPD) embeds the company's SDRAM and NAND Flash. 3D Plus memories offer the smallest footprint thanks to the high level of miniaturisation, while providing very high densities for electronic designs.
The Extreme Ultraviolet Imager (EUI) instrument integrates 3D Plus high integration and space qualified all-in-one latch-up current limiters (LCL). This is an optimised solution for power line protection for advanced high-performance electronics and memory banks in space applications.
3D Plus is proud to contribute to such challenging mission with ambitious scientific objectives since Solar Orbiter, together with the Parker Solar Probe mission, will allow unprecedented insight into how our parent star works. The mission aims to reveal how the sun creates and controls the heliosphere that surrounds the whole solar system and influences the planets.
Credit(s)
Further reading:
Power efficient mid-range FPGA
ASIC Design Services News
The new imperatives of the intelligent edge – power efficiency, security and reliability – are forcing system architects and design engineers to find new solutions. For the growing number of system designers 
...
Read more...
---
Isolation transformers for high-speed SPE applications
ASIC Design Services Interconnection
Utilising the UWBX patent pending technology, HALO has been able to achieve the high-speed performance needed to meet insertion loss and return loss required for a fully-compliant 2.5GBASE-T1 Ethernet port over single-pair copper cables.
Read more...
---
MPLAB PICkit 5
ASIC Design Services DSP, Micros & Memory
Microchip Technology's MPLAB PICkit 5 in-circuit debugger/programmer enables quick prototyping and portable, production-ready programming for all Microchip components, including PIC, dsPIC, AVR, and SAM devices.
Read more...
---
FPGAs speed up intelligent edge designs
ASIC Design Services Editor's Choice DSP, Micros & Memory
Microchip Technology has added nine new technology- and application-specific solution stacks to its growing collection of mid-range FPGA and SoC support.
Read more...
---
Updated portable library API
ASIC Design Services DSP, Micros & Memory
The Holt Portable Library API now supports all Holt's MIL-STD-1553 terminal devices, providing the customer with a layer of abstraction using standardised functions.
Read more...
---
Successful review for FPGA's crypto
ASIC Design Services DSP, Micros & Memory
The UK government's National Cyber Security Centre has reviewed the PolarFire FPGAs, when used with the single-chip crypto design flow, against stringent device-level resiliency requirements.
Read more...
---
Successful review of PolarFire FPGAs crypto design
ASIC Design Services News
System architects and designers have received acknowledgement of the security of their designs that rely on Microchip Technology's PolarFire FPGAs.
Read more...
---
Holt wins premier award
ASIC Design Services News
Holt Integrated Circuits has announced that Raytheon Technologies Corporation, one of the world's largest defence manufacturers, has recognised Holt with a premier award for performance in 2022 for overall excellence in cost competitiveness.
Read more...
---
Industry's most power-efficient mid-range FPGA
ASIC Design Services Edge Computing & IIoT
The additions expand Microchip FPGA's comprehensive suite of tools and services supporting the PolarFire family of devices, and include the only RISC-V SoC FPGA shipping in volume production.
Read more...
---
Octal ARINC 429 receiver development kit with SPI host interface
ASIC Design Services DSP, Micros & Memory
Holt Integrated Circuits has announced the release of a new ARINC 429 development kit, the ADK-35981, which demonstrates the operation of its HI-35981, an Octal ARINC 429 receiver.
Read more...
---