printer friendly version
Forbatt SA invests in South Africa
30 September 2020 Editor's Choice News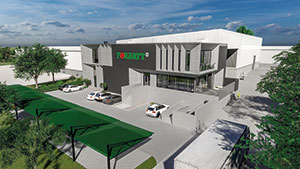 Forbatt SA has been supplying products and support to the South African market since 1996. As the country emerges from the COVID-19 lockdown, the company has demonstrated its faith in the future of the South African economy by setting itself up to offer an improved service to the industry by making sure it has the products and solutions the industry needs.
It has also launched a new showroom where customers will be able to experience hands-on demonstrations of its solutions.
Forbatt lead-Acid Batteries have stood the test of time over the past 23 years in South Africa and the company has a range of products suitable for use across multiple sectors and industries. Today it also includes a large range of accessories, from connectors to mounting boxes, power supplies and more.
The year 2020 will see a major change in the way Forbatt SA operates with the launch of its new warehouse operation in Lanseria, Johannesburg. The new premises are larger and more modern, allowing the company to hold and support more products.
Within the new premises, Forbatt SA has also built a new showroom, at a cost of R2,5 million. The showroom will allow staff to demonstrate products and solutions to its clients, even building demonstrations aimed at solving specific project requirements to prove its systems can meet the most stringent demands.
In an era where load shedding is expected to be worse than ever before, the company is also ensuring its energy business is geared to serve all verticals, including security, enabling critical operations to continue when Eskom can't. The energy solutions customers will be able to acquire include traditional batteries, UPS solutions, solar options and a host of associated electronic components.
Leading Forbatt SA into the new era, Johnson Fang says the company will also be increasing its staff complement to reinforce its commitment to delivering the best customer service in the industry.
Sealed lead-acid batteries are the least expensive battery option per watt-hour on the market. In addition, the manufacturing process of sealed lead-acid batteries is a mature, reliable and well-understood technology. Forbatt's sealed lead-acid batteries offer a wide range of capacity options for different applications and equipment. More importantly, its sealed lead-acid batteries
have one of the lowest self-discharge rates in the family of rechargeable battery systems. This means they are not only economical, but they also have two critical abilities − durability and dependability.
The expansion to Lanseria has been met with overwhelming support from employees, who support the move and the company's commitment to the local market.
Credit(s)
Further reading:
How do fusion splicers work?
26 February 2021, Lambda Test , Editor's Choice
Fibre-optic fusion splicers are highly accurate machines which are able to automatically align and join fibre-optic cores with sub-micron accuracy.
Read more...
---
The current state of GaN use for RF technology
26 February 2021, RF Design , Editor's Choice, Telecoms, Datacoms, Wireless, IoT
Challenges for predicting the growth and penetration of GaN technology in certain markets come from the extent of the research and development being invested in.
Read more...
---
Modern LIDAR systems promise sensing for every industry
26 February 2021, Altron Arrow , Editor's Choice, Opto-Electronics
As is always the case in human endeavours, it is impossible to know exactly what creative and useful ways people will come up with to use technology such as LIDAR.
Read more...
---
Personality profile: Bossie Coetzer
26 February 2021, Rugged Interconnect Technologies , Editor's Choice, News
"Understanding product knowledge is power. I started reading any magazine that was available with articles discussing embedded products, including microprocessor technologies and bus architectures."
Read more...
---
From the editor's desk: We're still just circling the problem of e-waste
28 April 2021, Technews Publishing , News, Editor's Choice
Until we have many more recycling points and, ideally, weekly pickups like we do with paper recycling, most South Africans are probably just not going to bother.
Read more...
---
A case study on implementing smart traffic management
28 April 2021, Trinity IoT , Telecoms, Datacoms, Wireless, IoT, News
Syntell is a leading South African technology company. One of its key projects is the running and management of one third of Johannesburg's traffic lights. Syntell's system is a full traffic management 
...
Read more...
---
Potensa is born, finding solutions to custom energy needs
28 April 2021 , Power Electronics / Power Management, News
Just Batteries is proud to announce its rebranding and the birth of its new company name: Potensa. Established in 2004 and offering 65 years of combined expertise in creating customised energy solutions 
...
Read more...
---
Conical appointed as Mornsun distributor
28 April 2021, Conical Technologies , Power Electronics / Power Management, News
Mornsun, a leader in vertical industrial power supply design and manufacturing and national high-tech enterprise, with headquarters in China, has appointed Conical Technologies as its new distributor 
...
Read more...
---
Personality profile: Renato Martins
28 April 2021, Altron Arrow , Editor's Choice
"Spending more locally will create jobs, which in turn will have more people paying taxes, which in turn will create more opportunities."
Read more...
---
Preparing IoT designers for next-generation cyberattacks
28 April 2021, NuVision Electronics , Editor's Choice
Even with some of the ambiguity in requirements, protection profiles and certifications, it is clear that IoT security is no longer a 'nice to have'.
Read more...
---