printer friendly version
Forbatt SA invests in South Africa
30 September 2020 Editor's Choice News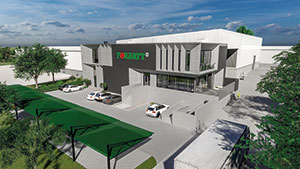 Forbatt SA has been supplying products and support to the South African market since 1996. As the country emerges from the COVID-19 lockdown, the company has demonstrated its faith in the future of the South African economy by setting itself up to offer an improved service to the industry by making sure it has the products and solutions the industry needs.
It has also launched a new showroom where customers will be able to experience hands-on demonstrations of its solutions.
Forbatt lead-Acid Batteries have stood the test of time over the past 23 years in South Africa and the company has a range of products suitable for use across multiple sectors and industries. Today it also includes a large range of accessories, from connectors to mounting boxes, power supplies and more.
The year 2020 will see a major change in the way Forbatt SA operates with the launch of its new warehouse operation in Lanseria, Johannesburg. The new premises are larger and more modern, allowing the company to hold and support more products.
Within the new premises, Forbatt SA has also built a new showroom, at a cost of R2,5 million. The showroom will allow staff to demonstrate products and solutions to its clients, even building demonstrations aimed at solving specific project requirements to prove its systems can meet the most stringent demands.
In an era where load shedding is expected to be worse than ever before, the company is also ensuring its energy business is geared to serve all verticals, including security, enabling critical operations to continue when Eskom can't. The energy solutions customers will be able to acquire include traditional batteries, UPS solutions, solar options and a host of associated electronic components.
Leading Forbatt SA into the new era, Johnson Fang says the company will also be increasing its staff complement to reinforce its commitment to delivering the best customer service in the industry.
Sealed lead-acid batteries are the least expensive battery option per watt-hour on the market. In addition, the manufacturing process of sealed lead-acid batteries is a mature, reliable and well-understood technology. Forbatt's sealed lead-acid batteries offer a wide range of capacity options for different applications and equipment. More importantly, its sealed lead-acid batteries
have one of the lowest self-discharge rates in the family of rechargeable battery systems. This means they are not only economical, but they also have two critical abilities − durability and dependability.
The expansion to Lanseria has been met with overwhelming support from employees, who support the move and the company's commitment to the local market.
Credit(s)
Further reading:
Why you don't take 'touch' for granted
30 September 2020 , Editor's Choice
The key criteria for choosing the right sensor control IC
         Touch has become an incredibly intuitive way for people to interact with high-tech devices. In just a few short years after the first 
...
Read more...
---
Women taking the lead in engineering
31 August 2020 , Editor's Choice, News
Alaris Antennas is an engineering company specialising in the design and production of (often) customised antennas for electronic warfare. This is not an industry that typically attracts women to steer 
...
Read more...
---
Smoke detection matters
30 September 2020, Altron Arrow , Editor's Choice, Analogue, Mixed Signal, LSI
Smoke detection regulations are critically important when the value proposition is as basic as human life itself.
Read more...
---
Personality profile: Mervyn Stocks
30 September 2020, Denver Technical Products , Editor's Choice
Mervyn Stocks, the founder and MD of Denver Technical Products, started his career as a learner technician, worked at some well-known companies in the industry before setting out on his own.
Read more...
---
How 5G will influence autonomous driving systems
30 September 2020, Concilium Technologies , Editor's Choice, Telecoms, Datacoms, Wireless, IoT
Wireless communication technologies like 5G offer three major benefits: safer roads, more efficient traffic routing and more in-vehicle convenience.
Read more...
---
The pivotal role of supercapacitors in powering IoT
30 September 2020, Avnet Abacus , Editor's Choice, Power Electronics / Power Management
With tens of billions of IoT nodes now in the process of being deployed across the globe, there are concerns about how all this hardware can be powered in a practical and environmentally friendly manner.
Read more...
---
Company profile: Omron Electronics
30 September 2020, Omron Electronics , Editor's Choice, News
Omron Electronics can trace its history back to 1933 and the company has been represented in South Africa since the 1960s, promoting the vision of Enabling Innovation in Manufacturing through Automation.
Read more...
---
Lead-acid batteries: quality versus cost
30 June 2020, Forbatt SA , Power Electronics / Power Management
While many battery technologies have come to the forefront, lead-acid has remained the most well-known and cost-effective chemistry. Gel and AGM technologies have revolutionised this technology even further. 
...
Read more...
---
All the security in the world
25 March 2020, Forbatt SA
All the security in the world is useless if there is no power to keep it operational and with the grid under pressure and no respite in sight, the best deterrent is advance preparation.
Read more...
---
What place is there for electronics in horticulture/agriculture?
29 April 2020, Technews Publishing, OSRAM Opto Semiconductor SA, Altron Arrow , Editor's Choice
Dataweek takes a look at what place there is for electronics in horticulture and agriculture, what roles they are serving and what their uptake is in the South African market.
Read more...
---