printer friendly version
Resource centre: Mouser's new Customer Resource Centre
30 September 2020
Multimedia, Videos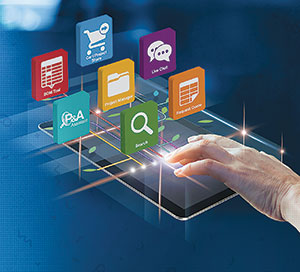 Mouser Electronics' new Customer Resource Centre allows customers to easily take advantage of Mouser's online purchasing services and tools through a central hub containing everything customers need to optimise the purchasing process. Customers can simply click the name of the desired tool and then view or request what they need. To start using the new Customer Resource Centre, go to https://eu.mouser.com/customer-resource-center/.
Customers can access and learn how to view or track orders, request technical support and data sheets, or place orders via API or EDI through Order Automation. The easy-to-use hub helps Mouser customers quickly get more information for parts and any other assistance they require for purchasing.
"Mouser continually assesses and improves our online resources to help buyers and engineers manage their product specifications and purchases," said Coby Kleinjan, VP of Americas Customer Service and Sales. "We are very excited to add this new Customer Resource Centre to our website to help customers streamline the buying process as we continue to make it our mission to provide best-in-class service around the world."
The Customer Resource Centre houses a full suite of productivity tools from Mouser, including the FORTE intelligent BOM tool and Price and Availability Assistant, as well as information on creating a My Mouser account for even easier online ordering.
As an authorised distributor, Mouser Electronics is focused on the rapid introduction of new products and technologies, giving customers an edge and helping speed time to market. Over 800 semiconductor and electronic component manufacturers count on Mouser to help them introduce their products into the global marketplace. Mouser's customers can expect 100% certified, genuine products that are fully traceable from each manufacturer.
With its broad product line and unsurpassed customer service, Mouser strives to empower innovation among design engineers and buyers by delivering advanced technologies. Mouser stocks the world's widest selection of the latest semiconductors and electronic components for the newest design projects. Its website is continually updated and offers advanced search methods to help customers quickly locate inventory. Mouser.com also houses data sheets, supplier-specific reference designs, application notes, technical design information and engineering tools.
Credit(s)
Further reading:
Wireless charging IC solution
TRX Electronics Power Electronics / Power Management
The WLC1115 transmitter controller IC is the first highly integrated product of the new WLC family of controllers from Infineon for applications in inductive wireless charging.
Read more...
---
Mouser stocks wide product selection from Renesas companies
TRX Electronics News
The products on offer include embedded solutions, semiconductors, optoelectronics, sensors and passive components.
Read more...
---
Mouser stocks wide selection of the latest Phoenix Contact products
TRX Electronics Interconnection
The offering covers a vast selection of sensors, controllers, terminal blocks, connectors and wireless Ethernet products.
Read more...
---
Modules support Wi-Fi 4 and Bluetooth 5.2
TRX Electronics Telecoms, Datacoms, Wireless, IoT
The new modules are mechanically and pin-compatible with the Sterling-LWB module, offering a simplified upgrade path for existing designs.
Read more...
---
Tiny CO2 sensor employs photoacoustic spectroscopy
TRX Electronics Analogue, Mixed Signal, LSI
The device uses a high-sensitivity MEMS microphone to detect the pressure change generated by CO
2
molecules within the sensor cavity.
Read more...
---
Mouser's resource pages make it easier to find what you need
TRX Electronics Design Automation
Mouser Electronics offers a wealth of customer-focused online tools to simplify and optimise the selection and purchasing process. Helping customers to easily browse, select and purchase products, the 
...
Read more...
---
Self-learning AI sensor for fitness tracking
TRX Electronics Analogue, Mixed Signal, LSI
The Bosch BHI260AP is ideal for always-on sensor applications like wrist wearables, hearables, smartphones, AR/VR headsets and controller device.
Read more...
---
Sensor nodes for reliable air quality data
TRX Electronics Analogue, Mixed Signal, LSI
The advanced sensors offer easy integration, fully calibrated outputs with a digital interface, and optimal measurement of vital air quality parameters.
Read more...
---
High-resolution magnetic position sensor
TRX Electronics Analogue, Mixed Signal, LSI
Featuring a 14-bit sensor array and analog front-end, the sensor uses a differential measurement method to compensate for external stray magnetic fields.
Read more...
---
Video demonstrates features of Digi Remote Manager
Altron Arrow Multimedia, Videos
When you need to manage a deployed network of disparate serial devices, there are traditional, time-tested ways to do so. However, they tend to be cumbersome and time-consuming – a problem Digi International 
...
Read more...
---