printer friendly version
TRX welcomes Hannes Taute as new MD
28 October 2020 Editor's Choice News
Hannes Taute, whom many in the local electronics industry will know from his years at Avnet, has been appointed by TRX Electronics as its new managing director. We asked him about his background, what his plans for the company are, and how he envisions what the future will look like.
Dataweek: What is your educational and working background?
Taute: After school I attended Technikon Witwatersrand – today know as University of Johannesburg – where I completed my National Higher Diploma (NHD) Light Current, also known as T4. Part of your qualification in those days was practical experience, which I gained at Air Traffic and Navigational Services (ATNS) based at OR Tambo International Airport. Here I worked on radar, instrument landing systems, VOR and other communications equipment for the air traffic controllers.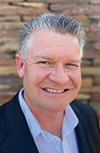 Hannes Taute.
Once I completed my NHD I went to work for a small development company called Giga Technology. Here I did electronic designs on short-range radio links, embedded control systems and some interesting remote monitoring systems for the mines. It was here that I gained really good experience designing systems using microcontrollers from Intel, Microchip and STMicroelectronics. I dealt with customers at all levels, which I really enjoyed.
After a couple of years at Giga technology I joined Avnet as one of its first field applications engineers (FAE). I was also the responsible product line manager for two of its newly acquired lines, namely Microchip and Xilinx.
From this role, over a period of years I held various management positions in sales, marketing and technical. In 2013 I took over responsibility for the running of Avnet South Africa as the managing director. All told, I was with Avnet for 24 years.
Dataweek: What are TRX's main lines of business and how do they play to your strengths?
Taute: Through our partnerships with TTI and Mouser we believe we are the specialists from design to production. Mouser supports the design process by stocking a huge selection of semiconductors and interconnect, passive and electromechanical components for over 800 industry-leading manufacturers. Additionally, TTI is the leading authorised distributor with a broad inventory of interconnect, passive, electromechanical and discrete components across multiple warehouses in Europe and North America.
The fundamentals of promoting a supplier, assisting customers with design-in and the importance of fulfilling customer's orders at the right price with on-time delivery remain the same as what I'm accustomed to. Coming off the bench as a design technician and being involved in procurement I had a good understanding of what customers needed and expected from a component distributor. My focus has been on meeting and exceeding customers' needs and requirements. Over the years I have built great relationships with customers and suppliers alike.
My management style is to encourage team members to support each other and work towards a common goal where the customer is always remembered when formulating any company strategy. TRX operates within the same customer base. I bring my ability to build customer and supplier relationships as well as my ability to positively motivate the team to confidently promote themselves and the company they work for. TRX is really well positioned in the South African market with support from two well-known Berkshire Hathaway companies, namely TTI and Mouser. I believe I can use my experience to help TRX gain maximum benefit from this great relationship.
Dataweek: What is TRX's business model and what are your plans for the company?
Taute: Both TTI and Mouser are world renowned companies and a pleasure to work with. Their extensive product lines and massive stock holding is a huge asset for TRX Electronics which enables us to deliver quality components on time. We have multiple shipments per week and believe we are the distributor of choice for industrial, military, aerospace and consumer electronics manufacturers in South Africa.
TRX Electronics is committed to providing each client with the personalised customer service of a small business while offering the selection and reach of a big corporate. What this means to us is that every client we work with is our most important client, and we will do whatever it takes to ensure that our clients are happy and getting the products they need.
TRX is already a great company with great people offering customers a fantastic level of service. I will be focusing my efforts on growing market share, expanding the TTI and Mouser product offering and ensuring that all SA customers are well aware of TRX and the products on offer.
My short-term goal is to expand the TRX customer base and market the strength of the TTI and Mouser relationship. In the medium term, I aim to ensure that customers have access to leading edge technologies offered by world leading IP&E; suppliers. My long-term goal will be to see TRX as the leading South African distributor for IP&E; products through TTI and customers enjoying the highest level of design support through Mouser.
Dataweek: What is the 'new normal' going to look like?
Taute: There is no doubt that business and the economy in general have been affected by the COVID-19 pandemic, component distribution being no different. Component manufacture and supply has held up relatively well, all things considered.
One of the biggest challenges facing distributors today is logistics from around the world. Flights are limited and airlines are struggling to make money. The result is that there have been extended delays in shipping times, resulting in distributors battling to meet promised delivery dates. Freight rates have also increased and are sometimes being doubled by airlines. Freight gets prioritised according to who is prepared to pay the higher price. This affects the profitability of many companies.
I think we are hoping for some level of normality to return. When this will happen is unknown and I think companies need to manage carefully to ensure they can survive and ensure their viability through this pandemic.
Regardless of disruptions and crises, there are always opportunities. It's difficult to understand today what exactly the 'new normal' will be. Companies that survive and excel in times of crisis carve out their own success. South African customers will continue developing new products and building electronics for local and global markets. TRX is well positioned to support these customers from design to manufacture, offering them world leading suppliers through TTI and Mouser.
Credit(s)
Further reading:
Precision resistors for industrial applications
23 June 2021, TRX Electronics , Passive Components
KOA's existing RN73 precision thin-film resistors will be superseded by the new RN73R series. The new protective coating of the RN73R offers improved moisture resistance and the high heat-resistant metal 
...
Read more...
---
AI starter kit for vision application development
23 June 2021, TRX Electronics , Design Automation
Mouser Electronics is now taking orders for the Kria KV260 Vision AI Starter Kit from Xilinx. The Kria KV260 allows design engineers with no previous experience in AI development to rapidly implement 
...
Read more...
---
Choosing the right approach for power supply selection and design
23 June 2021 , Editor's Choice, Power Electronics / Power Management
Close analysis of the requirements will reveal which point along the curve, from fully off-the-shelf to fully custom, best meets the needs of the application.
Read more...
---
Electronics light the road ahead for the agriculture sector
23 June 2021, Technews Publishing , Editor's Choice, Opto-Electronics
Many horticultural installations are now moving away from traditional sources to LEDs, not only due to their high efficacy but because one can dynamically change the spectrum of the same luminaire without swapping the lamp source.
Read more...
---
MIMO vehicular antennas
23 June 2021, TRX Electronics , Telecoms, Datacoms, Wireless, IoT
Mouser Electronics is now stocking multiple-in multiple-out (MIMO) vehicular antennas from Laird Connectivity. These rugged high-performance products offer engineers multi-port 4G/LTE, dual-band Wi-Fi 
...
Read more...
---
Intel Agilex FPGAs deliver flexibility and agility for the data-centric world
26 May 2021, Altron Arrow , Editor's Choice, Programmable Logic
The Agilex FPGA fabric and innovative chiplet architecture delivers an extensible FPGA platform that scales across a wide range of device densities and brings key features and benefits to the table.
Read more...
---
Preparing for a 5G world
26 May 2021 , Editor's Choice
The 5G network will be able to slice flexibly parallel connections, sized to best fit the level of service users request, and offer the best cost/performance compromise.
Read more...
---
Reliable grounding methods for high-voltage power supplies
26 May 2021, Vepac Electronics , Editor's Choice, Power Electronics / Power Management
Proper ground connections between a power supply, AC mains input and the application's load are essential for stable, reliable operation, but for HV (high voltage) supplies this is even more crucial. 
...
Read more...
---
Events
26 May 2021 , Events, News
Tech Snacks
7-18 June 2021 Virtual A new learning concept from Arrow Electronics allowing visitors to choose from up to five Tech Snacks from across all the event's headline topics. Each snack is a 15-minute 
...
Read more...
---
From the editor's desk: The continued relevance of Moore's Law in the IoT age
26 May 2021, Technews Publishing , News, Editor's Choice
The end of Moore's Law (which famously posits that the number of transistors in a dense IC doubles about every two years, assuming an optimal price/performance ratio) has repeatedly been predicted, yet 
...
Read more...
---