printer friendly version
What is device management and why should you care?
25 November 2020 Editor's Choice Telecoms, Datacoms, Wireless, IoT
Ross Hickey, an IoT device veteran of 20 years and founder of Trinity IoT, defines 'device management' as: "A process to control, monitor, maintain and configure your devices remotely. If access to device data is the lifeline of your business model, then device management is the key to sustain your lifeline."
In other words, device management is imperative if data is mission-critical to a business. This would be the case where a company risks disruption to business operations if data cannot be managed or accessed in real time. Control of data is also valuable if it can create new revenue streams or increase operational efficiency. So, what does this look like in practice? Here are a few examples: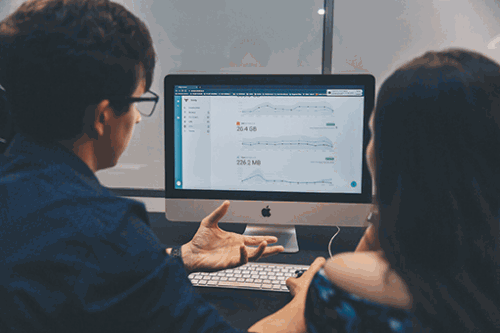 A food delivery company, like Mr D Food, needs to a) notify restaurants that there is a new order, b) notify drivers to pick up an order, and c) notify customers when their food is on the way. In order to coordinate these events on a large scale (thousands of orders must be processed every minute), the food delivery company must have access to live data that communicates the status of the order both to and from the kitchen.
In another example, a security company must immediately send an armed response team to a home if an alarm is triggered. Therefore, the security company must be notified in real time whenever there is a breach in their security system via live data.
Device management is also 'table stakes' when a company owns thousands of highly distributed assets since it's not operationally or financially viable to travel to each asset to perform routine checks and maintenance. Some scenarios include:
• A traffic management solution for a company like Syntell must access data from traffic lights all over a city in order to regulate traffic flow.
• A gaming company that lets thousands of slot machines to casinos throughout the country requires access to asset data to ensure slot machines are in working order.
A sustainable and scalable way to manage distributed assets remotely would be to connect assets to IoT devices, which in turn would transmit data to a device management platform. As Hickey puts it: "When you cannot be everywhere at once to ensure that your assets are operating effectively, that is when you need an IoT device to be your eyes and ears for you. And the only way to make sure everything is working in tip-top shape is to involve device management processes to provision and authenticate, configure and control, monitor and diagnose, and maintain and install software and/or firmware updates of your devices."
Clearly, device management and IoT are synonymous. So, now that you know why device management matters, let's take a closer look at its four fundamental components.
Provisioning and authentication
The first step of implementing device management is to enrol devices on an online management platform. Enrolment is the bridge between the virtual world and the physical world. Once this step is complete, it will be possible to view the status and data of the loaded devices from anywhere in the world. A secure solution also includes an authentication process that ensures only devices with the correct credentials are enrolled.
Configuration and control
Device management allows end users to control and configure device settings remotely from a central interface.
The ability to configure devices and reprogram settings after deployment reduces the risks associated with large-scale rollouts (for example cyber-attacks). The ability to configure device settings protects your device from patch bugs and helps to implement feature enhancements like integrations, analysis, and connectivity. The user will likely be able to prevent virus-induced device failure by keeping the device consistently up to date.
Remote control of devices in the field via bidirectional data streams is valuable as this allows devices to aggregate and send data, as well as receive data from the end user. This is incredibly useful where control beyond just the visibility of your device is required. For instance, if a company issues employees with a 'work-only' phone, device management could be employed to upload apps remotely, lock a stolen phone, clear device data, and more.
Monitoring and diagnostics
Live access to data, enabled by device management, makes remote monitoring and diagnostics possible. As a result, businesses can troubleshoot issues the moment they arise, identify trends and perform predictive maintenance, all of which reduce operational expenditure. Real-time remote monitoring also allows companies to make decisions quickly and respond effectively. For instance, if an asset overheats, a trigger notification will alert an operator to take action, or if an IoT device is stolen, users can view its whereabouts in real time.
Software maintenance and updates
Most devices require regular updates to cater to changing market or business needs or even to optimise to ward off potential bugs. When device management is implemented alongside a centralised interface, companies can update firmware or software, without the need to manually perform each update in the field. Sometimes (most of the time actually) it is difficult to access the device physically – especially if assets aren't all in the same location. Therefore, remote updates are integral in building and maintaining IoT applications.
It should be clear that without device management, acquiring mission-critical data from highly distributed assets would not be an easy task. Device management is a key component of an IoT and in a way that's operationally viable.
As Ross Hickey concludes: "Device management gives you a sense of comfort that it will be okay if you aren't there."
That's great… But what's the catch?
Since IoT systems sit at the heart of business operations and handle core company data, a weak device management foundation may render your business vulnerable to a myriad of security and operational issues. Additionally, it is as important to understand that implementing device management is a complex, long-term undertaking that requires the following:
1. Deep domain expertise.
2. Engineering, infrastructural and networking resources.
3. Partnerships with key industry players.
4. Time to develop an IoT device management platform that works.
When built internally, device management projects require your team to decide which services are needed and then to piece together a complex infrastructure from developer manuals – all of which distracts them from spending valuable time on critical aspects of your business. If the newly built infrastructure has weaknesses, it will only be a matter of time until the system buckles.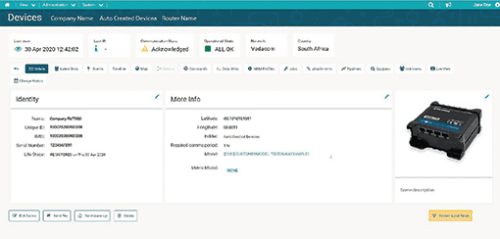 So why struggle when you can skip the hard part?
At Trinity, we understand the importance of building a device management solution on a foundation you can trust. We strive to create simplicity from complexity, by providing customers with the critical services and infrastructure they need to implement device management projects successfully.
From sourcing, importing, configuring and deploying IoT devices, to setting up the network and cloud infrastructure required to bring devices online, we do it all. Customers also have full access to our IoT platform, allowing them to manage their entire device estate from a central interface. Remote management features include:
• Trigger pre-configured commands.
• Wake up sleeping devices.
• Send files.
• GPS and geofencing services.
• Monitor incoming data and events.
• Manage the operating state of devices.
• Link devices to SIMs.
With more than 24 years experience and more than 97 000 managed devices in the field, Trinity IoT is passionate about making device management accessible, effective and useful to companies, no matter their size or industry.
For more information contact Ipuseng Maseko, Trinity IoT, +27 11 465 7377, hello@trintel.co.za, www.trinity.co.za
Credit(s)
Further reading:
Choosing the right approach for power supply selection and design
23 June 2021 , Editor's Choice, Power Electronics / Power Management
Close analysis of the requirements will reveal which point along the curve, from fully off-the-shelf to fully custom, best meets the needs of the application.
Read more...
---
Electronics light the road ahead for the agriculture sector
23 June 2021, Technews Publishing , Editor's Choice, Opto-Electronics
Many horticultural installations are now moving away from traditional sources to LEDs, not only due to their high efficacy but because one can dynamically change the spectrum of the same luminaire without swapping the lamp source.
Read more...
---
Intel Agilex FPGAs deliver flexibility and agility for the data-centric world
26 May 2021, Altron Arrow , Editor's Choice, Programmable Logic
The Agilex FPGA fabric and innovative chiplet architecture delivers an extensible FPGA platform that scales across a wide range of device densities and brings key features and benefits to the table.
Read more...
---
Preparing for a 5G world
26 May 2021 , Editor's Choice
The 5G network will be able to slice flexibly parallel connections, sized to best fit the level of service users request, and offer the best cost/performance compromise.
Read more...
---
Reliable grounding methods for high-voltage power supplies
26 May 2021, Vepac Electronics , Editor's Choice, Power Electronics / Power Management
Proper ground connections between a power supply, AC mains input and the application's load are essential for stable, reliable operation, but for HV (high voltage) supplies this is even more crucial. 
...
Read more...
---
From the editor's desk: The continued relevance of Moore's Law in the IoT age
26 May 2021, Technews Publishing , News, Editor's Choice
The end of Moore's Law (which famously posits that the number of transistors in a dense IC doubles about every two years, assuming an optimal price/performance ratio) has repeatedly been predicted, yet 
...
Read more...
---
Personality profile: Tau Ndhleleni
23 June 2021 , Editor's Choice, News
Being competitive in the industry is something that every company will need to focus on. This can be done in a variety of ways, with one trend pointing toward the supply chain as more businesses aim to avoid constant price reduction.
Read more...
---
The dangers of gut-feel engineering
23 June 2021, Spectrum Concepts , Editor's Choice, News
The human brain is very good at understanding the world around us. An everyday example can be found when driving a car. An experienced driver will be able to judge how large their car is and how close 
...
Read more...
---
Designing better comms systems, from factories to operating rooms
23 June 2021, Altron Arrow , Editor's Choice, Telecoms, Datacoms, Wireless, IoT
At the base of Industry 4.0 is reliable communications infrastructure. This infrastructure enables decision makers to extract data from machines, field devices and factories. Ensuring reliability in 
...
Read more...
---
From the editor's desk: All fall down
23 June 2021, Technews Publishing , Editor's Choice, News
The Internet of Things (IoT) can help mitigate the consequences of load shedding, but paradoxically it could also be one of the biggest victims of the knock-on effects.
Read more...
---