printer friendly version
Embedded Wi-Fi antennas
25 November 2020
Telecoms, Datacoms, Wireless, IoT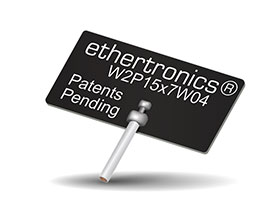 AVX released a brand new series of embedded Wi-Fi antennas designed to satisfy steadily increasing cross-market demand for smaller and thinner wireless products with superior signal sensitivity.
The new W Series embedded Wi-Fi antennas offer a wide range of standard solutions with ultraminiature form factors, PCB or FPC antenna technologies capable of supporting single- and dual-band operating frequencies up to 6 GHz, performance-enhancing foam coatings, and various mounting options. These characteristics enable maximum design flexibility, easy implementation, quicker time-to-market, and reliable, well-matched performance for exceptional network coverage and high-speed data rates in wireless applications extending across the agricultural, commercial, consumer, computing, industrial, medical, and telecommunications markets.
W Series antenna options include support for 2,4 GHz, 5 GHz, and 6 GHz frequency bands, integrated foam coatings on component backsides to minimise antenna detuning on various surfaces, several different mounting adhesives to ensure material compatibility and enable maximum placement flexibility, and various cable lengths, diameters, colours, and connectors.
Ideal applications include wireless gateways, access points, routers and large area networks (WLANs), smart home systems, industrial machine-to-machine (M2M) communications, digital signage, and a wide variety of other cross-market devices and equipment that employ Wi-Fi, Bluetooth and ZigBee communications protocols.
AVX's new W Series is comprised of three families of embedded Wi-Fi antennas: the W1, W2, and W3 Families, all of which weigh just 0,3 g, measure just 0,4 mm in height, support three PCB/FPC thicknesses (0,1 mm, 0,4 mm, and 0,8 mm), exhibit 50 Ω unbalanced feed-point impedance, and comply with the latest RoHS directives.
All three families are available with FPC or PCB antenna technologies, three tuning options (tuning on plastic wall, tuning for foam on plastic wall, and tuning with ribs), three adhesive mounting options for compatibility with FPC, PCB, or PCB+ foam materials, three standard cable lengths (50 mm, 100 mm, and 150 mm) and diameters (0,81 mm, 1,13 mm, and 1,37 mm) with black or grey cable jackets, and three standard connector options: U.FL, W.FL, or MHF4 connectors in down, up, left, or right orientations with respect to PCB silkscreen printing. They are also available without adhesive, without connectors, and with an optional ferrite bead.
For more information contact Electrocomp, +27 11 458 9000, sales@electrocomp.co.za, www.electrocomp.co.za
Credit(s)
Further reading:
5G and IoT in 2021
26 February 2021, Gemalto IoT (Cinterion Wireless Modules) , Telecoms, Datacoms, Wireless, IoT
We are on the brink of an exciting leap in innovation that is changing the very fabric of our society. 5G and IoT technology is more than just a new generation of wireless technology. It represents a 
...
Read more...
---
5G eMBB M.2 modem card with GNSS
26 February 2021, Gemalto IoT (Cinterion Wireless Modules) , Telecoms, Datacoms, Wireless, IoT
Thales' Cinterion MV31-W IoT modem card delivers high- performance 5G enhanced Mobile Broadband (eMBB) for IoT applications such as industrial routers and gateways, digital signage, industrial computers, 
...
Read more...
---
Compact transformers for DC/DC converters
26 February 2021, Electrocomp , Passive Components
New from TDK is the EPCOS E10 EM series, a range of insulated SMT transformers that are suitable for various DC/DC converter topologies and gate driver circuits in e-mobility and industrial electronics. 
...
Read more...
---
Bluetooth Low Energy 5.1 module
26 February 2021, iCorp Technologies , Telecoms, Datacoms, Wireless, IoT
Feasycom's FSC-BT691 is Bluetooth Low Energy (BLE) 5.1 module integrating a 2,4 GHz transceiver and an ARM Cortex-M0+ microcontroller with RAM of 48 KB and one-time programmable (OTP) memory of 32 KB. 
...
Read more...
---
Closed-loop MEMS accelerometer
26 February 2021, Electrocomp , Analogue, Mixed Signal, LSI
TDK announced the release of Tronics AXO315, a miniature, 1-axis closed-loop MEMS accelerometer with a 24-bit digital SPI interface and SMD package that reaches quartz sensor performance, outperforms 
...
Read more...
---
Beamforming transceiver RFIC
26 February 2021, RF Design , Telecoms, Datacoms, Wireless, IoT
The TRX BF/01 from Sivers Semiconductors is a 16+16 channel beamforming transceiver radio frequency integrated circuit (RFIC) that operates from 57 to 71 GHz. This WiGig/802.11ad compliant transceiver 
...
Read more...
---
STM32 wireless MCU module
26 February 2021, Altron Arrow , Telecoms, Datacoms, Wireless, IoT
STMicroelectronics is offering a solution to accelerate the market introduction of new Bluetooth LE and 802.15.4 based IoT devices with a miniature, ready-to-use STM32 wireless microcontroller (MCU) module.  
...
Read more...
---
Ruggedised frequency synthesisers
25 November 2020, RF Design , Telecoms, Datacoms, Wireless, IoT
EM Research's THOR series is a line of frequency synthesisers designed for optimal performance in even the harshest environments. With extensive ruggedisation options and the option of hermetic sealing, 
...
Read more...
---
Standard and modified enclosures catalogue
26 February 2021, Electrocomp , Technical Literature
This shortform, 8-page catalogue provides an overview of aluminium, metal and plastic enclosures available from Hammond Manufacturing, together with corresponding accessories. Hammond Manufacturing 
...
Read more...
---
Low-profile USB Type C vertical receptacle
26 February 2021, Electrocomp , Interconnection
With a height of just 6,5 mm on a printed circuit board (PCB), the vertical-mount USB4120 is a low-profile USB Type C receptacle and joins GCT's range of charging-focused ionex connectors. The 16-pin 
...
Read more...
---