printer friendly version
650 V half-bridge, high- and low-side gate drivers
28 April 2021
Power Electronics / Power Management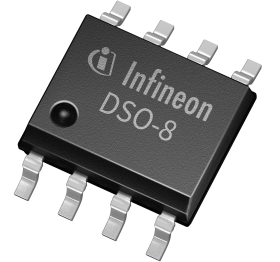 Infineon Technologies has broadened its EiceDRIVER portfolio with new 650 V half-bridge and high- and low-side gate drivers. Based on the company's unique silicon-on-insulator (SOI) technology, they provide leading negative VS transient voltage immunity and monolithic integration of real bootstrap diodes.
All these features reduce the bill-of-materials (BOM) and enable more robust designs with MOSFETs and IGBTs in a compact form factor. The fast level-shift (FLS) family is tailored for high-frequency applications like SMPS and UPS as well as industrial drives and embedded inverters, home appliances, power tools and motor control for fans and pumps.

The EiceDRIVER 2ED2110S06M is a 2,5 A high-current driver, while the EiceDRIVER 2ED2101/03/04 are 0,7 A low-current drivers. The low-current devices are available in DSO-8 packaging, while the 2,5 A driver comes in a DSO-16W package. With 90 ns propagation delays and tight 10 ns maximum delay matching, they support high-frequency switching in the 500 kHz range as well as traditional motor control applications. The 2ED2110S06M supports shutdown functionality, separate logic and power ground. The integrated bootstrap diode offers ultra-fast reverse recovery with a typical 30 Ω on-resistance.
Negative VS transient voltage immunity of -100 V with repeating 300 ns wide pulses supports superior robustness and reliable operation. Integrated dead-time with cross-conduction logic and independent under-voltage lockout (UVLO) for high- and low-side voltage supplies provide safe operation. EiceDRIVER 2ED2110S06M and 2ED2101/03/04 S06F can easily replace earlier generation IR(S)2110/2113S and IR(S)2101/03/04S devices.
For more information contact Gyula Wendler, Altron Arrow, +27 11 923 9709, gwendler@arrow.altech.co.za, www.altronarrow.com
Credit(s)
Further reading:
Synchronous step-down power module
26 May 2021, NuVision Electronics , Power Electronics / Power Management
The MPM3650C from Monolithic Power Systems is a fully integrated, high-frequency, synchronous, rectified step-down power module with an internal inductor. It offers a highly compact solution to achieve 
...
Read more...
---
Medical AC-DC power supplies
28 April 2021, Vepac Electronics , Power Electronics / Power Management
Cosel announced the expansion of its medical power offering with the addition of the PJMA series. The 600 W PJMA600F and the 1000 W rated PJMA1000F have a universal input range of 85 to 264 V a.c. and 
...
Read more...
---
Intel Agilex FPGAs deliver flexibility and agility for the data-centric world
26 May 2021, Altron Arrow , Editor's Choice, Programmable Logic
The Agilex FPGA fabric and innovative chiplet architecture delivers an extensible FPGA platform that scales across a wide range of device densities and brings key features and benefits to the table.
Read more...
---
Reliable grounding methods for high-voltage power supplies
26 May 2021, Vepac Electronics , Editor's Choice, Power Electronics / Power Management
Proper ground connections between a power supply, AC mains input and the application's load are essential for stable, reliable operation, but for HV (high voltage) supplies this is even more crucial. 
...
Read more...
---
Automotive dead reckoning module
26 May 2021, Altron Arrow , Telecoms, Datacoms, Wireless, IoT
STMicroelectronics boasts that its latest Teseo-VIC3DA module is an easy-to-use dead reckoning global navigation satellite system (GNSS) standalone module, embedding a TeseoIII single-die standalone positioning 
...
Read more...
---
Infrared sensor module for outdoor applications
26 May 2021, Altron Arrow , Opto-Electronics
Vishay recently introduced a new extended-temperature 'E' option for its TSSP77038 infrared (IR) sensor module in the Heimdall package. Designed to meet the special requirements of outdoor applications, 
...
Read more...
---
PFC controller IC with boost diode
26 May 2021, MB Silicon Systems , Power Electronics / Power Management
Power Integrations' HiperPFS-4 power factor correction (PFC) controller IC is now available with an integrated Qspeed low reverse recovery charge (Qrr) boost diode. This combination delivers greater than 
...
Read more...
---
Programmable power supplies in new voltage ratings
26 May 2021, Accutronics , Power Electronics / Power Management
New 50 V, 200 V, 400 V and 500 V models have been added to the 5 kW, 10 kW and 15 kW power platforms of the TDK-Lambda Genesys programmable DC power supply series, which target the automotive (component 
...
Read more...
---
Synchronous DC-DC inverting converters
26 May 2021, CST Electronics , Power Electronics / Power Management
The MAX17577 and MAX17578 from Maxim Integrated Products are claimed to be the industry's smallest, highest-efficiency synchronous inverting DC-DC step-down converters. As Maxim's first 60 V inverting 
...
Read more...
---
Isolation for SAR ADCs
26 May 2021, Altron Arrow , Analogue, Mixed Signal, LSI
Question:
How do I add isolation to my ADC without harming its performance?   
Answer:
For isolated high-performance ADCs, keep one eye on isolated clocks and a second on isolated power. SAR ADCs (successive 
...
Read more...
---