printer friendly version
Personality profile: Tau Ndhleleni
23 June 2021 Editor's Choice News
I was born in a township of Sebokeng which falls under Emfuleni District Municipality (previously called Vaal Triangle) within Gauteng province. I started my schooling at primary school, completed Grade 1 through Grade 9, and then branched out to a technical college where I started my electrical engineering studies and completed my N3 Electrical Engineering Technical Certificate. I then studied further at Vaal University of Technology (formerly Vaal Triangle Technikon) and completed my Bachelor of Technologies degree in electrical engineering light current.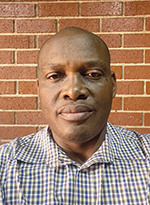 Tau Ndhleleni.
While at technical college I worked at Denel Aeronautics (formerly Atlas Aviation) during school vocational holidays at the time when the first two Rooivalk attack helicopters were being built in the electronics department. I also worked at Mittal Steel's electrical department in Vanderbijlpark doing plant electrical maintenance. Later I joined Eskom Lethabo power station in the electrical department and then moved to the control and instrumentation department – in both departments I was involved with plant maintenance.
My next job was with Vaal University of Technology as a lab technician doing maintenance on electronics instruments used for practical purposes by students. I was also involved in training students on how to operate and use different instruments and how to build electronic circuits. Around the year 2005 I joined Lodox Systems as a detector technician, building detectors that captured X-ray energy on X-ray machines that were built for medical purposes.
At Lodox we used to use Microtronix Manufacturing for assembling our printed circuit boards and my interaction with Microtronix triggered my interest in electronics contract manufacturing. I then worked with Mike Goodyer of Microtronix as a technical director of Afrotronix Manufacturing, and through Mike's help my company Tau Di A Rora Technologies was born.
Challenges faced and lessons learned
Starting and running a business is not as easy as it looks from the outside. The challenges I faced at that time extended from my lack of experience in running a business, lack of funding, and most of all the lack of a stable client base to sustain the business. Electronics contract manufacturing requires that one has the means of production, i.e., production machinery, which doesn't come cheap. The fact that most of the order inflow is dependent on business relationships, and mostly not long term but repeat orders, makes it even harder to finance the required production resources. Another challenge that is still here with us today is the lack of availability of skilled labour that is independent.
The electronics manufacturing industry has been changing rapidly over the past few years and the industry needs to be more innovative. One area where this applies is leveraging the supply chain. Being competitive in the industry is something that every company will need to focus on. This can be done in a variety of ways, with one trend pointing toward the supply chain as more businesses aim to avoid constant price reduction. Predictive maintenance is therefore but one area in which costs could be reduced by about 20%.
Another trend is the shifting from B2B (business to business) to B2B2C (business to business to consumer) models. This has allowed for a variety of benefits. Prominent among these has been increased profit, as companies can avoid factoring in a retailer. It also provides a faster time to market, which many firms may want to take advantage of.
Outlook for the future and keeping things in perspective
Things are currently tough in my view for the SA electronics industry, with Covid-19 being the culprit. Our economy has not yet recovered but signs of recovery are slowly showing. Corruption and the lack of political will are also major challenges, looking at the defence industry and state owned enterprises (SOEs) in general. However, there is also hope for the industry with government insisting on localisation and locally manufactured goods and services. There definitely is a need to do more in supporting the local industry from a policy point of view.
With regards to our youth, there definitely are opportunities in this industry, however these require technical skills. There is a need for engineers, technicians and quality assurance personnel to mention a few. We as companies also have a responsibility towards the development of our youth and the upcoming generation.
When I get time away from the business side of my life, I love working with and assisting the elderly, especially in poor communities. My future plan is to establish an NGO to formally be able to offer much-needed support to our communities. I also offer advice to our youth with regards to opportunities available to them.
Further reading:
Personality profile: Daniel Haywood
25 August 2021 , Editor's Choice
I find pockets of inspiration from the engineers and entrepreneurs that keep their businesses going and work hard to grow their companies.
Read more...
---
The LPWAN state of play in SA
25 August 2021, RF Design, Technews Publishing, Altron Arrow, Otto Wireless Solutions , Editor's Choice, Telecoms, Datacoms, Wireless, IoT
To help give our readers the low-down on what to be aware of and what to expect for the future, we consulted a few leading minds on the subject to get some of their insights and opinions.
Read more...
---
Task group set up to advance TSN interoperability
25 August 2021 , Telecoms, Datacoms, Wireless, IoT, News
Avnu Alliance, the industry consortium driving open, standards-based deterministic networking, announced a new initiative to drive alignment on TSN (time sensitive networking) interoperability in the 
...
Read more...
---
Modern trends are shaping new power connectors
25 August 2021 , Editor's Choice, Interconnection
While it may sound counter-intuitive to use smaller connectors, it is possible to obtain a better total current rating with connectors that use a larger number of smaller terminals.
Read more...
---
The evolution of heavy-duty connectors
25 August 2021, Phoenix Contact , Editor's Choice, Interconnection
Tomorrow's smart production demands smart components that can be assembled quickly, easily and economically to create customised solutions that can be delivered from batch sizes of one upwards.
Read more...
---
Optical design for ToF depth sensing cameras
25 August 2021, Altron Arrow , Editor's Choice
Optics play a key role in time-of-flight (ToF) depth sensing cameras and the optical design dictates the complexity and feasibility of the final system and its performance.
Read more...
---
From the Editor's desk: Sustainability in an unsustainable world
28 July 2021, Technews Publishing , Editor's Choice, News
It is probably the case that almost every generation of humans has believed it faces 'unprecedented' challenges of one kind or another. Partly this can be put down to us having relatively short 'cultural' 
...
Read more...
---
How to ensure end-to-end security for embedded systems
28 July 2021 , Editor's Choice
In order to provide the level of defence required, design engineers must choose wisely from the wide selection of techniques, protocols and products on offer rather than relying on a single component.
Read more...
---
Microtronix revives mothballed Anyview factory
28 July 2021, Microtronix Manufacturing , Editor's Choice, Manufacturing / Production Technology, Hardware & Services
This state-of-the-art production line is a dual-lane Panasonic line with 16 heads capable of running at well over 1 million placements a day.
Read more...
---
Component shortages persist, but hope is in sight
28 July 2021, Microtronix Manufacturing, Technews Publishing , Editor's Choice
The worldwide semiconductor shortage will persist through 2021, but is expected to recover to normal levels by the second quarter of 2022.
Read more...
---