printer friendly version
AI starter kit for vision application development
23 June 2021
Design Automation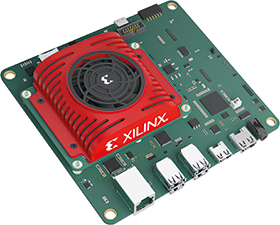 Mouser Electronics is now taking orders for the Kria KV260 Vision AI Starter Kit from Xilinx.
The Kria KV260 allows design engineers with no previous experience in AI development to rapidly implement designs and algorithms onto an FPGA platform. The kit is purpose-built to support accelerated vision applications and is an excellent way for consumer and industrial developers to get up and running in less than an hour with no knowledge of FPGAs or FPGA tools.
The out-of-the-box platform also enables developers to add customisation and differentiation via preferred design environments, at any level of abstraction, from application software to AI model to FPGA design. This kit is the fastest and easiest platform for application development to volume deployment on Kria K26 system-on-modules (SOMs).
The Kria KV260 Vision AI Starter Kit includes multi-camera support for up to eight interfaces, three MIPI sensor interfaces, a USB camera, a built-in ISP component, HDMI DisplayPort outputs and gigabit Ethernet and USB 3.0/2.0 connectivity features. The kit also allows developers to extend to any sensor or interface and provides access to the Pmod ecosystem. The KV260 is optimised for vision applications, featuring multi-camera support via ON Semiconductor Imager Access System (IAS) and Raspberry Pi connectors.
Credit(s)
Further reading:
Interconnect system with 1,0 mm centreline
27 October 2021, TRX Electronics , Interconnection
Mouser Electronics is now stocking the AMPMODU 1,0 mm centreline interconnect system from TE Connectivity (TE). This interconnect system offers an 85% space saving on the board when compared to the 
...
Read more...
---
Altium Designer component creation webinar
27 October 2021 , Design Automation
Component creation is a necessary evil when it comes to design and it's something we all need to do. But instead of spending hours creating your components and having them turn into a complete roadblock, 
...
Read more...
---
Deep learning APIs for Espressif SoCs
27 October 2021, iCorp Technologies , Design Automation
ESP-DL, recently introduced by Espressif Systems, provides APIs for neural network (NN) inference, image processing, maths operations and deep learning (DL) models. With ESP-DL, developers can use Espressif's 
...
Read more...
---
RF power GaN transistor
27 October 2021, TRX Electronics , Telecoms, Datacoms, Wireless, IoT
Mouser Electronics is now stocking the A3G26D055N Airfast RF power gallium nitride (GaN) transistor from NXP Semiconductors. The transistor is designed for cellular base station applications requiring 
...
Read more...
---
TI software tool for power stage design
27 October 2021 , Design Automation
The Power Stage Designer software tool from Texas Instruments (TI) helps you accelerate your power supply designs by calculating voltages and currents of 20 topologies according to your own inputs. All 
...
Read more...
---
EMI power choke impedance finder
27 October 2021 , Design Automation
Coilcraft's EMI Power Choke Impedance Finder is a powerful search and analysis tool for finding the optimal off-the-shelf inductors/chokes for different types of EMI filters (e.g. LC low-pass filters, 
...
Read more...
---
Browser-based design viewer for Altium 365
27 October 2021, EDA Technologies , Design Automation
Complementing its professional-level Altium 365 cloud platform, Altium offers a simple and convenient way to view and share electronic designs through your browser. Schematics, PCB layout and 3D visualisation 
...
Read more...
---
Thermal management solutions for automotive and Mil/Aero
27 October 2021, TRX Electronics , Manufacturing / Production Technology, Hardware & Services
How thermal materials work, how to dissipate unnecessary heat and some of the selection criteria that come into play to select the best TIM form, fit and function.
Read more...
---
Ambient light and proximity sensor
29 September 2021, TRX Electronics , Opto-Electronics
Mouser Electronics is now stocking the TMD2712 ambient light and proximity sensor from ams. The sensor incorporates an infrared (IR) VCSEL (vertical cavity surface emitting laser) and factory-calibrated 
...
Read more...
---
A UI to build better UIs
25 August 2021, Altron Arrow , Design Automation
TouchGFX Designer 4.17 has become available for download, the latest version of STMicroelectronics' user interface (UI) design software featuring a user interface overhaul to make the application more 
...
Read more...
---