printer friendly version
Secure solution for Qi-certified wireless chargers
23 June 2021
Power Electronics / Power Management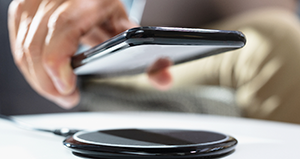 STMicroelectronics is protecting wireless charging of small devices and mobiles with a convenient solution for authenticating certified Qi chargers.
Wireless charging, enabled on an increasing variety of smartphones and wearables is creating opportunities for innovations that offer extra value for users. These include furniture with built-in charging pads, cars that position the charging pad to keep mobiles safely out of reach while driving, and easy charging in hospitality locations such as cafes and restaurants. Chargers must be properly designed to protect consumers' products, particularly in high-power, fast-charging modes.
STSAFE secure elements are loaded with official Qi certificates and provide authentication that leverages state-of-the-art cryptography. The solutions clearly identify the charger and strictly attest to its authenticity as a Qi-certified product.
As an official 'Manufacturer Certification Authority Service Provider', ST has the authority to compute and to sign the official Qi charger certificate that contains both the charger Qi-ID and maker reference. The STSAFE-A110 and STSAFE-V110 for automotive applications are loaded at a secure ST factory, creating a ready-to-use solution that relieves the charger makers from the burden of loading the sensitive data securely.
For consumer markets, STSAFE-A110 is available in 4 x 5 mm SO8N or 2 x 3 mm UFDFPN8 packages. For the automotive market, STSAFE-V110 is available in a TSSOP20 package.
Users can also take advantage of a comprehensive STSAFE-A110 ecosystem to support product development and ease integration of the STSAFE-A110 with the application host system, including ST's STM32 microcontroller family and devices such as its STWBC2 digital controller for wireless battery charger transmitters.
To kickstart development, the X-NUCLEO-SAFEA1A expansion board for STM32 Nucleo boards contains an STSAFE-A110 IC ready to use with the X-CUBE-SAFEA1 software package and X-CUBE-SBSFU secure boot and software update expansion package.
For more information contact Renaldo Fibiger, Altron Arrow, +27 11 923 9600, rfibiger@arrow.altech.co.za, www.altronarrow.com
Credit(s)
Further reading:
A UI to build better UIs
25 August 2021, Altron Arrow , Design Automation
TouchGFX Designer 4.17 has become available for download, the latest version of STMicroelectronics' user interface (UI) design software featuring a user interface overhaul to make the application more 
...
Read more...
---
Non-isolated step-down converters
25 August 2021, Accutronics , Power Electronics / Power Management
Capable of operating from an input voltage of 18 V to 32 V, the non-isolated step-down converters of TDK-Lambda's i7A series deliver an output voltage that can be adjusted from 3,3 to 18 V with an output 
...
Read more...
---
Network synchronisation chip for 5G radio access equipment
25 August 2021, Altron Arrow , Telecoms, Datacoms, Wireless, IoT
5G technology requires time sources to be synchronised throughout a packet-switched network 10 times more accurately than 4G requirements. Microchip Technology now makes it possible to achieve 5G performance 
...
Read more...
---
70 W brushless DC motor drivers
25 August 2021 , Power Electronics / Power Management
Texas Instruments (TI) has introduced the industry's first 70 W brushless DC (BLDC) motor drivers to provide code-free, sensorless trapezoidal and field-oriented control (FOC). The devices enable engineers 
...
Read more...
---
Automotive/industrial isolated buck converters
25 August 2021, Altron Arrow , Power Electronics / Power Management
Optimised for isolated buck regulator designs, the STMicroelectronics A6986I and L6986I DC/DC converter ICs have a wide input voltage range and low quiescent current to ensure robust and energy-efficient 
...
Read more...
---
Rugged silicon carbide power devices
25 August 2021, EBV Electrolink , Power Electronics / Power Management
Today's energy-efficient electric charging systems powering commercial vehicle propulsion, as well as auxiliary power systems, solar inverters, solid-state transformers and other transportation and industrial 
...
Read more...
---
Amber taps Infineon for digital control of electricity
28 July 2021 , Power Electronics / Power Management
Infineon Technologies and Amber Solutions recently announced an alliance on a range of silicon opportunities anchored around Amber's digital control of electricity with embedded intelligence. The collaboration 
...
Read more...
---
Nvidia releases version 4.6 of its AI SDK
28 July 2021, Altron Arrow , Computer/Embedded Technology
Nvidia has rolled out version 4.6 of its JetPack SDK, a production release supporting the Jetson AGX Xavier series, Jetson Xavier NX, Jetson TX2, Jetson TX1 and Jetson Nano. JetPack 4.6 includes support 
...
Read more...
---
High-voltage DC-DC converter for electric vehicles
28 July 2021, Vepac Electronics , Power Electronics / Power Management
By understanding the needs of its performance-driven customers in the market of electrification of air, land and sea vehicles and systems, Crane Aerospace & Electronics engineers have designed and developed 
...
Read more...
---
Single/dual-output DC/DC power module
25 August 2021, NuVision Electronics , Power Electronics / Power Management
The MPM3690-20 from Monolithic Power Systems (MPS) is a dual 13 A output or single 26 A output power module that offers a complete power solution, with excellent load and line regulation. It supports 
...
Read more...
---