printer friendly version
Graphical framework optimised for STM32 microcontrollers
28 July 2021
Design Automation
TouchGFX is an advanced, free-of-charge GUI optimised for STM32 microcontrollers. Taking advantage of the STM32 graphical hardware acceleration, architecture and ecosystem, TouchGFX accelerates the HMI-of-Things revolution through the creation of stunning smartphone user interfaces on embedded devices, ranging from simple low-colour UI applications up to high-resolution and high-colour UI applications.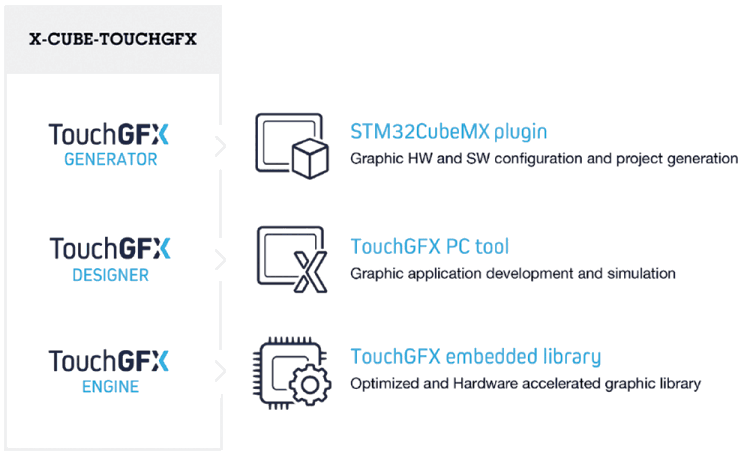 TouchGFX is optimised for STM32 microcontrollers, needing only a limited amount of memory for running smooth GUIs. The TouchGFX solution is distributed as an STM32Cube expansion package (X-CUBE-TOUCHGFX), which includes all TouchGFX software to help users develop their UI application. TouchGFX interoperability within the STM32 ecosystem provides users with an easier and faster development process.
Go to www.dataweek.co.za/*jul21-st to download the TouchGFX GUI and access associated documentation.
Credit(s)
Further reading:
A UI to build better UIs
25 August 2021, Altron Arrow , Design Automation
TouchGFX Designer 4.17 has become available for download, the latest version of STMicroelectronics' user interface (UI) design software featuring a user interface overhaul to make the application more 
...
Read more...
---
Cloud ecosystem for design, supply chain and manufacturing stakeholders
28 July 2021, EDA Technologies , Design Automation
Read more...
---
AI starter kit for vision application development
23 June 2021, TRX Electronics , Design Automation
Mouser Electronics is now taking orders for the Kria KV260 Vision AI Starter Kit from Xilinx. The Kria KV260 allows design engineers with no previous experience in AI development to rapidly implement 
...
Read more...
---
ToF sensor software expansion for STM32Cube
23 June 2021, Altron Arrow , Design Automation
The x-cube-TOF1 expansion software package for STM32Cube runs on STM32 microcontrollers and includes drivers that recognise time-of-flight (ToF) sensors and perform simple ranging on single or multiple 
...
Read more...
---
Sensor library software packs for STM32Cube
23 June 2021, Altron Arrow , Design Automation
STMicroelectronics' X-CUBE-MEMS1 and X-CUBE-MEMSMIC1 software expansion packages include a wide set of examples and libraries which help developers to rapidly develop and evaluate applications based 
...
Read more...
---
Reference design for humidity and temperature sensors
26 May 2021, Electrocomp , Design Automation
The SHT4x Smart Gadget is a simple reference design circuit board which demonstrates the performance and ease of use of Sensirion's SHT4x humidity and temperature sensors. It is equipped with a liquid 
...
Read more...
---
Lattice releases new version of sensAI
23 June 2021, Future Electronics , Programmable Logic, Design Automation
New enhancements have been made to Lattice Semiconductor's award-winning sensAI solution stack for accelerating AI/ML (artificial intelligence/machine learning) application development on low-power Lattice 
...
Read more...
---
Development tools for UWB-enabled Apple products
23 June 2021 , Design Automation
NXP Semiconductors now offer beta ultra-wideband (UWB) development tools from its Trimension portfolio that interoperate with the U1 chip in supported Apple products. The beta development tools will allow 
...
Read more...
---
SnapEDA component library incorporated into DesignSpark
23 June 2021, RS Components (SA) , Design Automation
RS Components has integrated the SnapEDA electronic component library and search engine into its award-winning DesignSpark PCB CAD platform. The new search capability gives engineers easy access to free 
...
Read more...
---
Microchip accelerates embedded security implementations
28 April 2021, EBV Electrolink , Design Automation
In 2019, Microchip Technology released its Trust Platform for its CryptoAuthentication family, bringing the industry's first pre-provisioned solutions for hardware-based secure elements to companies of 
...
Read more...
---