printer friendly version
Personality profile: Derick Smalberger
28 July 2021 Editor's Choice News
"Multitasking in the manufacturing industry is a big advantage in a manager's position and you must be able to handle a high level of stress."
I was born in 1963 in the Johannesburg suburb of Orlando. My father, who was working at the nearby Orlando power station as an operator, bought a truck two years later and started a transport business. Our family then moved to Lake Chrissie in Mpumalanga (which was called Eastern Transvaal at the time) and after a series of moves to several small towns, I matriculated from Hoërskool Florida in 1981.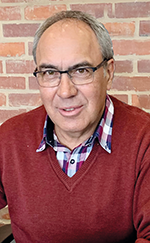 Derick Smalberger
With an Eskom bursary in hand, I earned my electrical and electronic engineering degree at Rand Afrikaans University (today known as University of Johannesburg, or UJ) after which Lyttelton Engineering Works (LEW) bought out my bursary and employed me full-time. There I worked primarily on artillery and military projects, while also completing my national military service over the same period, where I rose to the rank of Lieutenant. The learning had not stopped, however, as in 1998 I began studying a BCom at Unisa to gain more business background.
Forging my own path
I worked at LEW until 1991, where I was the electrical element manager on artillery projects that involved electronic systems design, as well as the department head for artillery electronics. After that I went to Dupec Electronics which designed primarily automotive electronic systems. During this time, I gained experience in detailed design, system engineering and project management of large projects. As head of department, I had to manage a team of eight engineers. Despite my move to Dupec coming at the cost of a drop in salary, it proved to be a wise investment as it laid the groundwork for me to eventually start my own business.
The foundations of entrepreneurship had already been laid much earlier though, learning from my father who was himself a phenomenal entrepreneur. Armed with my knowledge, background and desire, I formulated a five-year plan to start my own company and give it a go, rather than working 14-hour days for an employer. Thus, on 1 June 1993, Sabertek was born – initially as a design companybut within three months evolving into a design and manufacturing company after getting orders to manufacture printed circuit boards.
Sabertek has grown steadily from its inception until the present. Whenever the markets fall or there are component allocations abroad, the manufacturing industry experiences hiccups, yet through it all Sabertek managed to increase its turnover until 2018/19 when it reached a plateau. Growing too rapidly beyond this point without the necessary processes and systems in place could have had a negative effect on our profit… and then Covid-19 came and was a major drawback for all industries.
The state of the industry and its future
There is a lot of excellence in the South African industry and we should work together to build a base for export. Therefore, we need a very strong association of designers and manufacturers to work with organisations like the South African Electrotechnical Export Council (SAEEC) to promote export. If we can focus on business only for a while we can really grow this industry. We need the politicians to listen to businesses and enforce import duties on the correct areas to grow our local manufacturing sector. The stronger that support is, the easier it will be to penetrate the export market.
At this stage the companies that survived the turmoil of recent years are doing better than a year or two ago. Unfortunately, component suppliers and anybody that is carrying stock are in a very bad position, but manufacturing on the other hand is in a good position if we can get components. There is a lot of work and in future we will export more than what we have done before.
Looking to the future and those youngsters who are interested in working in this field, it can be broadly divided into two areas: one is engineering and design and the other is manufacturing.
If you are interested in engineering and design, you need a lot of courage. Our universities in South Africa are up to world standards when it comes to obtaining an engineering degree. It takes about five years to become a good engineer after obtaining your degree and that in itself is a skill no-one can take away from you. To work hard and gain two years' experience in one year is to your own advantage.
If you are interested in manufacturing you need a certain amount of technical knowledge, but studying something like process engineering and profit management is essential and will definitely benefit you. Multitasking in the manufacturing industry is a big advantage in a manager's position and you must be able to handle a high level of stress. The last piece of advice, if you want to start your own business in this industry, is to believe in yourself and in our Creator.
Getting away from the daily grind
My family is very important to me. After so many years of working hard I can now focus on them 100%. Although my son and daughter are all grown up, we spend at least three vacations a year together.
I am very active and enjoy playing golf, cycling and angling, catching predominantly game fish. I enjoy spending time in nature and am also a dedicated hunter. Racing cars is possibly my greatest passion and I have been taking part at the national level since 1996. I also enjoy watching rugby and cricket and I am a very big Lions fan.
Further reading:
Personality profile: Daniel Haywood
25 August 2021 , Editor's Choice
I find pockets of inspiration from the engineers and entrepreneurs that keep their businesses going and work hard to grow their companies.
Read more...
---
The LPWAN state of play in SA
25 August 2021, RF Design, Technews Publishing, Altron Arrow, Otto Wireless Solutions , Editor's Choice, Telecoms, Datacoms, Wireless, IoT
To help give our readers the low-down on what to be aware of and what to expect for the future, we consulted a few leading minds on the subject to get some of their insights and opinions.
Read more...
---
Task group set up to advance TSN interoperability
25 August 2021 , Telecoms, Datacoms, Wireless, IoT, News
Avnu Alliance, the industry consortium driving open, standards-based deterministic networking, announced a new initiative to drive alignment on TSN (time sensitive networking) interoperability in the 
...
Read more...
---
Modern trends are shaping new power connectors
25 August 2021 , Editor's Choice, Interconnection
While it may sound counter-intuitive to use smaller connectors, it is possible to obtain a better total current rating with connectors that use a larger number of smaller terminals.
Read more...
---
The evolution of heavy-duty connectors
25 August 2021, Phoenix Contact , Editor's Choice, Interconnection
Tomorrow's smart production demands smart components that can be assembled quickly, easily and economically to create customised solutions that can be delivered from batch sizes of one upwards.
Read more...
---
Optical design for ToF depth sensing cameras
25 August 2021, Altron Arrow , Editor's Choice
Optics play a key role in time-of-flight (ToF) depth sensing cameras and the optical design dictates the complexity and feasibility of the final system and its performance.
Read more...
---
From the Editor's desk: Sustainability in an unsustainable world
28 July 2021, Technews Publishing , Editor's Choice, News
It is probably the case that almost every generation of humans has believed it faces 'unprecedented' challenges of one kind or another. Partly this can be put down to us having relatively short 'cultural' 
...
Read more...
---
How to ensure end-to-end security for embedded systems
28 July 2021 , Editor's Choice
In order to provide the level of defence required, design engineers must choose wisely from the wide selection of techniques, protocols and products on offer rather than relying on a single component.
Read more...
---
Microtronix revives mothballed Anyview factory
28 July 2021, Microtronix Manufacturing , Editor's Choice, Manufacturing / Production Technology, Hardware & Services
This state-of-the-art production line is a dual-lane Panasonic line with 16 heads capable of running at well over 1 million placements a day.
Read more...
---
Component shortages persist, but hope is in sight
28 July 2021, Microtronix Manufacturing, Technews Publishing , Editor's Choice
The worldwide semiconductor shortage will persist through 2021, but is expected to recover to normal levels by the second quarter of 2022.
Read more...
---