printer friendly version
Fast-switching SPDT switch for high-frequency test
28 July 2021
Telecoms, Datacoms, Wireless, IoT
The latest addition to Mini-Circuits' high-frequency test solutions comes in the form of the USB-1SP2T-A44 solid-state SPDT switch, a fast-switching device covering an ultra-wide bandwidth from 0,1 to 43,5 GHz. The solid-state design features an impressive combination of high isolation, low insertion loss and good linearity across the entire band. The unit has around 50 dB isolation at 40 GHz and is supplied in a low-profile package with precision 2,92 mm RF connectors.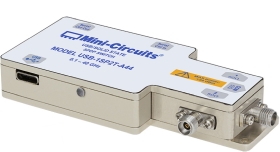 The USB-1SP2T-A44 has fast switching sequences. The program-automated switching sequences can run with extremely fast transitions of as little as 10 ns and no external control is required. Full software support is provided, including a user-friendly GUI application for Windows and a full API with programming instructions for Windows and Linux environments (both 32-bit and 64-bit systems).
The daisy-chain control interface with dynamic addressing simplifies control integration, allowing multiple switches to be combined into a master/slave chain. The user simply connects and powers them up and the whole chain of up to 25 compatible switches can be controlled independently through a single USB and software interface.
Typical applications of the USB-1SP2T-A44 are millimetre-wave signal switching, 5G semiconductor and component testing, high-throughput production testing and X/Ku/K/Ka-band switching.
For more information contact Conical Technologies, +27 66 231 1900, minicircuits@conical.co.za, www.conical.co.za
Credit(s)
Further reading:
4-channel programmable attenuator
27 October 2021, Conical Technologies , Telecoms, Datacoms, Wireless, IoT
Mini-Circuits' RC4DAT-8G-120H is a 4-channel programmable attenuator suitable for a wide range of signal-level control applications from 200 MHz to 8 GHz. Each independently controlled channel provides 
...
Read more...
---
Locally produced LoRa pressure node
27 October 2021, Otto Wireless Solutions , Telecoms, Datacoms, Wireless, IoT
LoRa devices and wireless RF technology are making it easy and economical for consumers to dive into the Internet of Things (IoT). The affordable sensors and gateways can also experience the same IoT 
...
Read more...
---
Magnetic-mount external GPS antenna
27 October 2021, RF Design , Telecoms, Datacoms, Wireless, IoT
The Magma X AA.178.301111 from Taoglas is an active, external magnetic-mount GPS antenna that operates in the L1/L5 band from 1176,45 to 1575,42 MHz. This linearly polarised antenna delivers a peak 
...
Read more...
---
RF power GaN transistor
27 October 2021, TRX Electronics , Telecoms, Datacoms, Wireless, IoT
Mouser Electronics is now stocking the A3G26D055N Airfast RF power gallium nitride (GaN) transistor from NXP Semiconductors. The transistor is designed for cellular base station applications requiring 
...
Read more...
---
Multi-coax quick-turn microwave connectors
27 October 2021, Conical Technologies , Interconnection
Chinese RF and microwave connector, cable and adaptor manufacturer, Anoison, announced the release of the latest addition to its selection of RF and microwave products with the release of the PA-5 range 
...
Read more...
---
Multi-mode LPWAN module
27 October 2021, iCorp Technologies , Telecoms, Datacoms, Wireless, IoT
The BG600L-M3 is a multi-mode LPWAN module which supports LTE Cat-M1, Cat-NB2, EGPRS and integrated GNSS and meets the 3GPP Release 14 specification. It is compatible with Quectel's GSM/GPRS/GNSS module 
...
Read more...
---
Standalone GNSS antenna module
27 October 2021, Electrocomp , Telecoms, Datacoms, Wireless, IoT
The LS2003C-G from Locosys is a complete standalone GNSS smart antenna module, including embedded patch antenna and GNSS receiver circuits. The module can simultaneously acquire and track multiple satellite 
...
Read more...
---
LPWAN markets and applications
27 October 2021, Avnet Silica, EBV Electrolink, Technews Publishing , Telecoms, Datacoms, Wireless, IoT
In South Africa, the large installed base of IoT devices using legacy telecommunication protocols is a hindrance to the advancement of LPWAN and the continued kerfuffle over radio frequency spectrum is hampering this market.
Read more...
---
Thermal management in high-performance RF and microwave PCBs
27 October 2021, Conical Technologies , Editor's Choice, Manufacturing / Production Technology, Hardware & Services
One of the many roles that a PCB has to perform is to channel heat from the underside of semiconductor devices through to the chosen heatsinking scheme as efficiently and effectively as possible.
Read more...
---
Flight-proven video and telemetry transmitters
27 October 2021, Sivan Electronic Supplies , Telecoms, Datacoms, Wireless, IoT
IMC Microwave Industries offers a line of flight-proven synthesised video and telemetry digital transmitters, used primarily to relay telemetry data and video to a remote location. The transmitters are 
...
Read more...
---