printer friendly version
Broadband mixed-signal front-ends
28 July 2021
Analogue, Mixed Signal, LSI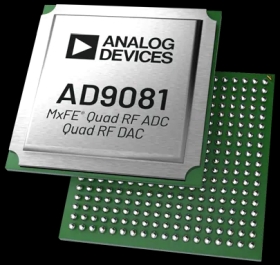 Analog Devices' AD9081 and AD9082 mixed-signal front-ends (MxFE) are now available for shipping from Mouser Electronics. These two versatile RF converter platforms combine high-performance analog and digital signal processing for wireless applications, including 4G LTE and 5G millimetre-wave radios as well as phased array radar systems and electronic defence applications.
The AD9081 is a reconfigurable, highly integrated RF MxFE that incorporates four 16-bit, 12 GSps digital-to-analog (DAC) cores and four 12-bit, 4 GSps analog-to-digital converter (ADC) cores. Eight transmit and eight receive lanes provide 24,75 Gbps/lane at JESD204C, or 15.5 Gbps/lane at JESD204B. The AD9081 is available in two models: the 4D4AC model supports full instantaneous channel bandwidth, and the 4D4AB model provides maximum fast bandwidth at 600 MHz per channel, with automatic configuration of the digital signal processor (DSP) to limit bandwidth at startup.
The AD9082 MxFE integrates four 16-bit, 12 GSps DAC cores and two 12-bit, 6 GSps ADC cores, with support for eight transmit and eight receive lanes, providing 24,75 Gbps/lane (JESD204C) or 15,5 Gbps/lane (JESD204B). The AD9082 is also available in two models: the 4D2AC which supports four DACs and two ADCs and the 2D2AC which supports two DACs and two ADCs. Both MxFEs feature an on-chip clock multiplier and DSP and offer a bypass mode to allow the ADC or DAC cores' full bandwidth capability to bypass DSP data paths.
The AD9801 and AD9802 are supported by the AD9081-FMCA-EBZ and AD9082-FMCA-EBZ evaluation boards, respectively, which include all support circuitry required to operate the MxFEs in various modes and configurations. The evaluation boards connect to the ADI ADS9-V2EBZ or the ADS8-V3EBZ (sold separately) for evaluation with the ADI Analysis | Control | Evaluation (ACE) software,and can also interface with FPGA development boards from Xilinx or Intel.
Credit(s)
Further reading:
Signal chain implementation for condition monitoring systems
Altron Arrow Editor's Choice Analogue, Mixed Signal, LSI
Like all system designs, there are many choices to be made when it comes to designing a condition monitoring system, each of which comes with various trade-offs and can drastically alter the DAQ signal chain design.
Read more...
---
27 GHz SMA interconnect products
TRX Electronics Interconnection
Mouser Electronics is now stocking EP-SMA 27 GHz connectors, adaptors and cable assemblies from TE Connectivity. The portfolio provides engineers with increased bandwidth, power and performance that are 
...
Read more...
---
High-speed SAR ADC family
Analogue, Mixed Signal, LSI
Texas Instruments expanded its portfolio of high-speed data converters with a broad family of successive-approximation register (SAR) analog-to-digital converters (ADCs) that enable high-precision data 
...
Read more...
---
Digital flow sensor for respiratory devices
Electrocomp Analogue, Mixed Signal, LSI
The compact SFM3119 digital flow meter is the successor to Sensirion's SFM3100 mass flow meter. Compared to its predecessor, the SFM3119 comes with a digital I
2
C output as well as improved specifications.  
...
Read more...
---
Liquid flow sensor in small planar package
Electrocomp Analogue, Mixed Signal, LSI
With a tiny footprint of only
10 x 10 mm
, Sensirion's LPG10-1000 liquid flow sensor provides optimal performance and speed in measuring liquid flow in a planar microfluidic glass substrate, with down-mount 
...
Read more...
---
eBook explores surge protection design challenges
TRX Electronics Technical Literature
Mouser has joined forces with Bourns as the title sponsor of a new eBook titled 'How to choose the right surge protection technology'.
Read more...
---
Wide range of sensor technologies for innovative designs
TRX Electronics Analogue, Mixed Signal, LSI
Mouser Electronics has created a sensor technology content stream on its website that highlights the latest in innovative sensor solutions and resources from the world's top manufacturers. With the 
...
Read more...
---
Interconnect system with 1,0 mm centreline
TRX Electronics Interconnection
Mouser Electronics is now stocking the AMPMODU 1,0 mm centreline interconnect system from TE Connectivity (TE). This interconnect system offers an 85% space saving on the board when compared to the 
...
Read more...
---
RF power GaN transistor
TRX Electronics Telecoms, Datacoms, Wireless, IoT
Mouser Electronics is now stocking the A3G26D055N Airfast RF power gallium nitride (GaN) transistor from NXP Semiconductors. The transistor is designed for cellular base station applications requiring 
...
Read more...
---
Capacitive touchscreen controllers
EBV Electrolink Analogue, Mixed Signal, LSI
Microchip Technology is adding two new members to its family of IEC/UL 60730 Class B certified touchscreen controllers. The new MXT448UD-HA and MXT640UD-HA extend the Class B portfolio of devices beyond 
...
Read more...
---