printer friendly version
Mid-range FPGAs for edge compute systems
28 July 2021
Programmable Logic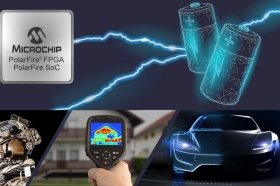 Edge compute systems need compact programmable devices with low power consumption and a small enough thermal footprint to eliminate fans and other heat mitigation while providing robust compute horsepower.
Microchip Technology has solved this challenge by cutting static power consumption for its mid-bandwidth field programmable gate arrays (FPGAs) and FPGA System-on-Chip (SoC) devices in half and giving them the smallest thermal footprint and best performance and compute horsepower compared to alternative devices in their class.
With their ultra-low power consumption, Microchip says its latest low-density PolarFire FPGAs (MPF050T) and PolarFire SoC (MPFS025T) additions exceed the performance/power metrics of any low-density FPGA or SoC FPGA alternatives in the market, with fast FPGA fabric and signal processing capabilities, the most capable transceivers and the industry's only hardened application class RISC-V architecture-based processor complex with 2 MB of L2 cache and low-power DDR4 (LPDDR4) memory support.
Extending the portfolio with a 25K logic elements multi-core RISC-V SoC and a 50K logic element FPGA opens new application possibilities. They are ideal for low-power smart embedded vision applications and thermally constrained automotive, industrial automation, communications, defence and IoT systems where neither power nor performance can be compromised.
Credit(s)
Further reading:
Cloud platform securely manages and connects edge devices
Avnet Silica Telecoms, Datacoms, Wireless, IoT
NXP Semiconductors' EdgeLock 2GO IoT service platform enables easy, secure deployment and management of IoT devices and services. The platform is integrated with NXP's Common Criteria (CC) EAL 6+ certified 
...
Read more...
---
LPWAN markets and applications
Avnet Silica EBV Electrolink Technews Publishing Telecoms, Datacoms, Wireless, IoT
In South Africa, the large installed base of IoT devices using legacy telecommunication protocols is a hindrance to the advancement of LPWAN and the continued kerfuffle over radio frequency spectrum is hampering this market.
Read more...
---
Isolated dual-channel gate driver
Avnet Silica Power Electronics / Power Management
onsemi's NCP51561 is an isolated dual-channel gate driver with 4,5 A and 9 A source and sink peak current respectively. Designed for fast switching to drive power MOSFETs and SiC MOSFET power switches, 
...
Read more...
---
Xilinx design tool with machine-learning optimisation
Avnet Silica Design Automation
Xilinx recently introduced Vivado ML Editions, the industry's first FPGA EDA tool suite based on machine learning (ML) optimisation algorithms, as well as advanced team-based design flows for design time 
...
Read more...
---
LoRa transceiver modules for ranging applications
Avnet Silica Telecoms, Datacoms, Wireless, IoT
Avnet Silica announced the availability of Miromico's FMLR-8x-x-STLx LoRa and LoRaWAN IoT modules. Based on Semtech's LoRa 2,4 GHz technology, Miromico partnered with danalto to enable location services. 
...
Read more...
---
HLS tool suite for PolarFire FPGAs
EBV Electrolink Programmable Logic
The need to combine performance with low power consumption in edge compute applications has driven demand for field programmable gate arrays (FPGAs) to be used as power-efficient accelerators while also 
...
Read more...
---
Avnet celebrates 20 years of 'speedboat' business model
Avnet Abacus Avnet Silica News
Avnet EMEA, the regional business organisation of Avnet Inc., is celebrating the 20th anniversary of its 'speedboat' model, which is the term used by Avnet to describe how its individual distribution 
...
Read more...
---
Microchip achieves JEDEC qualification for rad-tolerant FPGA
Future Electronics Programmable Logic
Developers of small-satellite constellations and other systems used in 'New Space' missions must deliver both high reliability and radiation protection while meeting stringent cost and scheduling requirements. 
...
Read more...
---
Qi 1.3 wireless charging reference design
Avnet Silica Power Electronics / Power Management
The Wireless Power Consortium (WPC) recently released the Qi 1.3 specification that requires authentication for improved safety when transmitting up to 15 W of power between a transmitter and a receiver. 
...
Read more...
---
Avnet uses CalcuQuote API to improve customer experience
Avnet Abacus Avnet Silica News
Avnet EMEA and CalcuQuote have engaged in connecting Avnet via API to Calcuquote's procurement services platform for customers. CalcuQuote optimises electronic components quoting and sourcing by taking 
...
Read more...
---