printer friendly version
Mid-range FPGAs for edge compute systems
28 July 2021
Programmable Logic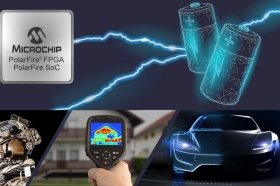 Edge compute systems need compact programmable devices with low power consumption and a small enough thermal footprint to eliminate fans and other heat mitigation while providing robust compute horsepower.
Microchip Technology has solved this challenge by cutting static power consumption for its mid-bandwidth field programmable gate arrays (FPGAs) and FPGA System-on-Chip (SoC) devices in half and giving them the smallest thermal footprint and best performance and compute horsepower compared to alternative devices in their class.
With their ultra-low power consumption, Microchip says its latest low-density PolarFire FPGAs (MPF050T) and PolarFire SoC (MPFS025T) additions exceed the performance/power metrics of any low-density FPGA or SoC FPGA alternatives in the market, with fast FPGA fabric and signal processing capabilities, the most capable transceivers and the industry's only hardened application class RISC-V architecture-based processor complex with 2 MB of L2 cache and low-power DDR4 (LPDDR4) memory support.
Extending the portfolio with a 25K logic elements multi-core RISC-V SoC and a 50K logic element FPGA opens new application possibilities. They are ideal for low-power smart embedded vision applications and thermally constrained automotive, industrial automation, communications, defence and IoT systems where neither power nor performance can be compromised.
Credit(s)
Further reading:
Avnet Silica announces distribution deal with SiTime
Avnet Silica News
The distributor extends Avnet agreement in the US and Asia to make the extensive portfolio of MEMS-based timing products available to design engineers and purchasers in the EMEA region.
Read more...
---
Rapid prototyping with new Xilinx FPGA evaluation kit
EBV Electrolink Programmable Logic
Equipped with the Xilinx Spartan-7 FPGA, the kit is built for rapid prototyping of industrial networking, embedded vision and automotive designs.
Read more...
---
Avnet Silica gains access to Octavo's advanced SiP technology
Avnet Silica Analogue, Mixed Signal, LSI
Avnet Silica has added advanced SiP (system-in-package) technology to its portfolio via a distribution agreement with Octavo Systems, a leading provider of innovative high-quality SiP solutions. The 
...
Read more...
---
LoRaWAN gateways for Azure Sphere deployments
Avnet Silica Telecoms, Datacoms, Wireless, IoT
Avnet Silica announced availability of Microsoft Azure Sphere-enabled LoRaWAN gateways from Miromico, an established OEM for IoT devices that focuses on design services in the field of integrated circuits, 
...
Read more...
---
Embedded vision development tool for RISC-V FPGA
EBV Electrolink Programmable Logic
Microchip Technology announced the second development tool offering in its Smart Embedded Vision initiative for designers using its PolarFire RISC-V system-on-chip (SoC) FPGA. The industry's lowest-power 
...
Read more...
---
Automotive-compliant 500 mA LDO
Avnet Silica Power Electronics / Power Management
Diodes Incorporated has introduced the AP7347DQ low dropout (LDO) voltage regulator, which is highly optimised for demanding noise-sensitive, power-related automotive applications. This automotive-compliant, 
...
Read more...
---
Latest updates to Libero SoC v2021.3 Design Suite
Altron Arrow Programmable Logic
Microchip Technology recently introduced new MPFS025T/095T/160T/250T PolarFire SoC devices with Tgrade2 operating conditions in standard and -1 speed grades and MPFS095TS/250TS/460TS devices with MIL 
...
Read more...
---
Cloud platform securely manages and connects edge devices
Avnet Silica Telecoms, Datacoms, Wireless, IoT
NXP Semiconductors' EdgeLock 2GO IoT service platform enables easy, secure deployment and management of IoT devices and services. The platform is integrated with NXP's Common Criteria (CC) EAL 6+ certified 
...
Read more...
---
LPWAN markets and applications
Avnet Silica EBV Electrolink Technews Publishing Telecoms, Datacoms, Wireless, IoT
In South Africa, the large installed base of IoT devices using legacy telecommunication protocols is a hindrance to the advancement of LPWAN and the continued kerfuffle over radio frequency spectrum is hampering this market.
Read more...
---
Isolated dual-channel gate driver
Avnet Silica Power Electronics / Power Management
onsemi's NCP51561 is an isolated dual-channel gate driver with 4,5 A and 9 A source and sink peak current respectively. Designed for fast switching to drive power MOSFETs and SiC MOSFET power switches, 
...
Read more...
---