printer friendly version
Mid-range FPGAs for edge compute systems
28 July 2021
Programmable Logic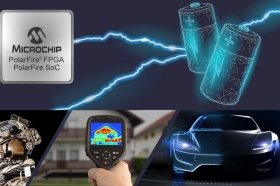 Edge compute systems need compact programmable devices with low power consumption and a small enough thermal footprint to eliminate fans and other heat mitigation while providing robust compute horsepower.
Microchip Technology has solved this challenge by cutting static power consumption for its mid-bandwidth field programmable gate arrays (FPGAs) and FPGA System-on-Chip (SoC) devices in half and giving them the smallest thermal footprint and best performance and compute horsepower compared to alternative devices in their class.
With their ultra-low power consumption, Microchip says its latest low-density PolarFire FPGAs (MPF050T) and PolarFire SoC (MPFS025T) additions exceed the performance/power metrics of any low-density FPGA or SoC FPGA alternatives in the market, with fast FPGA fabric and signal processing capabilities, the most capable transceivers and the industry's only hardened application class RISC-V architecture-based processor complex with 2 MB of L2 cache and low-power DDR4 (LPDDR4) memory support.
Extending the portfolio with a 25K logic elements multi-core RISC-V SoC and a 50K logic element FPGA opens new application possibilities. They are ideal for low-power smart embedded vision applications and thermally constrained automotive, industrial automation, communications, defence and IoT systems where neither power nor performance can be compromised.
Credit(s)
Further reading:
High precision MEMS nano pressure sensor
Avnet Silica DSP, Micros & Memory
The LPS22DF from STMicroelectronics is an ultracompact, piezoresistive, absolute pressure sensor that functions as a digital output barometer.
Read more...
---
Device identification's critical role in IoT protection
Avnet Silica Telecoms, Datacoms, Wireless, IoT
Each IoT device must have a unique identifier assigned during manufacturing or provisioning which serves as the anchor for device identification, authentication, and communication.
Read more...
---
Low pin count MCU with I3C support
Avnet Silica DSP, Micros & Memory
Leading the way in I3C integration, Microchip Technology has released its PIC18-Q20 family of microcontrollers, the industry's first low pin count MCUs with up to two I3C peripherals.
Read more...
---
Securely connect IoT devices to Azure IoT Hub
Avnet Silica DSP, Micros & Memory
New software for STMicroelectronics' STM32H5 MCUs leverages its advanced Secure Manager for protected connection to the Microsoft Azure cloud IoT platform.
Read more...
---
Mesh networks as easy as never before
Avnet Silica Telecoms, Datacoms, Wireless, IoT
Panasonic Industry and Symbiotech have released a new Wirepas Mesh demo kit for BLE flagship module PAN1780, enabling IoT applications to easily setup a mesh network.
Read more...
---
Industry's fastest highest-capacity HBM
Avnet Silica DSP, Micros & Memory
With advanced CMOS technology and 1ß process technology, Micron's HBM3 Gen2 provides bandwidth that exceeds 1,2 TB/s.
Read more...
---
Advancing quality control
Avnet Silica AI & ML
As manufacturing processes continue to become more sophisticated, the importance and effectiveness of advanced DVI solutions escalate, presenting opportunities for improved quality control.
Read more...
---
Versal HBM series evaluation kit
Avnet Silica Computer/Embedded Technology
The VHK158 evaluation kit is an evaluation platform for the Versal HBM series VH1582 device, designed to keep up with the higher memory needs of compute-intensive, memory-bound applications. The system 
...
Read more...
---
AI-based visual inspection system
Avnet Silica AI & ML
The Defect Visual Inspection solution is a combination of a compact system-on-module and a software library optimised to run at the edge, making it ideal for applications in industrial, medical, food, electronics, semiconductor, and packaging sectors.
Read more...
---
Multi-zone distance sensor with 90° field of view
Avnet Silica Analogue, Mixed Signal, LSI
STMicroelectronics has revealed a new FlightSense multi-zone distance sensor, with 90° field of view, to bring lifelike situational awareness to applications like home automation, computers, robots, and smart equipment.
Read more...
---