printer friendly version
Isolated SiC gate driver
27 October 2021
Power Electronics / Power Management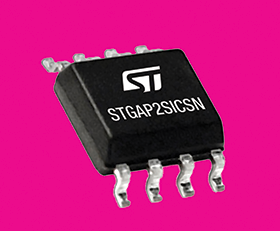 STMicroelectronics' STGAP2SiCSN single-channel gate driver, optimised to control silicon carbide (SiC) MOSFETs, comes in a space-saving narrowbody SO-8 package and delivers robust performance with accurate PWM control. Applications include electric vehicle charging systems, switched-mode power supplies, high-voltage power-factor correction (PFC), DC/DC converters, uninterruptible power supplies (UPS), solar power, motor drives, fans, factory automation, home appliances and induction heating.
Featuring galvanic isolation between the gate-driving channel and the low-voltage control, the STGAP2SiCSN operates with up to 1700 V on the high-voltage rail. The input-to-output propagation time of less than 75 ns ensures high PWM accuracy, with reliable switching thanks to common-mode transient immunity (CMTI) of ±100 V/ns. Built-in protection includes under-voltage lockout (UVLO), with a threshold tuned to prevent SiC power switches from operating in low-efficiency or unsafe conditions and thermal shutdown that turns both driver outputs low if excessive junction temperature is detected.
Two optional configurations are available, giving a choice of separate outputs that allow turn-on and turn-off times to be independently optimised using an external resistor, or a single output with active Miller clamp function. The single-output configuration enhances stability in high-frequency hard-switching applications, leveraging the Miller clamp to prevent excessive oscillation of the power switch.
For more information contact Renaldo Fibiger, Altron Arrow, +27 11 923 9600, rfibiger@arrow.altech.co.za, www.altronarrow.com
Credit(s)
Further reading:
Discovery kit for IoT nodes using STM32U5 MCU
Altron Arrow DSP, Micros & Memory
The B-U585I-IOT02A Discovery kit provides a complete demonstration and development platform for STMicroelectronics' STM32U585AI microcontroller, featuring an Arm Cortex-M33 core with Arm TrustZone and 
...
Read more...
---
Signal chain implementation for condition monitoring systems
Altron Arrow Editor's Choice Analogue, Mixed Signal, LSI
Like all system designs, there are many choices to be made when it comes to designing a condition monitoring system, each of which comes with various trade-offs and can drastically alter the DAQ signal chain design.
Read more...
---
USB charger solution with high power density
Altron Arrow Power Electronics / Power Management
Diodes Incorporated has launched a three-chip solution for enhancing the performance of ultra-high-power-density USB Type-C power delivery (PD) systems. These products can be used in a wide variety of 
...
Read more...
---
Totem pole PFC controller
EBV Electrolink Power Electronics / Power Management
A new addition was made to ON Semiconductor's solution set for ultra-high density offline power supplies in the form of the NCP1680, a dedicated critical conduction mode totem pole PFC controller. It 
...
Read more...
---
Compact offline switcher ICs
EBV Electrolink Power Electronics / Power Management
Power Integrations introduced LinkSwitch-TNZ, a new switching power supply IC that combines offline power conversion, lossless zero-crossing detection and optionally, X-capacitor discharge functions in 
...
Read more...
---
Demo of new TouchGFX video widget
Altron Arrow Multimedia, Videos
The latest release (version 4.18) of STMicroelectronics' TouchGFX software for user-interface development with STM32 microcontrollers (MCUs) added support for video playback, enhanced tools for multi-developer 
...
Read more...
---
Configurable dual IO-Link and SIO transceiver
Altron Arrow Telecoms, Datacoms, Wireless, IoT
STMicroelectronics is bringing extra flexibility to IO-Link connections with the L6364 transceiver, which features dual communication channels that allow configurable output doubling for extra drive strength, 
...
Read more...
---
100 W and 300 W eighth-brick converters
Brabek Power Electronics / Power Management
Recom has introduced two new cost-effective DC/DC products with outputs of 100 W and 300 W in a DOSA-compatible, low-profile, through-hole eighth-brick format (58,4 x 23 mm). The RPA100E-W 100 W part 
...
Read more...
---
Updates add video to ST's TouchGFX suite
Altron Arrow Computer/Embedded Technology
STMicroelectronics has released TouchGFX Version 4.18 for user-interface development with STM32 microcontrollers (MCUs), adding video playback, enhanced tools for multi-developer collaboration and support 
...
Read more...
---
High-side current sense amplifier with adjustable gain
NuVision Electronics Power Electronics / Power Management
The MPQ8112A is a low-cost, unipolar, high-side current sense amplifier that operates from a 2,7 V to 60 V supply and typically consumes a 300 μA current. The Monolithic Power Systems part is ideal for 
...
Read more...
---