printer friendly version
TI software tool for power stage design
27 October 2021
Design Automation
The Power Stage Designer software tool from Texas Instruments (TI) helps you accelerate your power supply designs by calculating voltages and currents of 20 topologies according to your own inputs. All calculations are executed in real-time, which helps you quickly start a new power supply design. Download the tool now.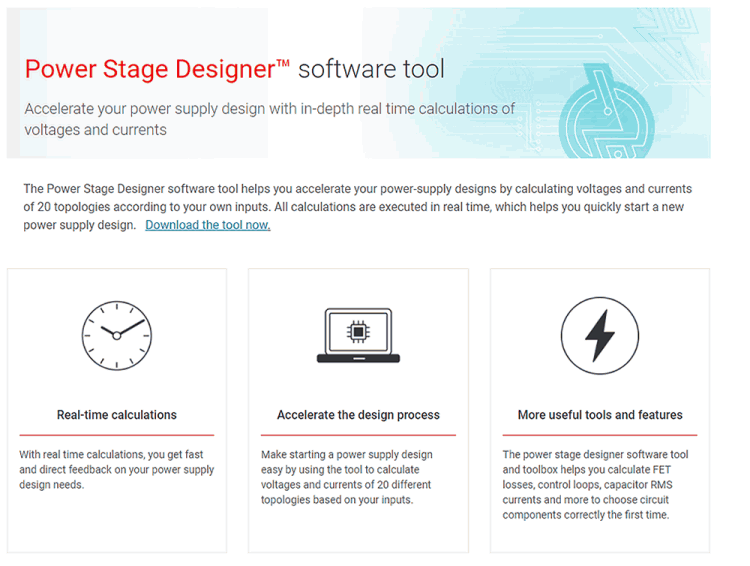 The tool and toolbox help you calculate FET losses, control loops, capacitor RMS currents and more to choose circuit components correctly the first time. Also available are a power topologies handbook and quick reference guide, explaining waveforms and equations of the most common hard switched power supply topologies.
Power Stage Designer and its associated resources can be downloaded through the short URL www.dataweek.co.za/*oct21-ti
Further reading:
TI releases top five power design tools
Altron Arrow Design Automation
Texas Instruments has released an online resource combining the top five power design tools available to aid in the next electronic project design.
Read more...
---
Find tools and help more easily on Mouser's website
Design Automation
The Services and Tools page and Help Centre give customers the ability to view and track orders, request technical support and data sheets, and place orders.
Read more...
---
Upgraded AI/ML SDK for PolarFire FPGAs
Altron Arrow Design Automation
Network sizes have been reduced by 50% by optimising containers for weights and the built-in bit accuracy simulator's speed has been tripled.
Read more...
---
Mouser's resource pages make it easier to find what you need
TRX Electronics Design Automation
Mouser Electronics offers a wealth of customer-focused online tools to simplify and optimise the selection and purchasing process. Helping customers to easily browse, select and purchase products, the 
...
Read more...
---
Software development kit for motor control
Altron Arrow Design Automation
STMicroelectronics' STM32 microcontrollers offer the performance of industry-standard Arm Cortex-M cores running either vector control or field-oriented control (FOC) modes, which are widely used in high-performance 
...
Read more...
---
Newest version of PCB design software released
Dizzy Enterprises Design Automation
Proteus version 8.14 has been released. This latest version of the PCB design and circuit simulation software adds dedicated support for test points, improvements to differential pair routing, resin-filled 
...
Read more...
---
Proteus 8.6 released, now simulates turtles
Dizzy Enterprises Design Automation
Version 8.6 of the Proteus simulation and PCB design software adds new features such as STM32F103xx microcontroller simulation and serpentine track-length matching, but without doubt the most novel new 
...
Read more...
---
Online simulator speeds thyristor, AC switch selection
Design Automation
To quickly find the thyristor or AC switch that best fits their design, engineers can use STMicroelectronics' AC Switch Simulator online tool by simply entering the main I/O and gate parameters.    To 
...
Read more...
---
3D simulation IDE boosts factory productivity
Omron Electronics Design Automation
Omron's updated Sysmac Studio 3D Simulation integrated development environment (IDE) integrates and verifies the movements of robots and peripheral devices. It can digitally reproduce an entire facility 
...
Read more...
---
Features added to DesignSpark PCB Pro
RS Components (SA) Design Automation
RS Components added new features to DesignSpark PCB Pro and introduced an RS stock number to make it easier to purchase. The free-of-charge version of DesignSpark PCB, part of the award-winning RS DesignSpark 
...
Read more...
---