printer friendly version
EMI power choke impedance finder
27 October 2021
Design Automation
Coilcraft's EMI Power Choke Impedance Finder is a powerful search and analysis tool for finding the optimal off-the-shelf inductors/chokes for different types of EMI filters (e.g. LC low-pass filters, Pi filters, T filters, etc.) to suppress unwanted EMI noise. It helps to optimise the design of an input EMI filter or a second-stage output filter for switching power supplies, as well as many other applications requiring noise reduction.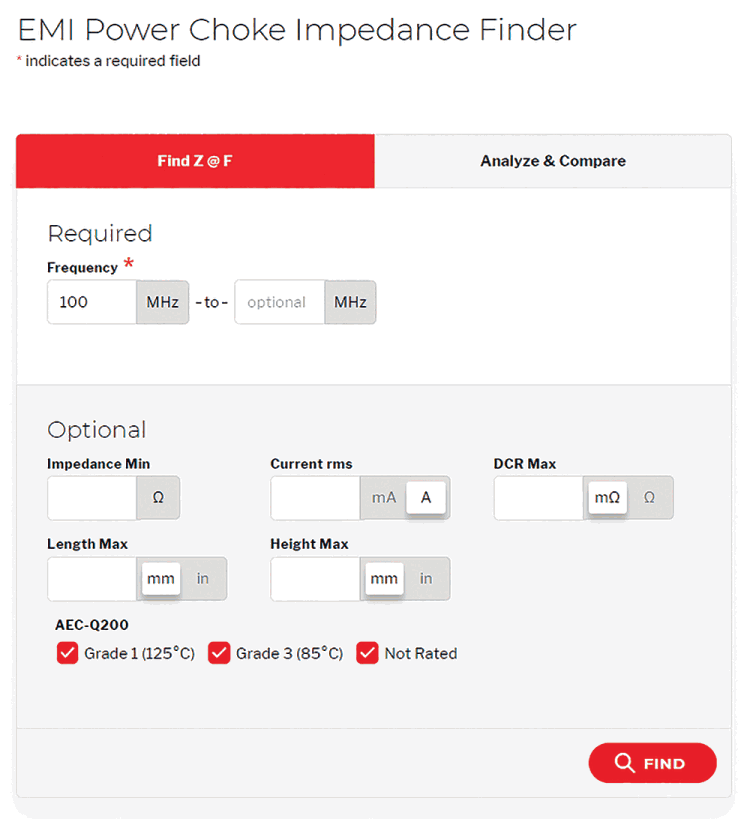 The 'Z @ Frequency' search option allows you to find inductors that perform at your desired frequency in one simple step. The search results identify inductors suitable for the impedance requirement at a single frequency or a range of frequencies, while also displaying a full range of performance information, including impedance vs. frequency and inductance vs. frequency.
If you have already identified suitable Coilcraft part numbers, you can skip the search function and proceed directly to the 'Analyze & Compare' tab for performance analysis.
Go to www.dataweek.co.za/*oct21-ccraft to access the tool.
Further reading:
New camera module targets AI and computer vision
Vepac Electronics Design Automation
Innodisk has announced its shift towards the AI industry with half of its AI development related to image recognition.
Read more...
---
Engineering the future of automation
Design Automation
As the next great leap forward in mechanisation, industrial automation integrates data into the manufacturing equation through high-input sensors and sensor infrastructures.
Read more...
---
Fusion 360 gains Ultra Librarian electronics CAD library
Design Automation
Autodesk collaborated with Ultra Librarian to generate this Fusion 360-compatible app that provides users with free verified schematic symbols, PCB footprints, 3D STEP models, and reference designs.
Read more...
---
ST releases new reference designs for STM32
Altron Arrow Design Automation
ST Microelectronics has released reference designs for the STM32WL5x and STM32WLEx, allowing new applications to be quickly prototyped.
Read more...
---
TI releases top five power design tools
Altron Arrow Design Automation
Texas Instruments has released an online resource combining the top five power design tools available to aid in the next electronic project design.
Read more...
---
Find tools and help more easily on Mouser's website
Design Automation
The Services and Tools page and Help Centre give customers the ability to view and track orders, request technical support and data sheets, and place orders.
Read more...
---
Upgraded AI/ML SDK for PolarFire FPGAs
Altron Arrow Design Automation
Network sizes have been reduced by 50% by optimising containers for weights and the built-in bit accuracy simulator's speed has been tripled.
Read more...
---
Mouser's resource pages make it easier to find what you need
TRX Electronics Design Automation
Mouser Electronics offers a wealth of customer-focused online tools to simplify and optimise the selection and purchasing process. Helping customers to easily browse, select and purchase products, the 
...
Read more...
---
Software development kit for motor control
Altron Arrow Design Automation
STMicroelectronics' STM32 microcontrollers offer the performance of industry-standard Arm Cortex-M cores running either vector control or field-oriented control (FOC) modes, which are widely used in high-performance 
...
Read more...
---
Newest version of PCB design software released
Dizzy Enterprises Design Automation
Proteus version 8.14 has been released. This latest version of the PCB design and circuit simulation software adds dedicated support for test points, improvements to differential pair routing, resin-filled 
...
Read more...
---