printer friendly version
USB charger solution with high power density
24 November 2021
Power Electronics / Power Management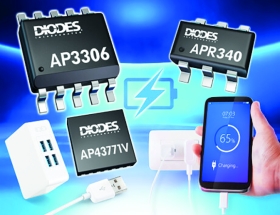 Diodes Incorporated has launched a three-chip solution for enhancing the performance of ultra-high-power-density USB Type-C power delivery (PD) systems. These products can be used in a wide variety of consumer electronics applications, including smartphone chargers and notebook adaptors.
The AP43771V USB Type-C PD decoder is compatible with PD3.0, PPS Rev 3.0, V1.2 (TID – 4305) and Qualcomm Quick Charge QC4/QC4+/QC5 (QC20201127203) protocols. It supports a 3,3 V to 24 V operating voltage range and incorporates both a one-time programmable (OTP) ROM for all the main firmware and a multi-time programmable (MTP) ROM to accommodate user configuration data.
With I2C and GPIO pins and built-in application firmware, the AP43771V backs various intelligent power management systems during charging states. These include smart power sharing among multiple charging ports, thermal power derating, LED light indication and fault indication.
The AP3306 is an active clamp flyback (ACF) controller that reaches elevated operational efficiency via zero voltage switching (ZVS) and magnetic energy recycling. It can be used with an integrated driver GaN FET, a cascade GaN FET, or a MOSFET serving as the main low-side switch. With integrated high-side ACF gate driver control, the chip supports leakage energy recycling circuitry via a reduced-current-capability high-side MOS switch. This high degree of integration and use of cost-effective components reduces bill-of-material (BOM) costs and board space.
The APR340 is a secondary-side synchronous rectification (SR) MOSFET driver optimised for use with the AP3306. It features a built-in pulse linear regulator and operates in constant current mode to safeguard the charging system. The system output voltage can go as low as 2 V, which is a significant benefit in programmable power supply applications.
The AP43771V is available in both W-DFN3030-14 and W-QFN4040-24 package options. The AP3306 is supplied in a SO-10 package format, while the APR340 comes in a SOT26 package.
For more information contact Andrew Athanasiou, Altron Arrow, +27 21 555 1884, aathanasiou@arrow.altech.co.za, www.altronarrow.com
Credit(s)
Further reading:
Wide-input DC/DC converters in 1/32nd bricks
Brabek Power Electronics / Power Management
RECOM now offers through-hole, 1/32nd brick-footprint, non-isolated DC/DC converters – the RPMA-4.5 and RPMA-8.0 – with 4,5 A and 8 A output ratings respectively. Each part has a wide 9-53 V input and 
...
Read more...
---
AI-powered computer for autonomous machines
Altron Arrow Computer/Embedded Technology
Nvidia recently premiered Jetson AGX Orin, the world's smallest, most powerful and energy-efficient AI supercomputer for robotics, autonomous machines, medical devices and other forms of embedded computing 
...
Read more...
---
Auto-ranging benchtop and rackmount power supplies
Vepac Electronics Power Electronics / Power Management
The programmable DC power supply family from Elektro-Automatik (EA) ranges in power from 80 W benchtop devices up to 30 kW in a single chassis. High power density units can be easily paralleled for up 
...
Read more...
---
Step-down converter with nano quiescent current
Altron Arrow Power Electronics / Power Management
The ST1PS03 is a nano-quiescent miniaturised synchronous step-down converter which is able to provide up to 400 mA output current with an input voltage ranging from 1,8 V to 5,5 V. This STMicroelectronics 
...
Read more...
---
Convection cooled 150 W and 300 W power supplies
Vepac Electronics Power Electronics / Power Management
Cosel announced the addition of 150 W and 300 W free air convection cooled power supplies, the LHP150F and the LHP300F. Designed for industrial applications requiring high levels of safety, they are certified 
...
Read more...
---
Power supplies for embedded applications from 15 to 320 W
Vepac Electronics Power Electronics / Power Management
XP Power's LCW series of regulated-output, encased AC-DC power supplies is ideal for embedded industrial electronics, technology and equipment requiring household approvals. The nine new series (LCW15, 
...
Read more...
---
Microchip further expands GaN RF power offering
EBV Electrolink Power Electronics / Power Management
A significant expansion has been made to Microchip Technology's gallium nitride (GaN) RF power device portfolio with new MMICs and discrete transistors that cover frequencies up to 20 GHz. The devices 
...
Read more...
---
LED driver expansion board for STM32 Nucleo
Altron Arrow Opto-Electronics
STMicroelectronics' X-NUCLEO-LED12A1 LED driver expansion board for STM32 Nucleo features four LED1202 devices that can drive up to 48 LEDs. The LED1202 is a 12-channel, low quiescent current LED driver 
...
Read more...
---
Buck/boost converter with ultra-low IQ and supercapacitor charging
Power Electronics / Power Management
A new bidirectional buck/boost converter with an ultra-low quiescent current (I
Q
) of 60 nA has been introduced by Texas Instruments. The TPS61094 integrates a buck mode for supercapacitor charging and 
...
Read more...
---
Motor/PFC controller with gate driver and voltage regulator
EBV Electrolink Power Electronics / Power Management
Infineon Technologies' iMOTION IMD110-6 is a series of highly integrated ICs for the control of three-phase motors. The devices integrate the motor controller with a high-voltage, three-phase gate driver 
...
Read more...
---