printer friendly version
mikroSDK adds support for Kinetis MCUs
24 November 2021
Design Automation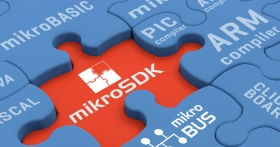 MikroElektronika's multi-architectural software development kit, mikroSDK 2.0, now supports 147 microcontrollers (MCUs) from NXP Semiconductors. mikroSDK is a collection of open-source software libraries with unified API and software development tools that makes application code portable and reusable on many different platforms and architectures, with virtually no code changes.
The addition of NXP's Kinetis family takes the number of MCUs supported by mikroSDK 2.0 to over 1500, ranging from small 8-bit up to 32-bit devices. Other notable product families covered include PIC and PIC32 by Microchip Technology and the 849-strong STM32 family from STMicroelectronics. New devices and architectures are being added all the time.
mikroSDK 2.0 is a complete, cross-platform software development kit for embedded applications that provides everything necessary to start developing and prototyping, including Click board applications and GUIs for embedded devices.
Rapid software development is easily achieved as developers do not need to consider low-level code, freeing them up to focus on the application code itself. This means that changing the MCU or even the whole platform will not require developers to redevelop their code for the new design. They can simply switch to the desired platform, apply the correct board definition file and the application code will continue to run after a single compilation.
Credit(s)
Further reading:
Add BLE connectivity to embedded applications
Dizzy Enterprises Telecoms, Datacoms, Wireless, IoT
MikroElektronika has introduced ANNA-B412 Click, a compact add-on board that provides BT/BLE connectivity for any embedded application.
Read more...
---
Sensor board with Doppler shift technology
Dizzy Enterprises Test & Measurement
MIKROE has introduced a new motion sensor Click board, to support the development of intrusion alarms, automatic door openers, and other presence-sensing applications.
Read more...
---
Cost-effective solution for IR serial data
Dizzy Enterprises Telecoms, Datacoms, Wireless, IoT
Mikroe's latest IrDA 4 Click infrared module features Vishay's IR Tx/Rx and Microchip's IR encoder/decoder for sending and receiving serial data.
Read more...
---
Easy access to satellite L-Band GNSS corrections
Dizzy Enterprises Telecoms, Datacoms, Wireless, IoT
MIKROE's latest LBAND RTK Click features the NEO-D9S-00B, a professional-grade satellite data receiver for L-band correction broadcast from u-blox.
Read more...
---
New camera module targets AI and computer vision
Vepac Electronics Design Automation
Innodisk has announced its shift towards the AI industry with half of its AI development related to image recognition.
Read more...
---
Engineering the future of automation
Design Automation
As the next great leap forward in mechanisation, industrial automation integrates data into the manufacturing equation through high-input sensors and sensor infrastructures.
Read more...
---
Fusion 360 gains Ultra Librarian electronics CAD library
Design Automation
Autodesk collaborated with Ultra Librarian to generate this Fusion 360-compatible app that provides users with free verified schematic symbols, PCB footprints, 3D STEP models, and reference designs.
Read more...
---
ST releases new reference designs for STM32
Altron Arrow Design Automation
ST Microelectronics has released reference designs for the STM32WL5x and STM32WLEx, allowing new applications to be quickly prototyped.
Read more...
---
TI releases top five power design tools
Altron Arrow Design Automation
Texas Instruments has released an online resource combining the top five power design tools available to aid in the next electronic project design.
Read more...
---
Find tools and help more easily on Mouser's website
Design Automation
The Services and Tools page and Help Centre give customers the ability to view and track orders, request technical support and data sheets, and place orders.
Read more...
---