printer friendly version
3D simulation IDE boosts factory productivity
24 November 2021
Design Automation
Omron's updated Sysmac Studio 3D Simulation integrated development environment (IDE) integrates and verifies the movements of robots and peripheral devices.
It can digitally reproduce an entire facility to verify the operation to the same accuracy as that of an actual machine. This helps companies to introduce new efficiencies to their processes and production capacity.
The IDE facilitates design through advance verification. It uses simulations that meet the need for rapid changes in production sites: shorter delivery times for equipment development, high-precision assembly and simultaneous start-up of production lines at multiple sites.
The new Sysmac Studio 3D Simulation can be purchased by simply adding optional licences for simulation functions to the Sysmac Studio programming software of Omron's flagship NJ/NX Series automation controllers.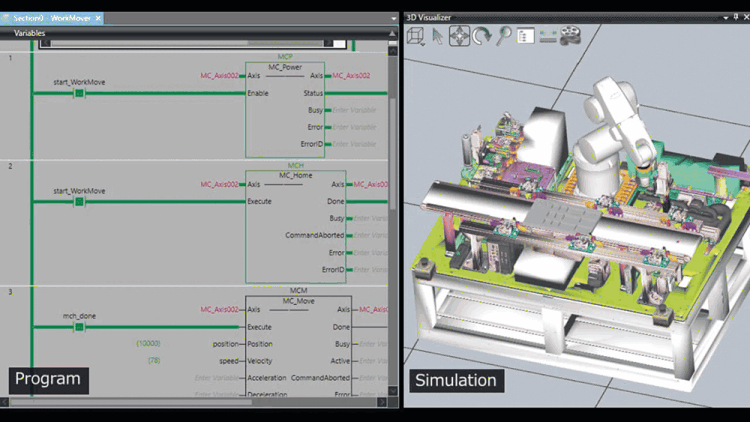 "Conventional simulators use dedicated software, which is expensive and requires specialist expertise. If the software is different from the controller, it's difficult to match the simulation results with the actual machine operation," comments Josep Lario, Omron's EMEA product marketing manager for software, IPC and visualisation. This is the first IDE in the industry to control and verify robots and other peripheral equipment in a single operation. This enhances the efficiency of facility design and shortens the time needed to confirm the production capacity of the equipment, start-up and modifications."
The main features of Sysmac Studio 3D Simulation are:
• Single software for motion, logic sequencing, safety, drives, vision and HMI.
• Fully compliant with open standard IEC 61131-3.
• Supports ladder, structured text and in-line ST programming with a rich instruction set.
• CAM editor for easy programming of complex motion profiles.
• One simulation tool for sequence and motion in a 3D environment.
• Advanced security function, with 32-digit security password.
Credit(s)
Further reading:
Features added to DesignSpark PCB Pro
RS Components (SA) Design Automation
RS Components added new features to DesignSpark PCB Pro and introduced an RS stock number to make it easier to purchase. The free-of-charge version of DesignSpark PCB, part of the award-winning RS DesignSpark 
...
Read more...
---
Evaluation kit for formaldehyde sensor
Electrocomp Design Automation
The SEK-SFA30 evaluation kit has been designed for easy evaluation of Sensirion's SFA30 formaldehyde sensor. The SFA30 is designed for easy integration into air purifiers, demand-controlled ventilation 
...
Read more...
---
mikroSDK adds support for Kinetis MCUs
Dizzy Enterprises Design Automation
MikroElektronika's multi-architectural software development kit, mikroSDK 2.0, now supports 147 microcontrollers (MCUs) from NXP Semiconductors. mikroSDK is a collection of open-source software libraries 
...
Read more...
---
Altium Designer component creation webinar
Design Automation
Component creation is a necessary evil when it comes to design and it's something we all need to do. But instead of spending hours creating your components and having them turn into a complete roadblock, 
...
Read more...
---
Deep learning APIs for Espressif SoCs
iCorp Technologies Design Automation
ESP-DL, recently introduced by Espressif Systems, provides APIs for neural network (NN) inference, image processing, maths operations and deep learning (DL) models. With ESP-DL, developers can use Espressif's 
...
Read more...
---
TI software tool for power stage design
Design Automation
The Power Stage Designer software tool from Texas Instruments (TI) helps you accelerate your power supply designs by calculating voltages and currents of 20 topologies according to your own inputs. All 
...
Read more...
---
EMI power choke impedance finder
Design Automation
Coilcraft's EMI Power Choke Impedance Finder is a powerful search and analysis tool for finding the optimal off-the-shelf inductors/chokes for different types of EMI filters (e.g. LC low-pass filters, 
...
Read more...
---
Browser-based design viewer for Altium 365
EDA Technologies Design Automation
Complementing its professional-level Altium 365 cloud platform, Altium offers a simple and convenient way to view and share electronic designs through your browser. Schematics, PCB layout and 3D visualisation 
...
Read more...
---
A UI to build better UIs
Altron Arrow Design Automation
TouchGFX Designer 4.17 has become available for download, the latest version of STMicroelectronics' user interface (UI) design software featuring a user interface overhaul to make the application more 
...
Read more...
---
New laser sensor technology detects difficult targets
Omron Electronics Opto-Electronics
Omron has launched a new E3AS-HL CMOS Laser Sensor with sensing technology that significantly improves detection capability using an industry-first Laser Class 1 CMOS laser sensor equipped with an FPGA. 
...
Read more...
---