printer friendly version
3D simulation IDE boosts factory productivity
24 November 2021
Design Automation
Omron's updated Sysmac Studio 3D Simulation integrated development environment (IDE) integrates and verifies the movements of robots and peripheral devices.
It can digitally reproduce an entire facility to verify the operation to the same accuracy as that of an actual machine. This helps companies to introduce new efficiencies to their processes and production capacity.
The IDE facilitates design through advance verification. It uses simulations that meet the need for rapid changes in production sites: shorter delivery times for equipment development, high-precision assembly and simultaneous start-up of production lines at multiple sites.
The new Sysmac Studio 3D Simulation can be purchased by simply adding optional licences for simulation functions to the Sysmac Studio programming software of Omron's flagship NJ/NX Series automation controllers.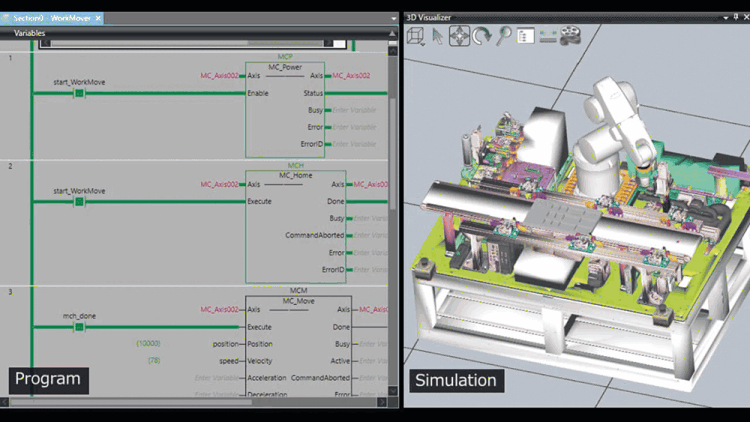 "Conventional simulators use dedicated software, which is expensive and requires specialist expertise. If the software is different from the controller, it's difficult to match the simulation results with the actual machine operation," comments Josep Lario, Omron's EMEA product marketing manager for software, IPC and visualisation. This is the first IDE in the industry to control and verify robots and other peripheral equipment in a single operation. This enhances the efficiency of facility design and shortens the time needed to confirm the production capacity of the equipment, start-up and modifications."
The main features of Sysmac Studio 3D Simulation are:
• Single software for motion, logic sequencing, safety, drives, vision and HMI.
• Fully compliant with open standard IEC 61131-3.
• Supports ladder, structured text and in-line ST programming with a rich instruction set.
• CAM editor for easy programming of complex motion profiles.
• One simulation tool for sequence and motion in a 3D environment.
• Advanced security function, with 32-digit security password.
Credit(s)
Further reading:
OMRON announces partnership with LAMBDA Automation
Omron Electronics News
LAMBDA Automation, a company specialising in programming, robotics, and panel wiring, and which services the automotive, food and beverage, brewery, and dairy sectors, has been announced as an OMRON solutions partner.
Read more...
---
New camera module targets AI and computer vision
Vepac Electronics Design Automation
Innodisk has announced its shift towards the AI industry with half of its AI development related to image recognition.
Read more...
---
The OMRON network safety advantage
Omron Electronics Editor's Choice Circuit & System Protection
When designing a safety solution for a machine or application, a fundamental consideration is whether to implement it as a standalone or network safety solution.
Read more...
---
Engineering the future of automation
Design Automation
As the next great leap forward in mechanisation, industrial automation integrates data into the manufacturing equation through high-input sensors and sensor infrastructures.
Read more...
---
OMRON helps deliver first HERO21 sanitisation robots in SA
Omron Electronics News
Patient and healthcare worker safety in South African hospitals is set to reach a new level of excellence with the launch of the revolutionary HERO21 robotic sanitisation system.
Read more...
---
Fusion 360 gains Ultra Librarian electronics CAD library
Design Automation
Autodesk collaborated with Ultra Librarian to generate this Fusion 360-compatible app that provides users with free verified schematic symbols, PCB footprints, 3D STEP models, and reference designs.
Read more...
---
ST releases new reference designs for STM32
Altron Arrow Design Automation
ST Microelectronics has released reference designs for the STM32WL5x and STM32WLEx, allowing new applications to be quickly prototyped.
Read more...
---
TI releases top five power design tools
Altron Arrow Design Automation
Texas Instruments has released an online resource combining the top five power design tools available to aid in the next electronic project design.
Read more...
---
Find tools and help more easily on Mouser's website
Design Automation
The Services and Tools page and Help Centre give customers the ability to view and track orders, request technical support and data sheets, and place orders.
Read more...
---
Upgraded AI/ML SDK for PolarFire FPGAs
Altron Arrow Design Automation
Network sizes have been reduced by 50% by optimising containers for weights and the built-in bit accuracy simulator's speed has been tripled.
Read more...
---