printer friendly version
Cable management the Samtec Flyover way
24 November 2021
Multimedia, Videos
Using twinax cable with ultra-low skew to route signals over a board is a key performance enabler as signal reach and integrity needs continue to become ever more important in high-speed applications.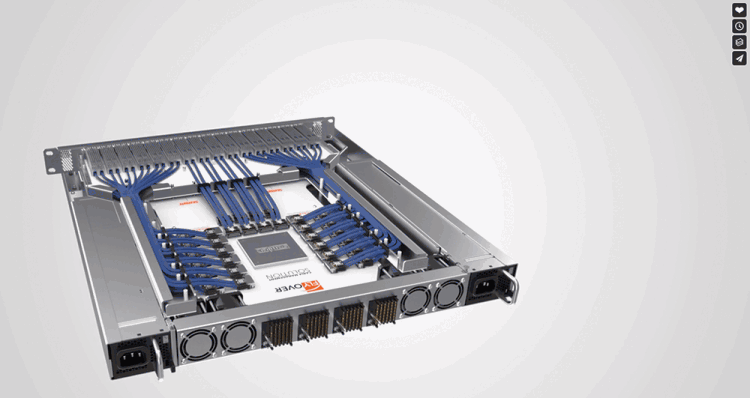 Samtec works with system architects in the early stages of design to create solutions for cable management that provide even distribution of thermal load. Go to www.dataweek.co.za/*nov21-samtec to watch a video outlining Samtec's Flyover cable management system in action.
Credit(s)
Further reading:
Mouser explores industrial automation with variety of resources
Multimedia, Videos
Mouser Electronics launched the seventh and final instalment of the 2021 'Empowering Innovation Together' programme. The finale delves deep into the capabilities of industrial automation technologies 
...
Read more...
---
VITA 42.0 XMC updates: A refreshed standard and new optical XMC modules
Spectrum Concepts Computer/Embedded Technology
Open standards simplify system design while offering robust ecosystems of solutions providers. Even as open standards are adopted across industries and platforms, updates are needed from time to time. 
...
Read more...
---
Host of updates rolled out to Samtec's website
Spectrum Concepts Interconnection
Samtec added a slew of updates and new features to its website (www.samtec.com) in October, as several projects wrapped up and were pushed live to the site. These included a new design for its 'tech specs' 
...
Read more...
---
Demo of new TouchGFX video widget
Altron Arrow Multimedia, Videos
The latest release (version 4.18) of STMicroelectronics' TouchGFX software for user-interface development with STM32 microcontrollers (MCUs) added support for video playback, enhanced tools for multi-developer 
...
Read more...
---
Samtec acquires fibre-optic component manufacturer
Spectrum Concepts News
Samtec announced the acquisition of Ultra Communications, a manufacturer of high-speed digital and RF fibre-optic components based in California, USA. Ultra Communications' core competencies include 
...
Read more...
---
Connector search spits out mated connector set in seconds
Spectrum Concepts Interconnection
Samtec has a multitude of ways to stack two or more boards together, thanks to a manufacturing process that allows it to position the plastic body on the terminal pin in increments of 0,13 mm on standard 
...
Read more...
---
Low-power wireless technologies webinar recording
Multimedia, Videos
If you're thinking of deploying a battery- or solar-operated device, or just require very low power consumption for your IoT application, a recording of a recent Sierra Wireless webinar titled 'Low-Power 
...
Read more...
---
5G as a disruptor for positioning applications
Multimedia, Videos
5G positioning is emerging as a disruptive technology that could potentially solve a number of industry pain points and target many use-cases that require accurate, reliable, precise positioning performance 
...
Read more...
---
'Embedded IoT Made Easy' webinar
Multimedia, Videos
Mouser Electronics has teamed up with Microchip Technology to bring the engineering community a brand new webinar. The 'Embedded IoT Made Easy' webinar will demonstrate the ease of developing a smart, 
...
Read more...
---
Infineon's 'Make IoT work' podcast
Infineon Technologies Multimedia, Videos
Digitalisation is currently experiencing an historic worldwide push. Smart and connected objects link the real with the digital world, helping us to tackle the major challenges of our time, such as climate 
...
Read more...
---