printer friendly version
eBook explores surge protection design challenges
24 November 2021
Technical Literature
Mouser has joined forces with Bourns as the title sponsor of a new eBook titled 'How to choose the right surge protection technology'.
The eBook, accessible via www.dataweek.co.za/*nov21-bourns, enlists industry experts from Bourns and other leading companies to help answer some of the most common questions regarding surge protection and its application in sophisticated electronics systems. It offers step-by-step insights into how to choose the right surge protection technology for a given application and features several charts and tables to help define and clarify the different types of surge protection technology.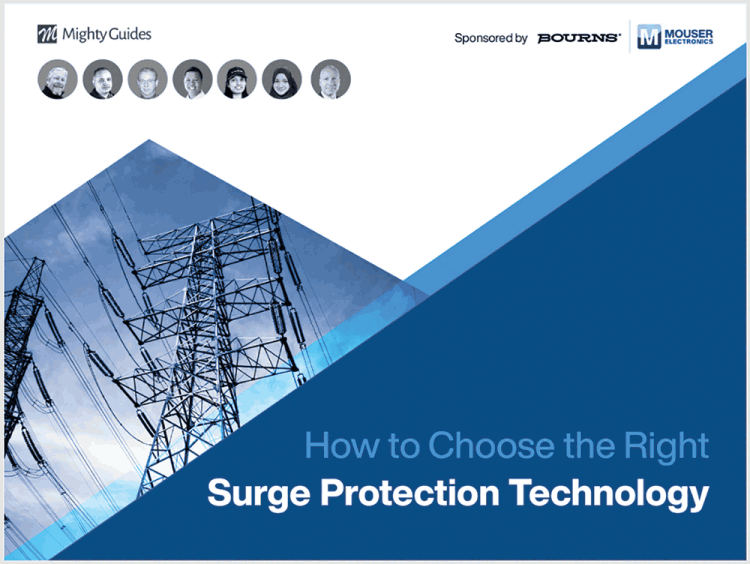 Each article features convenient links to crucial Bourns' surge protection products, connecting designers directly to solutions that can provide an immediate benefit to their electronic designs. These include the recently launched hybrid IsoMOV varistors that combine surge protection with an integrated gas discharge tube (GDT) isolation structure, as well as automotive-qualified TBU-CA-Q low-capacitance, bidirectional, high-speed protection components that guard against faults caused by short circuits.
Credit(s)
Further reading:
Fujitsu FRAM and ReRAM now available from Mouser
TRX Electronics DSP, Micros & Memory
Fujitsu Semiconductor Memory Solution's ferroelectric random access memory (FRAM) and large-density resistive random access memory (ReRAM) products are now being distributed by Mouser Electronics. Fujitsu 
...
Read more...
---
New integrated voltage regulator range available from Mouser
TRX Electronics Power Electronics / Power Management
Empower Semiconductor, a leading supplier of integrated voltage regulators (IVR), has been signed up by Mouser Electronics for a global distribution agreement. Empower's patented IVR technology integrates 
...
Read more...
---
New eBook draws on RF wireless design experts' knowledge
Technical Literature
A collaboration between Mouser Electronics and Analog Devices has produced a new eBook highlighting the diverse challenges and solutions in RF wireless design. In '8 Experts on RF Wireless Design', industry 
...
Read more...
---
27 GHz SMA interconnect products
TRX Electronics Interconnection
Mouser Electronics is now stocking EP-SMA 27 GHz connectors, adaptors and cable assemblies from TE Connectivity. The portfolio provides engineers with increased bandwidth, power and performance that are 
...
Read more...
---
Wide range of sensor technologies for innovative designs
TRX Electronics Analogue, Mixed Signal, LSI
Mouser Electronics has created a sensor technology content stream on its website that highlights the latest in innovative sensor solutions and resources from the world's top manufacturers. With the 
...
Read more...
---
The state of 3D printing in 2021
Technical Literature
element14 has released a new eBook that offers insights into the history and the reality of 3D printing, including the processes, materials and applications – as well as what the future holds for this 
...
Read more...
---
Interconnect system with 1,0 mm centreline
TRX Electronics Interconnection
Mouser Electronics is now stocking the AMPMODU 1,0 mm centreline interconnect system from TE Connectivity (TE). This interconnect system offers an 85% space saving on the board when compared to the 
...
Read more...
---
RF power GaN transistor
TRX Electronics Telecoms, Datacoms, Wireless, IoT
Mouser Electronics is now stocking the A3G26D055N Airfast RF power gallium nitride (GaN) transistor from NXP Semiconductors. The transistor is designed for cellular base station applications requiring 
...
Read more...
---
Thermal management solutions for automotive and Mil/Aero
TRX Electronics Manufacturing / Production Technology, Hardware & Services
How thermal materials work, how to dissipate unnecessary heat and some of the selection criteria that come into play to select the best TIM form, fit and function.
Read more...
---
Ambient light and proximity sensor
TRX Electronics Opto-Electronics
Mouser Electronics is now stocking the TMD2712 ambient light and proximity sensor from ams. The sensor incorporates an infrared (IR) VCSEL (vertical cavity surface emitting laser) and factory-calibrated 
...
Read more...
---