printer friendly version
eBook explores surge protection design challenges
24 November 2021
Technical Literature
Mouser has joined forces with Bourns as the title sponsor of a new eBook titled 'How to choose the right surge protection technology'.
The eBook, accessible via www.dataweek.co.za/*nov21-bourns, enlists industry experts from Bourns and other leading companies to help answer some of the most common questions regarding surge protection and its application in sophisticated electronics systems. It offers step-by-step insights into how to choose the right surge protection technology for a given application and features several charts and tables to help define and clarify the different types of surge protection technology.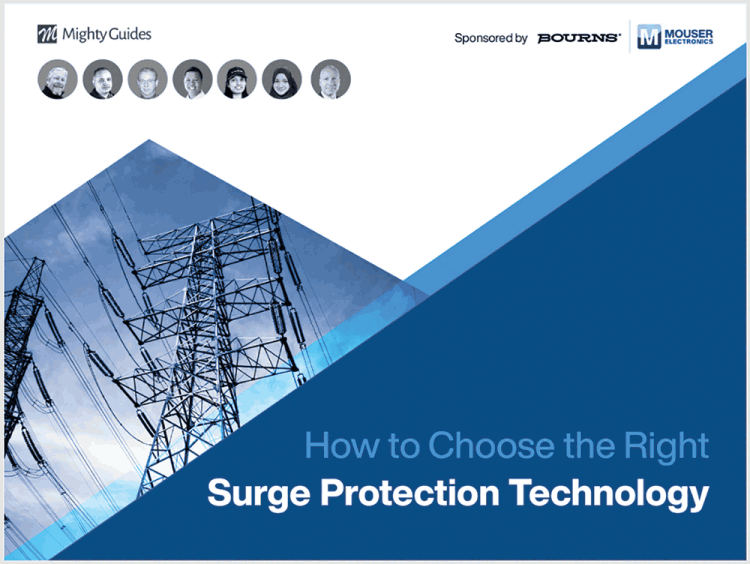 Each article features convenient links to crucial Bourns' surge protection products, connecting designers directly to solutions that can provide an immediate benefit to their electronic designs. These include the recently launched hybrid IsoMOV varistors that combine surge protection with an integrated gas discharge tube (GDT) isolation structure, as well as automotive-qualified TBU-CA-Q low-capacitance, bidirectional, high-speed protection components that guard against faults caused by short circuits.
Credit(s)
Further reading:
Wireless charging IC solution
TRX Electronics Power Electronics / Power Management
The WLC1115 transmitter controller IC is the first highly integrated product of the new WLC family of controllers from Infineon for applications in inductive wireless charging.
Read more...
---
Designing modern wearable electronics
Infineon Technologies Technical Literature
Designing innovative and power-efficient wearable devices is essential for today's design engineers, but several developmental challenges lie ahead for the upcoming generation of products. Wrist-worn 
...
Read more...
---
Mouser stocks wide product selection from Renesas companies
TRX Electronics News
The products on offer include embedded solutions, semiconductors, optoelectronics, sensors and passive components.
Read more...
---
Mouser stocks wide selection of the latest Phoenix Contact products
TRX Electronics Interconnection
The offering covers a vast selection of sensors, controllers, terminal blocks, connectors and wireless Ethernet products.
Read more...
---
Modules support Wi-Fi 4 and Bluetooth 5.2
TRX Electronics Telecoms, Datacoms, Wireless, IoT
The new modules are mechanically and pin-compatible with the Sterling-LWB module, offering a simplified upgrade path for existing designs.
Read more...
---
Tiny CO2 sensor employs photoacoustic spectroscopy
TRX Electronics Analogue, Mixed Signal, LSI
The device uses a high-sensitivity MEMS microphone to detect the pressure change generated by CO
2
molecules within the sensor cavity.
Read more...
---
Mouser's resource pages make it easier to find what you need
TRX Electronics Design Automation
Mouser Electronics offers a wealth of customer-focused online tools to simplify and optimise the selection and purchasing process. Helping customers to easily browse, select and purchase products, the 
...
Read more...
---
Self-learning AI sensor for fitness tracking
TRX Electronics Analogue, Mixed Signal, LSI
The Bosch BHI260AP is ideal for always-on sensor applications like wrist wearables, hearables, smartphones, AR/VR headsets and controller device.
Read more...
---
Sensor nodes for reliable air quality data
TRX Electronics Analogue, Mixed Signal, LSI
The advanced sensors offer easy integration, fully calibrated outputs with a digital interface, and optimal measurement of vital air quality parameters.
Read more...
---
High-resolution magnetic position sensor
TRX Electronics Analogue, Mixed Signal, LSI
Featuring a 14-bit sensor array and analog front-end, the sensor uses a differential measurement method to compensate for external stray magnetic fields.
Read more...
---