printer friendly version
VITA 42.0 XMC updates: A refreshed standard and new optical XMC modules
24 November 2021
Computer/Embedded Technology
Open standards simplify system design while offering robust ecosystems of solutions providers. Even as open standards are adopted across industries and platforms, updates are needed from time to time. For example, take ANSI/VITA 42.0-2021 XMC.
VITA 42.0 XMC defines a popular mezzanine card architecture using a PCIe interconnect to host carrier modules. XMC modules attach to various form factors including SOSA PICs, PXIe, VPX, PCIe and others. As PCIe increases in speed, standards using the technology need to be updated.
Updated VITA 42 XMC standard
Over the past few years, a working group led by Samtec has focused on updating VITA 42 to the latest design practices. Key additions to the VITA 42 specification update include:
• True PCIe capabilities for both the VITA 42 and VITA 88 connector solutions.
• An SI appendix detailing performance capabilities of VITA 42 connectors.
• Improved artwork highlighting board layout/design for mezzanine and host carrier modules.
• Revised formatting per VITA guidelines for easier navigation and reading.
• Updated part numbers for expanded connector options.
VITA 42 XMC continues to be a popular I/O expansion option in rugged and embedded computing. Applications using XMC include radar, signal intelligence, video, remote sensing, medical imaging, embedded telecommunications systems, storage and more. New XMC modules are always being released to the market. Consider two newly released solutions from Minnesota-based New Wave DV.
V1160 dual-port 100G rugged Ethernet XMC card
The V1160 is designed for high-bandwidth and low-latency interface applications requiring 10/25/40/100 Gbs Ethernet. The convenient XMC form factor and rugged design of the V1160 turn a VPX-based single-board computer into a single-slot sensor processor.
V1160 dual-port 100G rugged Ethernet XMC card.
Featuring the Nvidia Mellanox ConnectX-5 network interface device, the V1160 is a performance leader in Ethernet applications. With hardware offloads for UDP, TCP, RoCE v2, DPDK and many other protocols, payload data throughput and latency are unmatched in the V1160.
The V1160 leverages Samtec's FireFly Micro Flyover System for optical connectivity. FireFly is the first interconnect system supporting optical and copper interchangeably with the same connector system. FireFly also offers flexibility to achieve higher data rates to 28 Gbps and/or greater distances, simplifying board design and enhancing performance.
V1153 12-port rugged XMC FPGA card
Purpose-built for extreme, high-bandwidth interface and FPGA co-processing applications, the V1153 will withstand harsh environments while staying within SWaP and budget requirements. New Wave's V1153 card provides the highest port density, bandwidth and processing power in a single XMC form factor.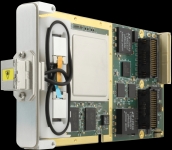 V1153 12-port rugged XMC FPGA card.
The V1153 dramatically increases interface bandwidth and provides plenty of user FPGA resources for custom signal processing and data acquisition. Supporting temperature ranges from -40°C to +85°C and complying with VITA 20 standards, each V1153 XMC card delivers a reliable, long-lasting solution for rugged embedded needs.
On the horizon: VITA 88:0 XMC+
For next-gen XMC solutions, VITA 88.0 XMC+ offers an alternative connector from the same family used in FMC/FMC+. The new VITA 88.0 XMC+ connector is designed to be backward-compatible with XMC connector footprints, allowing integration into existing XMC designs.
Next-generation XMC+ designs can utilise an updated solder footprint that improves signal integrity and is intended to support PCIe Gen 5 (32 GT/s) operation on XMC+ mezzanine platforms.
Credit(s)
Further reading:
AI-powered computer for autonomous machines
Altron Arrow Computer/Embedded Technology
Nvidia recently premiered Jetson AGX Orin, the world's smallest, most powerful and energy-efficient AI supercomputer for robotics, autonomous machines, medical devices and other forms of embedded computing 
...
Read more...
---
AI voice development kit
iCorp Technologies Computer/Embedded Technology
Espressif Systems announced the launch of its AI voice development kit, ESP32-S3-BOX, which provides a platform for developing the control of smart devices with offline and online voice assistants. The 
...
Read more...
---
VPX processor board with strong security
Rugged Interconnect Technologies Computer/Embedded Technology
Concurrent Technologies has developed a VPX processor board based on the Intel Xeon E-2200 processor family (previously known as Coffee Lake Refresh) launched by Intel for use in long-lifecycle embedded 
...
Read more...
---
Host of updates rolled out to Samtec's website
Spectrum Concepts Interconnection
Samtec added a slew of updates and new features to its website (www.samtec.com) in October, as several projects wrapped up and were pushed live to the site. These included a new design for its 'tech specs' 
...
Read more...
---
Full AI/machine learning sensing solution
Computer/Embedded Technology
SensiML, a developer of AI tools for building intelligent Internet of Things (IoT) endpoints, has teamed up with onsemi to deliver a complete machine learning solution for autonomous sensor data processing 
...
Read more...
---
Frame grabber for up to four CoaXPress links
Rugged Interconnect Technologies Computer/Embedded Technology
Kaya Instruments' Komodo II CoaXPress 12G PCIe/104 is a high-spec frame grabber supporting the CoaXPress 2.0 standard. It can receive video streams from up to four CoaXPress links in single, dual or 
...
Read more...
---
Cable management the Samtec Flyover way
Spectrum Concepts Multimedia, Videos
Using twinax cable with ultra-low skew to route signals over a board is a key performance enabler as signal reach and integrity needs continue to become ever more important in high-speed applications.
...
Read more...
---
Benchmarking tools for quantum computing released
Computer/Embedded Technology
Quantum computers are still a long way from being practical in real-world scenarios, but development is already underway on benchmarking tools to measure their performance. The Quantum Economic Development 
...
Read more...
---
Samtec acquires fibre-optic component manufacturer
Spectrum Concepts News
Samtec announced the acquisition of Ultra Communications, a manufacturer of high-speed digital and RF fibre-optic components based in California, USA. Ultra Communications' core competencies include 
...
Read more...
---
Updates add video to ST's TouchGFX suite
Altron Arrow Computer/Embedded Technology
STMicroelectronics has released TouchGFX Version 4.18 for user-interface development with STM32 microcontrollers (MCUs), adding video playback, enhanced tools for multi-developer collaboration and support 
...
Read more...
---