printer friendly version
Online content stream for robotics design engineers
28 February 2022
Technical Literature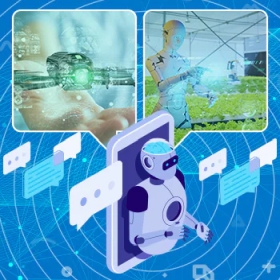 To help engineers jumpstart their robotics designs, Mouser Electronics provides an extensive and insightful Robotics content stream as part of the global distributor's content hub. The stream's series of articles, blogs, diagrams and featured products highlight the world's top manufacturers and how best to implement their solutions into robotics applications and robotic process automation (RPA) designs. To start exploring the Robotics stream on the content hub, select Applications from the navigation menu, followed by Industrial and then Robotics; or go to https://resources.mouser.com/robotics.
"In this pivotal time of digital transformation, engineers need to stay on top of the latest robotics trends and techniques to ensure their designs are reliable, precise and efficient," says Kevin Hess, Mouser Electronics' senior vice president of marketing. "With Mouser's wide collection of resources, services, tools and products, we can assist engineers throughout the design process, helping them meet their target results."
In addition to many application and technology content streams, Mouser's award-winning 'Empowering Innovation Together' programme offers a collection of blogs, articles, videos and infographics on the latest trends and insights in technology. A previous EIT series, Generation Robot, delivered a five-part video series, exclusive eBooks and in-depth articles from industry experts.
Mouser stocks a wide selection of semiconductors and electronic components, including the following products ideal for use in robotics designs:
• Molex Squba connectors offer a 1,8 mm and 3,6 mm sealed wire-to-wire connection system that delivers reliable power in a wide range of compact applications.
• The Intel RealSense Depth Camera D455 features stereo cameras that deliver excellent depth information for a variety of uses. Equipped to work well both indoors and outdoors, the stereo cameras are ideal for robotics design.
Credit(s)
Further reading:
Wireless charging IC solution
TRX Electronics Power Electronics / Power Management
The WLC1115 transmitter controller IC is the first highly integrated product of the new WLC family of controllers from Infineon for applications in inductive wireless charging.
Read more...
---
Designing modern wearable electronics
Infineon Technologies Technical Literature
Designing innovative and power-efficient wearable devices is essential for today's design engineers, but several developmental challenges lie ahead for the upcoming generation of products. Wrist-worn 
...
Read more...
---
Mouser stocks wide product selection from Renesas companies
TRX Electronics News
The products on offer include embedded solutions, semiconductors, optoelectronics, sensors and passive components.
Read more...
---
Mouser stocks wide selection of the latest Phoenix Contact products
TRX Electronics Interconnection
The offering covers a vast selection of sensors, controllers, terminal blocks, connectors and wireless Ethernet products.
Read more...
---
Modules support Wi-Fi 4 and Bluetooth 5.2
TRX Electronics Telecoms, Datacoms, Wireless, IoT
The new modules are mechanically and pin-compatible with the Sterling-LWB module, offering a simplified upgrade path for existing designs.
Read more...
---
Tiny CO2 sensor employs photoacoustic spectroscopy
TRX Electronics Analogue, Mixed Signal, LSI
The device uses a high-sensitivity MEMS microphone to detect the pressure change generated by CO
2
molecules within the sensor cavity.
Read more...
---
Mouser's resource pages make it easier to find what you need
TRX Electronics Design Automation
Mouser Electronics offers a wealth of customer-focused online tools to simplify and optimise the selection and purchasing process. Helping customers to easily browse, select and purchase products, the 
...
Read more...
---
Self-learning AI sensor for fitness tracking
TRX Electronics Analogue, Mixed Signal, LSI
The Bosch BHI260AP is ideal for always-on sensor applications like wrist wearables, hearables, smartphones, AR/VR headsets and controller device.
Read more...
---
Sensor nodes for reliable air quality data
TRX Electronics Analogue, Mixed Signal, LSI
The advanced sensors offer easy integration, fully calibrated outputs with a digital interface, and optimal measurement of vital air quality parameters.
Read more...
---
High-resolution magnetic position sensor
TRX Electronics Analogue, Mixed Signal, LSI
Featuring a 14-bit sensor array and analog front-end, the sensor uses a differential measurement method to compensate for external stray magnetic fields.
Read more...
---