printer friendly version
Online simulator speeds thyristor, AC switch selection
30 March 2022
Design Automation
To quickly find the thyristor or AC switch that best fits their design, engineers can use STMicroelectronics' AC Switch Simulator online tool by simply entering the main I/O and gate parameters.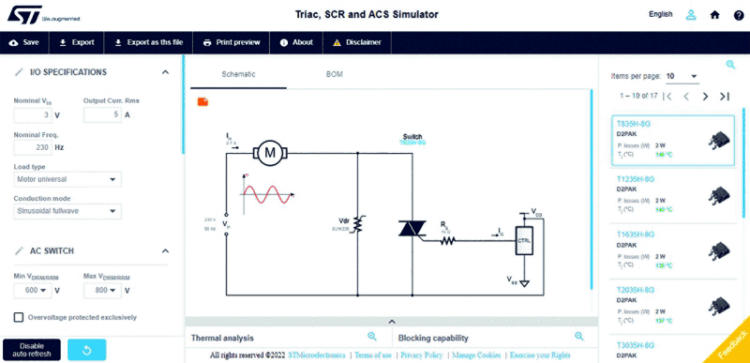 To refine the search and help improve the design, this user-friendly tool lets the user calculate the junction temperature with a specified load RMS current and ambient temperature, select the appropriate heatsink and get an estimate of their design's voltage blocking capability. Packages, isolated versions, current ratings and alternative voltages can be ironed out in a single session and the AC switching circuit suggestions can be delivered with an instant options check.
Available in English and Chinese, its responsive web design presents interactive schematics and BOM tools as well as thermal analysis and blocking capability simulators on any desktop, smartphone or tablet computer.
AC Switch Simulator can be accessed at https://eds.st.com/acswitch/#/
Further reading:
Find tools and help more easily on Mouser's website
Design Automation
The Services and Tools page and Help Centre give customers the ability to view and track orders, request technical support and data sheets, and place orders.
Read more...
---
Upgraded AI/ML SDK for PolarFire FPGAs
Altron Arrow Design Automation
Network sizes have been reduced by 50% by optimising containers for weights and the built-in bit accuracy simulator's speed has been tripled.
Read more...
---
Mouser's resource pages make it easier to find what you need
TRX Electronics Design Automation
Mouser Electronics offers a wealth of customer-focused online tools to simplify and optimise the selection and purchasing process. Helping customers to easily browse, select and purchase products, the 
...
Read more...
---
Software development kit for motor control
Altron Arrow Design Automation
STMicroelectronics' STM32 microcontrollers offer the performance of industry-standard Arm Cortex-M cores running either vector control or field-oriented control (FOC) modes, which are widely used in high-performance 
...
Read more...
---
Newest version of PCB design software released
Dizzy Enterprises Design Automation
Proteus version 8.14 has been released. This latest version of the PCB design and circuit simulation software adds dedicated support for test points, improvements to differential pair routing, resin-filled 
...
Read more...
---
Proteus 8.6 released, now simulates turtles
Dizzy Enterprises Design Automation
Version 8.6 of the Proteus simulation and PCB design software adds new features such as STM32F103xx microcontroller simulation and serpentine track-length matching, but without doubt the most novel new 
...
Read more...
---
3D simulation IDE boosts factory productivity
Omron Electronics Design Automation
Omron's updated Sysmac Studio 3D Simulation integrated development environment (IDE) integrates and verifies the movements of robots and peripheral devices. It can digitally reproduce an entire facility 
...
Read more...
---
Features added to DesignSpark PCB Pro
RS Components (SA) Design Automation
RS Components added new features to DesignSpark PCB Pro and introduced an RS stock number to make it easier to purchase. The free-of-charge version of DesignSpark PCB, part of the award-winning RS DesignSpark 
...
Read more...
---
Evaluation kit for formaldehyde sensor
Electrocomp Design Automation
The SEK-SFA30 evaluation kit has been designed for easy evaluation of Sensirion's SFA30 formaldehyde sensor. The SFA30 is designed for easy integration into air purifiers, demand-controlled ventilation 
...
Read more...
---
mikroSDK adds support for Kinetis MCUs
Dizzy Enterprises Design Automation
MikroElektronika's multi-architectural software development kit, mikroSDK 2.0, now supports 147 microcontrollers (MCUs) from NXP Semiconductors. mikroSDK is a collection of open-source software libraries 
...
Read more...
---