printer friendly version
Qi 1.3 wireless charging with authentication
26 April 2022
Power Electronics / Power Management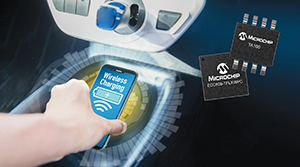 In order to ensure high-quality wireless charging power transmitters, the Wireless Power Consortium (WPC) has released the Qi 1.3 specification with the extended power profile. This new specification has created demand for high-security silicon authentication devices for full-service support.
In response, Microchip Technology has announced the new industrial-grade TrustFLEX ECC608 and the automotive-grade Trust Anchor TA100, combined with secure key provisioning services for Qi 1.3 power transmitters. This new offering is an all-in-one secure storage subsystem that includes key provisioning for consumer and automotive systems.
The Qi 1.3 specification now mandates the addition of a secure storage subsystem with secure key provisioning including X.509 certificates to cryptographically verify the source and quality of the certified power transmitter. When a receiver in, for example, a cellphone, is placed on a Qi 1.3 power transmitter, it may initially accept a 5 W charge or no charge at all. Then after a successful X.509-based ECC authentication verifies that the charger is an approved, 'do no harm' device, the phone will safely accept a 15 W charge to significantly reduce charging time.
Microchip is now a WPC-licenced manufacturing Certificate Authority (CA), not only offering pre-configured secure storage subsystem solutions that reduce complexity and development time, but also lowering the technical barrier of entry by handling the entire key ceremony with the WPC root certificate authority on behalf of Microchip customers. By providing a complete, certified reference design including application MCU, Qi 1.3 software stack, secure storage subsystems with supporting crypto library along with provisioning services for both automotive and consumer applications, Microchip is a one-stop shop for Qi 1.3 solutions.
For more information contact Andrew Athanasiou, Altron Arrow, +27 21 555 1884, [email protected], www.altronarrow.com
Credit(s)
Further reading:
New series of power ribbon wire-wound resistors
Electrocomp Power Electronics / Power Management
This QL/QRZG series of high-power resistors have a high-power load up to 2500 W and are suitable for applications such as industrial braking, EV battery packs and charging stations.
Read more...
---
Take advantage of Wi-Fi 6, 6E
Altron Arrow Telecoms, Datacoms, Wireless, IoT
Infineon has provided a host of online resources to learn more about the technology and benefits involved with Wi-Fi 6.
Read more...
---
350 W switching power supply
Conical Technologies Power Electronics / Power Management
The LMF350-23BxxUH series from Mornsun is an enclosed, fanless AC-DC switching power supply which is suitable for industrial and outdoor use.
Read more...
---
Arrow Electronics opens new primary distribution centre
Altron Arrow News
Arrow Electronics, represented in South Africa by Altron Arrow, announced that it has opened a new, state-of-the-art primary distribution centre in Venlo, the Netherlands.
Read more...
---
Altron Arrow FAE earns top award
Altron Arrow News
STMicroelectronics awards top trophy to Altron Arrow's field application engineer for outstanding achievement in the certification course.
Read more...
---
EV wireless recharging in the future of transportation
Power Electronics / Power Management
Wireless recharging of electric vehicles as they travel over specially equipped, dedicated road lanes looks promising after months of testing.
Read more...
---
New automotive-qualified driver family
MB Silicon Systems Power Electronics / Power Management
Power Integrations announces the SCALE EV family of gate-driver boards for Infineon EconoDUAL modules targeting high-power automotive applications.
Read more...
---
Power supply design considerations for remote patient monitors
Altron Arrow Power Electronics / Power Management
Remote patient monitors (RPMs) are continuously evolving to include new features which creates greater demands on their single-cell battery supply. A solution is provided for an ECG RPM that preserves battery life.
Read more...
---
How to extend the run-time of battery-powered equipment
Accutronics Editor's Choice Power Electronics / Power Management
For a given battery selection and application, there are several downstream design decisions that can have a drastic impact on how long the battery lasts.
Read more...
---
PSU available in 75 W to 1000 W output range
Vepac Electronics Power Electronics / Power Management
The switched-mode power supplies can accept a wide range of dual AC/DC inputs and have active power factor correction.
Read more...
---