printer friendly version
UPS keeps IoT networks running during power-grid disturbances
26 April 2022
Power Electronics / Power Management
Growing cities bring more technology to one place, especially in developing countries and in many cases the expansion of electricity grids simply cannot keep up with the demand. The power plants that produce energy from renewable sources like wind and sun cannot be optimally tapped continuously, creating an uneven electrical current. The distance from the power plant to the end-user also matters for a steady power supply. Lastly, an illegal connection to the power grid significantly damages its overall stability so it must constantly be monitored, but even then it isn't completely safe from such actions.
Although modern technology enables us to do wondrous things, it is more delicate than many think. Devices rely on a stable and constant supply of energy to function correctly. As many systems can be interrupted by electrical current fluctuations, Teltonika Networks offers a way to provide stable power to compatible devices with the latest addition to its portfolio.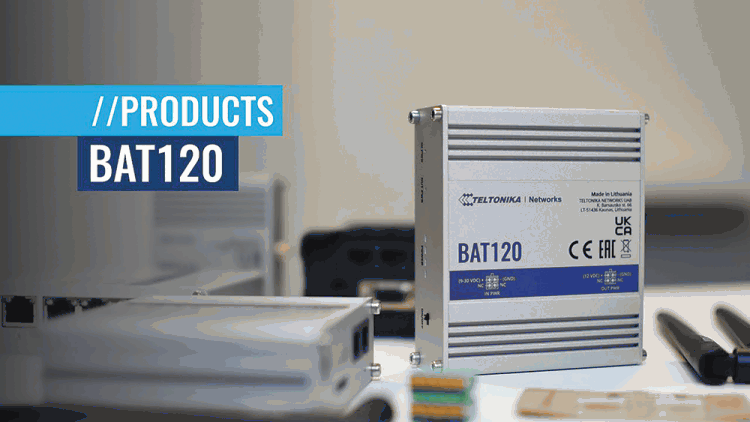 Compatible with the company's RUT2xx, RUT9xx, RUT3xx, RUTXxx, TRB1xx, TRB2xx, TSW110 and TCR100 networking hardware, the new BAT120 uninterruptible power supply (UPS) accessory provides a steady electrical current to ensure continuous connectivity for an IoT solution.
Teltonika's products restart when a voltage fluctuation occurs. However, this safety functionality may interfere with steady data flow when constant connectivity is needed without even the slightest interruption. If an unexpected electrical outage occurs, the BAT120 can power connected devices for up to six hours, preventing a connectivity disruption and offering enough time to restore the primary power grid. This is made possible by just two 18650-sized Li-Ion cells.
Compatible devices can also be set up to send an SMS or email alert when an outage occurs, allowing a technician to get on top of the malfunction and fix it as quickly as possible. This makes the BAT120 a key asset in industrial scenarios that require constant connectivity, such as in the FMCG (fast-moving consumer goods) and pharmacy sectors, where a detailed report of temperature, humidity and other factors is necessary for the product to be deemed fit for consumers.
For more information contact Gyula Wendler, Altron Arrow, +27 11 923 9709, [email protected], www.altronarrow.com
Credit(s)
Further reading:
New series of power ribbon wire-wound resistors
Electrocomp Power Electronics / Power Management
This QL/QRZG series of high-power resistors have a high-power load up to 2500 W and are suitable for applications such as industrial braking, EV battery packs and charging stations.
Read more...
---
Take advantage of Wi-Fi 6, 6E
Altron Arrow Telecoms, Datacoms, Wireless, IoT
Infineon has provided a host of online resources to learn more about the technology and benefits involved with Wi-Fi 6.
Read more...
---
350 W switching power supply
Conical Technologies Power Electronics / Power Management
The LMF350-23BxxUH series from Mornsun is an enclosed, fanless AC-DC switching power supply which is suitable for industrial and outdoor use.
Read more...
---
Arrow Electronics opens new primary distribution centre
Altron Arrow News
Arrow Electronics, represented in South Africa by Altron Arrow, announced that it has opened a new, state-of-the-art primary distribution centre in Venlo, the Netherlands.
Read more...
---
Altron Arrow FAE earns top award
Altron Arrow News
STMicroelectronics awards top trophy to Altron Arrow's field application engineer for outstanding achievement in the certification course.
Read more...
---
EV wireless recharging in the future of transportation
Power Electronics / Power Management
Wireless recharging of electric vehicles as they travel over specially equipped, dedicated road lanes looks promising after months of testing.
Read more...
---
New automotive-qualified driver family
MB Silicon Systems Power Electronics / Power Management
Power Integrations announces the SCALE EV family of gate-driver boards for Infineon EconoDUAL modules targeting high-power automotive applications.
Read more...
---
Power supply design considerations for remote patient monitors
Altron Arrow Power Electronics / Power Management
Remote patient monitors (RPMs) are continuously evolving to include new features which creates greater demands on their single-cell battery supply. A solution is provided for an ECG RPM that preserves battery life.
Read more...
---
How to extend the run-time of battery-powered equipment
Accutronics Editor's Choice Power Electronics / Power Management
For a given battery selection and application, there are several downstream design decisions that can have a drastic impact on how long the battery lasts.
Read more...
---
PSU available in 75 W to 1000 W output range
Vepac Electronics Power Electronics / Power Management
The switched-mode power supplies can accept a wide range of dual AC/DC inputs and have active power factor correction.
Read more...
---