printer friendly version
Sensor nodes for reliable air quality data
26 April 2022
Analogue, Mixed Signal, LSI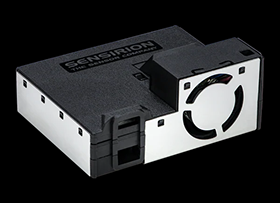 Mouser Electronics is now stocking the SEN5x environmental sensor nodes from Sensirion. Optimised with multiple sensing parameters, the SEN5x nodes enable designers to save valuable R&D, BOM and assembly costs by providing an all-in-one sensor solution that replaces multiple environmental sensors.
The Sensirion SEN5x environmental sensor nodes help improve end-customers' health and comfort by accurately measuring and reporting the levels of relevant indoor pollutants in particulate matter, volatile organic compounds (VOCs), oxidising gases (NOx and O3), humidity and temperature in a variety of air quality applications.
The advanced sensors offer easy integration, fully calibrated outputs with a digital interface, and optimal measurement of vital air quality parameters in a single device versus multiple sensor components. The sensor nodes provide one driver for up to eight data signals and perform all operations and communications through an I2C interface.
The SEN5x nodes feature integrated, proprietary measurement algorithms, including VOC/NOx index calculation, humidity compensation and temperature compensation, which enable straightforward integration into HVAC and air quality applications. Along with the temperature compensation engine, the devices also incorporate a Sensirion Temperature Acceleration Routine (STAR) engine, which accelerates their response to ambient temperature changes by a factor of 2 to 3.
The sensor nodes offer a lifetime of over 10 years and are available in a compact 52,8 x 43,6 x 22,3 mm form factor. For evaluation and development, Mouser also stocks the SEK-SEN5x evaluation kit.
Credit(s)
Further reading:
Wireless charging IC solution
TRX Electronics Power Electronics / Power Management
The WLC1115 transmitter controller IC is the first highly integrated product of the new WLC family of controllers from Infineon for applications in inductive wireless charging.
Read more...
---
Low power 36 V operational amplifier
EBV Electrolink Analogue, Mixed Signal, LSI
The TSB622 is a general-purpose, dual operational amplifier featuring an extended supply voltage operating range of 2,7 to 36 V and rail-to-rail output
Read more...
---
Quad-output buck regulator
Altron Arrow Analogue, Mixed Signal, LSI
The LTM4673 from Analog Devices is a quad-output µmodule buck regulator which has a wide input voltage range and built-in digital power system management.
Read more...
---
u-blox' smallest ever GNSS module
RF Design Analogue, Mixed Signal, LSI
Designing an anomaly detection library with AI learning capability is possible with minimal data and with no specific data-science skills needed.
Read more...
---
Mouser stocks wide product selection from Renesas companies
TRX Electronics News
The products on offer include embedded solutions, semiconductors, optoelectronics, sensors and passive components.
Read more...
---
Evaluation board for MEMS accelerometers
Altron Arrow Analogue, Mixed Signal, LSI
The board is designed to facilitate fast system prototyping and device evaluation of MEMS devices in ST's ASM330LHHX product family.
Read more...
---
Mouser stocks wide selection of the latest Phoenix Contact products
TRX Electronics Interconnection
The offering covers a vast selection of sensors, controllers, terminal blocks, connectors and wireless Ethernet products.
Read more...
---
Efficient cold chain management with high-accuracy temperature sensors
Analogue, Mixed Signal, LSI
Choosing the correct system of temperature sensing in cold chain management is vital to ensure quality and product safety for the consumer.
Read more...
---
Modules support Wi-Fi 4 and Bluetooth 5.2
TRX Electronics Telecoms, Datacoms, Wireless, IoT
The new modules are mechanically and pin-compatible with the Sterling-LWB module, offering a simplified upgrade path for existing designs.
Read more...
---
Tiny CO2 sensor employs photoacoustic spectroscopy
TRX Electronics Analogue, Mixed Signal, LSI
The device uses a high-sensitivity MEMS microphone to detect the pressure change generated by CO
2
molecules within the sensor cavity.
Read more...
---