printer friendly version
Scripting language simplifies hardware and software automation
23 November 2022
Computer/Embedded Technology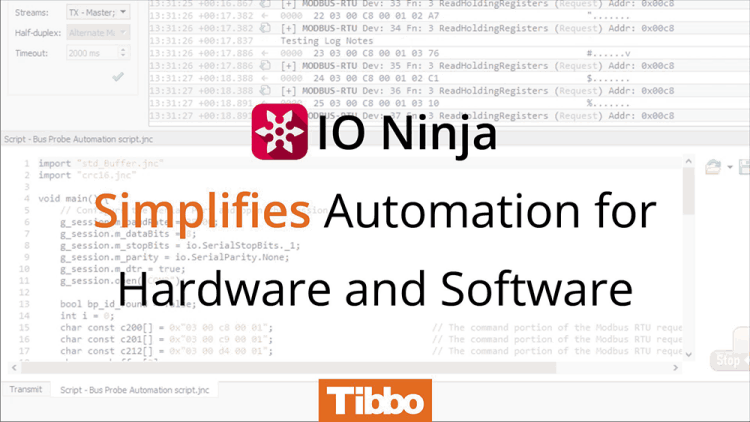 IO Ninja is an all-in-one terminal emulator, sniffer, protocol analyser, and I/O monitor. Its capabilities have made it an indispensable tool for network security experts, system administrators, developers, and many other tech industry professionals.
One of IO Ninja's most powerful features is scripting. Powered by the next-generation Jancy language, scripting facilitates test automation and verification for software and hardware. Scripting simplifies creating test logs and statistics and automating tasks, helping develop test architectures and implement verification plans for complete end-to-end (E2E) testing.
Jancy requires no building and features high binary- and source-level compatibility with the C programming language. This boosts the effectiveness of application-script interactions and, in most cases, even allows one to copy/paste C code directly.
Credit(s)
Further reading:
Wi-Fi 6/6E module for industrial applications
RF Design Telecoms, Datacoms, Wireless, IoT
The u-blox MAYA-W3 brings the benefits of Wi-Fi 6 and the 6 GHz band to industrial applications, preventing network congestion and ensuring power efficiency.
Read more...
---
Wideband GNSS testing system
RF Design News
The LabSat 3 Wideband Solution is a GNSS testing system with support for recording and replay in the upper
L-Band (1559-1610 MHz)
and lower
L-Band (1164-1300 MHz).
It has three RF channels, a recording 
...
Read more...
---
A new security level against GNSS spoofing
RF Design Telecoms, Datacoms, Wireless, IoT
GNSS spoofing and jamming attacks are on the rise. In recent years, growing availability of inexpensive signal simulators has led to spoofing episodes, which in turn have resulted in disruptions of GPS and Galileo signals reported by high-precision GNSS equipment manufacturers.
Read more...
---
Powering factory automation into the future
Rugged Interconnect Technologies Computer/Embedded Technology
Powered by the newest 13th Gen Intel processors, ADLINK Technology's COM-HPC-cRLS module is a future-proof edge AI solution.
Read more...
---
Mini-Circuits distributor appointment
RF Design News
RF Design has been appointed as the Mini-Circuits representative and distributor for South Africa and Namibia.
Read more...
---
Linux OS with immutable file system
Computer/Embedded Technology
What really sets VanillaOS apart from others, however, is in security, where it takes a new approach to computing by using an immutable file system for improved security and stability.
Read more...
---
Dual-band Wi-Fi 6 and Bluetooth 5.3 module
RF Design Telecoms, Datacoms, Wireless, IoT
u-blox has announced the u-blox JODY-W5, which has dual-band Wi-Fi 6 and dual-mode Bluetooth 5.3 technologies, including LE Audio.
Read more...
---
Rugged laptops support the renewable energy sector
Osiris Technical Systems Computer/Embedded Technology
The Durabook S15AB semi-rugged laptop was recommended due to its military-grade durability, powerful functionality and desktop performance, allowing it to keep pace even for intensive tasks such as asset management and maintenance.
Read more...
---
Memory comparison: DDR4, DDR5, GDDR6 and HBM
Avnet Abacus Computer/Embedded Technology
DDR5 SDRAM was introduced in 2021 and brings many performance enhancements, but just how much faster is it over DDR4? And how does it compare to other memory types like HBM2e and GDDR6?
Read more...
---
Industrial networking devices from InHand
Otto Wireless Solutions Computer/Embedded Technology
The InHand routers, edge gateways, and industrial switches are ideal solutions for any scenario in which control of an IIoT Ethernet network is needed.
Read more...
---