printer friendly version
First South African QBronze workshop
31 May 2023
AI & ML
QBronze109, the first QBronze quantum programming workshop in South Africa, is being held online from 3 to 7 July via Zoom. University students and graduates, researchers, professors, and industry experts are all invited to attend the event.
The QBronze109 workshop is titled 'Quantum Computing and Programming', and participants will learn the basics of quantum computing and how to write simple quantum programs.
"We fully support this initiative and are enthusiastic to be co-organisers of the event," says Prof. Francesco Petruccione, interim director of the National Institute for Theoretical and Computational Sciences (NITheCS). "A workshop like this helps to further our work of providing an ecosystem within which the important basic sciences can flourish. In this case, expanding the local know-how in the field of quantum computing will contribute to the work done as part of many scientific endeavours."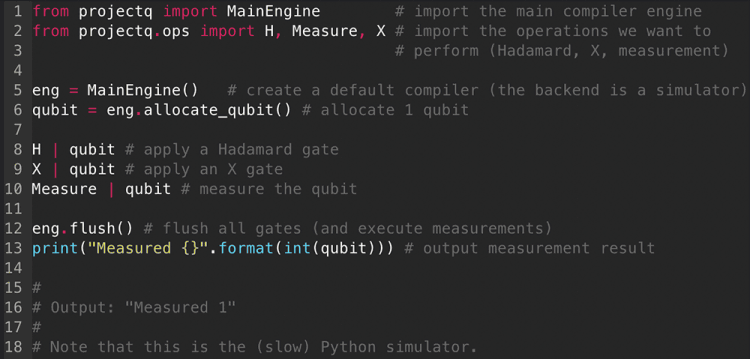 This course is self-paced and participants may watch lecture videos and complete tasks by themselves. The format will be one where daily problem sets are assigned via Qworld's Canvas. Those participants who successfully complete the sets with at least 50% per problem set and an average score of 75 points in total will be awarded diplomas. Mentoring support will be available throughout the workshop.
Day 1 will begin on Monday, 3 July and will introduce the basic concepts of bits and IBM's tool Qiskit to simulate quantum circuits/programs. The discussion will cover quantum bits, how they can be visualised, superposition, measurement, with examples of quantum operations on qubits.
The tutorials are based on a collection of Jupyter notebooks, each notebook having a pre-recorded lecture. Python, combined with the Qiskit library, will be used to code the quantum programs.
For more information https://qworld.net/qbronze109
Further reading:
The dream of Edge AI
Altron Arrow Editor's Choice AI & ML
AI technology carries a great promise – the idea that machines can make decisions based on the world around them, processing information like a human might. But the promise of AI is currently only being fulfilled by big machines.
Read more...
---
MAX78000 neural network accelerator chip
Altron Arrow AI & ML
The hardware-based convolutional neural network accelerator enables even battery-powered applications to execute AI inferences.
Read more...
---
Nanomaterials to build next-gen AI hardware?
AI & ML
From improving scientific analyses and imaging capabilities, to predictive maintenance and monitoring operations in industrial settings, artificial intelligence is becoming ever more present in modern-day society.
Read more...
---
Microchip launches MPLAB ML development suite
AI & ML
Microchip's unique solution is first to support 8-, 16- and 32-bit MCUs and 32-MPUs for machine learning at the edge.
Read more...
---
ToF sensor enables AI applications
Altron Arrow AI & ML
The VL53L7CH from STMicroelectronics is the perfect Time-of-Flight sensor enabling AI applications, with ultrawide 90° diagonal FoV and low power consumption.
Read more...
---
Analogue compute platform to accelerate Edge AI
Altron Arrow Editor's Choice AI & ML
Microchip has teamed up with Intelligent Hardware Korea to develop an analogue compute platform to accelerate Edge AI/ML inferencing using Microchip's memBrain non-volatile in-memory compute technology.
Read more...
---
World's most powerful open LLM
AI & ML
With a staggering 180 billion parameters, and trained on 3,5 trillion tokens, Falcon 180B has soared to the top of the Hugging Face Leaderboard for pretrained LLMs.
Read more...
---
Advancing quality control
Avnet Silica AI & ML
As manufacturing processes continue to become more sophisticated, the importance and effectiveness of advanced DVI solutions escalate, presenting opportunities for improved quality control.
Read more...
---
Give your edge AI model a performance boost
AI & ML
Join this webinar from STMicroelectronics to learn how to create an edge AI application easily on an STM32 MCU using the NVIDIA TAO toolkit.
Read more...
---
Three reasons why AI, ML add value for SMMEs only if the basics are in place
AI & ML
There is much chatter around artificial intelligence (AI) and the subfield of machine learning (ML), which can be confusing for SMME owners who may believe that they need to climb on the bandwagon.
Read more...
---