printer friendly version
Game-changing graphics innovations at the Edge
26 July 2023
AI & ML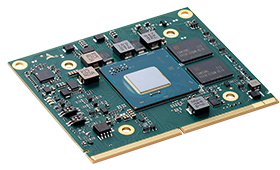 ADLINK has introduced the MXM-AXe GPU module, a ground-breaking innovation that revolutionises embedded graphics processing. With an outstanding price-to-performance ratio in its class, the MXM-AXe offers competitive pricing that rivals the renowned NVIDIA T1000.
This cutting-edge module harnesses the power of Intel's established graphics ecosystems, including OpenVINO for AI and Intel OneAPI management tools. These well-regarded resources have long been favoured by developers, ensuring a seamless transition from integrated to discrete graphics.
Combining the power of discrete and integrated GPUs with Intel CPUs, Intel Deep Link Technology is able to create complex workloads and pipelines with code reuse. This greatly enhances system performance and application efficiency.
The new X cores of the MXM-Axe modules come with capabilities that multifold AI inferencing throughput and offer maximised performance and scalability in its microarchitecture. The module also provides encoding speed up to 4,4 times faster when compared to traditional software encoding techniques.
With its SWaP-optimised design, the MXM-Axe modules can operate easily in a wide range of applications.
Credit(s)
Further reading:
Edge-AI embedded computing
Rugged Interconnect Technologies News
The EMP-510 series from ADLINK is an 11th Gen Intel Core i5-based fanless computer. The system features an 11th Gen BGA SoC processor which is paired with up to 32 GB of DDR4 RAM. Up to four independent 
...
Read more...
---
The dream of Edge AI
Altron Arrow Editor's Choice AI & ML
AI technology carries a great promise – the idea that machines can make decisions based on the world around them, processing information like a human might. But the promise of AI is currently only being fulfilled by big machines.
Read more...
---
Powering factory automation into the future
Rugged Interconnect Technologies Computer/Embedded Technology
Powered by the newest 13th Gen Intel processors, ADLINK Technology's COM-HPC-cRLS module is a future-proof edge AI solution.
Read more...
---
MAX78000 neural network accelerator chip
Altron Arrow AI & ML
The hardware-based convolutional neural network accelerator enables even battery-powered applications to execute AI inferences.
Read more...
---
Nanomaterials to build next-gen AI hardware?
AI & ML
From improving scientific analyses and imaging capabilities, to predictive maintenance and monitoring operations in industrial settings, artificial intelligence is becoming ever more present in modern-day society.
Read more...
---
Microchip launches MPLAB ML development suite
AI & ML
Microchip's unique solution is first to support 8-, 16- and 32-bit MCUs and 32-MPUs for machine learning at the edge.
Read more...
---
Hi-Rel for IIoT applications
Rugged Interconnect Technologies Computer/Embedded Technology
In the increasingly complex world of industrial applications, having industrial-grade solid-state drives (SSDs) with excellent performance and high endurance can ensure stable operation of equipment.
Read more...
---
ToF sensor enables AI applications
Altron Arrow AI & ML
The VL53L7CH from STMicroelectronics is the perfect Time-of-Flight sensor enabling AI applications, with ultrawide 90° diagonal FoV and low power consumption.
Read more...
---
Analogue compute platform to accelerate Edge AI
Altron Arrow Editor's Choice AI & ML
Microchip has teamed up with Intelligent Hardware Korea to develop an analogue compute platform to accelerate Edge AI/ML inferencing using Microchip's memBrain non-volatile in-memory compute technology.
Read more...
---
World's most powerful open LLM
AI & ML
With a staggering 180 billion parameters, and trained on 3,5 trillion tokens, Falcon 180B has soared to the top of the Hugging Face Leaderboard for pretrained LLMs.
Read more...
---