printer friendly version
Microchip launches MPLAB ML development suite
27 September 2023
AI & ML
Machine learning (ML) is becoming a standard requirement for embedded designers working to develop or improve a vast array of products. Meeting this need, Microchip Technology has launched a complete, integrated workflow for streamlined ML model development with its new MPLAB Machine Learning Development Suite. This software toolkit can be utilised across Microchip's portfolio of microcontrollers (MCUs) and microprocessors (MPUs) to add an ML inference quickly and efficiently.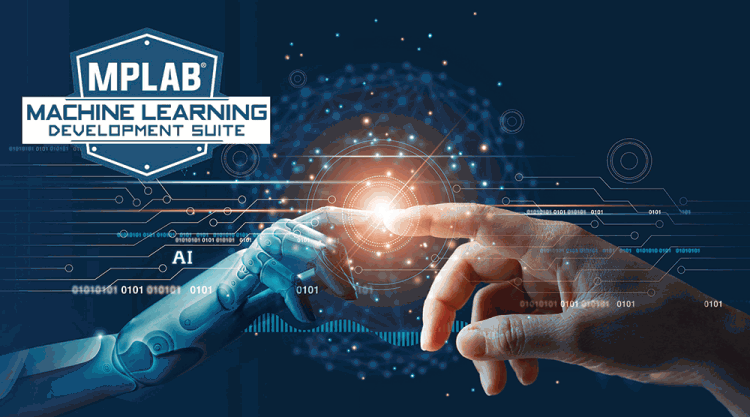 "Machine learning is the new normal for embedded controllers, and utilising it at the edge allows a product to be efficient, more secure and use less power than systems that rely on cloud communication for processing," said Rodger Richey, VP of Microchip's development systems business unit. "Microchip's unique, integrated solution is designed for embedded engineers and is the first to support not just 32-bit MCUs and MPUs, but also 8- and 16-bit devices to enable efficient product development."
ML uses a set of algorithmic methods to curate patterns from large data sets to enable decision making. It is typically faster, more easily updated, and more accurate than manual processing. One example of how this tool will be utilised by Microchip customers is to enable predictive maintenance solutions to accurately forecast potential issues with equipment used in a variety of industrial, manufacturing, consumer and automotive applications.
When used in combination with the MPLAB X IDE, the new toolkit provides a complete solution that can be easily implemented by those with little to no ML programming knowledge.
For more information visit https://bitly.ws/Un3S
Further reading:
The dream of Edge AI
Altron Arrow Editor's Choice AI & ML
AI technology carries a great promise – the idea that machines can make decisions based on the world around them, processing information like a human might. But the promise of AI is currently only being fulfilled by big machines.
Read more...
---
MAX78000 neural network accelerator chip
Altron Arrow AI & ML
The hardware-based convolutional neural network accelerator enables even battery-powered applications to execute AI inferences.
Read more...
---
Nanomaterials to build next-gen AI hardware?
AI & ML
From improving scientific analyses and imaging capabilities, to predictive maintenance and monitoring operations in industrial settings, artificial intelligence is becoming ever more present in modern-day society.
Read more...
---
ToF sensor enables AI applications
Altron Arrow AI & ML
The VL53L7CH from STMicroelectronics is the perfect Time-of-Flight sensor enabling AI applications, with ultrawide 90° diagonal FoV and low power consumption.
Read more...
---
Analogue compute platform to accelerate Edge AI
Altron Arrow Editor's Choice AI & ML
Microchip has teamed up with Intelligent Hardware Korea to develop an analogue compute platform to accelerate Edge AI/ML inferencing using Microchip's memBrain non-volatile in-memory compute technology.
Read more...
---
World's most powerful open LLM
AI & ML
With a staggering 180 billion parameters, and trained on 3,5 trillion tokens, Falcon 180B has soared to the top of the Hugging Face Leaderboard for pretrained LLMs.
Read more...
---
Advancing quality control
Avnet Silica AI & ML
As manufacturing processes continue to become more sophisticated, the importance and effectiveness of advanced DVI solutions escalate, presenting opportunities for improved quality control.
Read more...
---
Give your edge AI model a performance boost
AI & ML
Join this webinar from STMicroelectronics to learn how to create an edge AI application easily on an STM32 MCU using the NVIDIA TAO toolkit.
Read more...
---
Three reasons why AI, ML add value for SMMEs only if the basics are in place
AI & ML
There is much chatter around artificial intelligence (AI) and the subfield of machine learning (ML), which can be confusing for SMME owners who may believe that they need to climb on the bandwagon.
Read more...
---
Game-changing graphics innovations at the Edge
Rugged Interconnect Technologies AI & ML
With an outstanding price-to-performance ratio in its class, ADLINK's MXM-AXe offers competitive pricing that rivals the renowned NVIDIA T1000.
Read more...
---